Western Practitioners back from Tiananmen Square Comment: "It is Unimaginable What Kind of Brutalities Chinese Falun Gong Practitioners Face every day"
(Falun Dafa Information Center from Vancouver) Eight western practitioners participating in Tiananmen Square peaceful appeal on February 14 arrived at Vancouver Airport by Air Canada at 12:30pm of February 15. From there they will fly to Toronto, Boston, NY and Seattle. At around 1pm, Andrea Haley of Columbia Province of Canada arrived by United Airline and walked into a welcoming crowd.
Over 20 Vancouver practitioners warmly welcomed the western practitioners who went to China to appeal to the Chinese government to stop persecuting Falun Gong. More than 10 media waited at the airport patiently for two hours to interview practitioners.
All nine practitioners witnessed cruelties of uniformed and plain-clothed police and personnel of 610 offices.
Andrea Haley spoke to reporters: "When I left my hotel on the morning of February 14, I noticed a black car with 4 to 5 policemen following me. Two hours later I was forcibly taken to Tiananmen police station from the street. We resolutely declined to cooperate with their illegal detention. After over 20 hours' detention several policemen forcibly dragged me to an airplane with many passenger watching.
Boston practitioner Riordon pointed to the wound on his back and said, "I shouted aloud "Falun Dafa Hao" constantly with all my might. Several policemen sprang on me like animals, kicking, beating and attempting to suffocate me."
Boston practitioner Maria described how 10 policemen pushed her to a rear corner of a police van and pressed her face against back of the seat with both hands twisted behind her back for over ten minutes.
Even more surprising to practitioners was the fact that these policemen who resorted to atrocities against peaceful Falun Gong practitioners had no sense of their animal-like behavior and did not consider their conduct wrong.
During their detention, practitioners requested access to their embassies and phone calls to their families but their requests were ruthlessly declined. When questioned why they did not abide by the international conventions and basic human rights law, the police replied, "It is China." meaning that in China they do not need to follow the international conventions China has signed.
Several practitioners said during the time they were detained they tried to clarify the truth to police and told them that Falun Gong is spreading to over 50 countries and has won support from many governments. Many police were astonished to hear that and some asked for more details. A practitioner said to a policeman seriously, "I come to China just to tell you Falun Gong is not just a China issue. It is an international issue. Persecution against Falun Gong and Truth-Compassion-Tolerance is persecution of the kind natures all humanity."
Sterling from NY said with deep feeling, "I was detained for just 24 hours and experienced tortures on both mind and body. Maybe I could stand another day like this. It is unimaginable what kind of brutalities Chinese Falun Gong practitioners face physically and mentally every hour, every day in jails, forced labor camps, and detention centers" He added, "If this suppression and persecution is not stopped, I will go to Tiananmen to appeal again."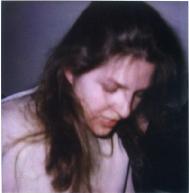 Maria was forced to be photographed. Police pulled her hair and took a photo of her with polyroid. Absentmindedly, the police left the photo in Maria's bag.