On Eve of Chinese New Year, Two Western Practitioners from North America Arrested on Tiananmen Square (Photos)
(Clearwisdom.net) On the afternoon of New Year's Eve in China, two more Western practitioners went to Tiananmen Square to clarify the truth to the Chinese people. The following is a media advisory from Falun Dafa Information Center.
******************************
Two Falun Gong Practitioners from North America Arrested on Tiananmen Square
Secret Press Conference in China to Expose State Murder Plot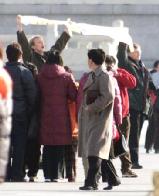 NEW YORK, February 11, 2002 (Falun Dafa Information Center) - Two Falun Gong practitioners from North America were arrested and detained on Tiananmen Square this morning after holding a press conference in a nearby hotel to expose Jiang Zemin's attempts to use slander and false reports to vilify the spiritual practice.
During the press conference, which lasted over an hour, Levi Browde, an American software engineer and Jason Loftus, a Canadian engineering student at the University of Toronto, showed a newly released video that exposed the notorious "self-immolation incident" in Beijing's Tiananmen Square as a set-up by the Chinese authorities to turn public opinion against Falun Gong.
Mr. Browde and Mr. Loftus played the deconstruction of the self-immolation footage to the Beijing press that clearly shows the murder of one of the victims in the Square by a police officer along with a revealing analysis that the whole incident was a deadly setup to frame Falun Gong.
The secret press conference fell on the anniversary of the incident, which took place on last year's Chinese New Year's Eve.
Later the two were surrounded in Tiananmen Square by police and taken away in waiting vans at approximately 3:00 PM (Beijing time, Monday) after holding a brief peaceful demonstration. One witness reported that Loftus was forcibly dragged into a van by police after holding up a banner.
During the brief scene, Loftus called out in Chinese "Falun Dafa is good" and "The self-immolation incident was staged!" until seven to ten police surrounded him and covered his mouth with a white handkerchief to silence him.
Background
On January 23 2001, China's state-controlled media reported that 5 people set themselves on fire in Beijing's Tiananmen Square. Chinese authorities blamed the incident on Falun Gong. This grisly footage was repeatedly shown on the state TV stations for many days and has been the number one weapon of propaganda to turn public opinion against the once respected practice. Substantial evidence exists that those involved were not related to Falun Gong, and that the footage was faked.