The Twin Sister of a Canadian Resident is Released from Jail in China as a Result of the Global Rescue Campaign (Photo)
(Clearwisdom.net) Both twin sisters practice Falun Gong. The elder sister immigrated overseas in 1999 and the younger sister was imprisoned in March 2002, for practicing Falun Gong. The elder sister, Ms. Tianying Peng called her family members in China on Christmas Eve and was told unexpectedly that her sister had been released. Tianying said, "It is not because the labor camp is compassionate that she was released, but because the International Rescue Committee and Canadian Government exerted pressure on China."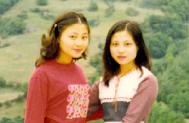 According to a report from Falun Dafa Information Center on December 26, 2002, Ms. Tianxiong Peng, age 30, is an army medical officer in Guangzhou First Army Medical University. She and the twin sister of Tianying Peng started practicing Falun Gong in 1995. After Jiang's regime initiated the persecution of Falun Gong in 1999, Tianxiong suffered persecution and harassment unceasingly. In March 2001, she was detained in an isolated room for one month in the medical university and forcibly received brainwashing consisting of propaganda materials against Falun Gong. Tianying said that her sister's four-month old son, who had been separated from the mother, was terribly upset and cried for feeding daily.
The most recent time that Tianxiong was arrested was in March 2002. Her university asked her to attend a so-called meeting and she did not return. Later, her husband received a notice that his wife had been sent to the Chatou Labor Camp in Guangzhou and that she would not be released until she denounced Falun Gong. According to the elder sister Tianying, some information was obtained from her hometown and dozens of local Falun Gong practitioners were imprisoned in the camp. Tianxiong protested her imprisonment by refusing food and water but the labor camp did not respond.
It was on December 6, 2002 that Tianxiong was released.
The International Rescue Committee is an organization established by worldwide Falun Gong practitioners voluntarily in September 2002 with a mission to rescue the family members and friends imprisoned in China for practicing Falun Gong. Tianying said that she went to many Canadian cities and towns, visited the offices of members of parliament, and called on the Canadian government and people from all walks to help end the brutal persecution.
She said, "Since the establishment of this committee, six Falun Gong practitioners including my sister have been released in China. Five of them were rescued by Canada. I truly appreciate the Canadian government and people of all walks for their kind help. I wish them a good future for their kindness and righteousness."
"My wish (for my sister's release) was realized on Christmas Eve. It is like a dream." Tianying said, "I feel sad for the tribulation my sister suffered. I hope she will come to Canada soon to leave that unsafe environment. I truly wish that each country like Canada will help their people to get back the basic rights and happiness that belong to each person. This fact demonstrates that the voice of government, including the voices of support of people from all walks of life, is very effective. I hope each government will help the Falun Gong practitioners persecuted in China and help end this persecution, which should never have occurred."