Apple Daily Reports that Medium and Small Enterprises Are Expressing Concern that Article 23 Will Have a Negative Effect on Business (Photo)
(Clearwisdom.net) Apple Daily reported on December 6 that after foreign merchants and foreign capital banks openly expressed their concerns about the enactment of Article 23 of the Basic Law, even the chamber of commerce for medium and small enterprises, which previously supported the government with respect to this legislation, also expressed concern that the legislation would negatively affect the business environment. For example, there were questions whether the proposed law would hinder collaboration with merchants from Taiwan or other foreign countries.

Worries about the impact on the flow of capital

The report said that Mr. Chen Hongyi, professor from the Department of Law at Hong Kong University, who is also a member of the Basic Law committee, appealed to the government to pay attention to the concerns of business and modify the current proposed legislation to ensure that Hong Kong maintains its competitive advantage under the rule of law.


Content of the image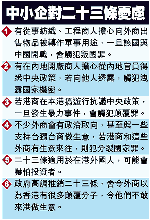 Medium and Small Enterprises' Concerns about Article 23
Merchants engaged in textile or engineering worry that if what they sell to foreign countries is used for military use, and if that country went to war with China, they would consequently violate the "treason law".
Merchants who have businesses in the Mainland worry that if they obtain some information of the central government's policy from Mainland officials and disclose the information, they would be guilty of "theft of state secrets".
If Hong Kong businessmen stage a parade in Hong Kong to protest the central government's policies, and if something violent happens, they would be guilty of "subversion".
Many foreign merchants have their own political views and even do business with Taiwanese businessmen who support an independent Taiwan. If Hong Kong merchants do business with these foreign merchants, they would be guilty of "secession".
Article 23 applies to foreigners who live in Hong Kong and this will drive away foreign investors.
The government promotes Article 23 so much, making foreign businesses think that there are many people in Hong Kong interested in subversion, and therefore dare not come to Hong Kong to do business.

Apple Daily is a prominent Hong Kong-based Chinese-language newspaper.