Please Help Rescue My Mother, A Retired Physics Professor in Jilin Province (Photo)
(Clearwisdom.net)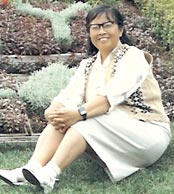 My name is Xueyuan Wu. I'm a permanent resident of the US. I'm working as a post-doctoral research associate at Rensselaer Polytechnic Institute in Troy, New York.
My mother, Ms. Lingwen Zeng, now 67-years-old, was a respected physics professor at Jilin University located in Changchun City, China before she retired at the age of 60. My mother is a kind-hearted person who always helps others. She works diligently and conscientiously. In order to prepare a lecture for her class, she often looked up large amount of reference papers. To obtain reliable experimental data, she worked day and night in her lab. Using simple and crude equipment, she guided her students to accomplish many creative projects, and their papers were published in major national and international journals. My mother did not only give instruction to her students, but she also cared about their daily life. Her students loved and esteemed her very much, and her colleagues respected her.
Previously, my mother was not in good health. She had been suffering from various illness including arthritis, heart disease and low blood pressure. To obtain good health, she had tried many types of Qigong. She even learned acupuncture on her own. Unfortunately, she was unable to get her health fundamentally improved. My mother started practicing Falun Dafa in 1992 and since then, all of the illnesses that she had been suffering from gradually disappeared, and her health continually improved. She used to have a fiery temperament, but became more and more patient and calm after she cultivated Falun Gong. In the Chinese Lunar New Year of 1993, I went back home to visit my family. I was amazed to find out that my mother did not need anything to reduce the pain in her lower back. Previously she often used two warm water bags to tie around her waist. She even climbed the stairs faster than me without breathing hard. When I did something wrong and lost my temper for no reason, my mother just smiled at me. Her smile made me realize that I was wrong and I felt ashamed. After seeing my mother's changes and reading Teacher's books, both my husband and I started cultivating Dafa.
Unfortunately, in July 1999, Jiang's regime officially started persecuting Falun Dafa. My mother went to the government building of Jilin Province to peacefully appeal for Falun Gong on both July 21 and 22, 1999. On the morning of July 23, 1999, local policemen abducted my mother and ransacked her home the next day. The authorities then held her in a drug rehabilitation center for approximately six weeks. There the police subjected her to "re-education" and tried to force her to renounce Falun Dafa. There was one day when six policemen took turns interrogating her and not allowing her to sleep. A policeman fiercely threatened her that she would be sentenced to jail or even executed if she would not give up her practice. My mother calmly said to him, "Thank you. We, Falun Dafa practitioners live with no pursuits and would die with no regrets." Mom's steadfastness and peacefulness moved the policemen, whose attitude towards mom changed gradually.
The police released my mother on September 4, a few days before the Mid-Autumn Festival, which the government considered to be a sensitive time period. Fearing that my mother would go to Beijing to appeal for Falun Gong, the authorities once again arrested my mother on September 23 and imprisoned her in Balipu Detention Center in Changchun. That was an old detention center that contains a few big cells. A cell that was supposed to accommodate thirty people held over a hundred Falun Gong practitioners at a time. There were no beds in the cell. Practitioners ate, drank, relieved themselves and slept in the same room. Although the conditions were quite tough, the practitioners cared deeply for each other and were like one big family. One day, several policemen from the Changchun municipal police station used force to seize a practitioner's Dafa book, which led to a group hunger strike by over 300 practitioners detained there in protest. The hunger strike shocked the local community. The police were afraid of bearing responsibility and dispersed the practitioners to different locations. My mother and several practitioners who wrote hunger strike statements were transferred to the former drug rehabilitation center, where she was detained for another month and a half.
After she was released, the persecutors tapped her home phone, and local police officers, neighborhood committee members and her university leaders kept visiting her, attempting to persuade her to give up her belief in Falun Dafa. She told them about how practicing Falun Dafa had improved her health and moral standards, and she let them know that Falun Dafa is good. Some kind-hearted policemen were touched by her story. They became aware of the truth about Falun Dafa and stopped harassing her.
Unfortunately, on February 9, 2002, three days before the Chinese Lunar New Year (the biggest holiday in China that is equivalent to Christmas in the US, when families get together), after Jiang's new order to "Kill [Falun Gong practitioners] without mercy," local policemen arrested my mother again and imprisoned her in a brainwashing center without notifying her family members. Our family was not allowed any contact her for about two months. Then, my father received a notice from the local police station that my mother was sentenced, without a trial, to two years in the Changchun Heizuizi Female Forced Labor "Re-education" Camp because she would not give up her belief in Falun Dafa. Presently, my mother is still imprisoned in that labor camp, and we are worried about her current situation. My father recently visited my mother and told me that she'd lost lots of weight. Being abroad and unable to visit nor phone my mother, I'm extremely worried about her. Even worse, I can't imagine how my father has been enduring the constant anxiety and the loneliness. In addition to constant worry, my sister has to squeeze time from her tight schedule to visit my mother and to look after my father. A happy family was thus turned upside down by the unjustifiable persecution.
Once, I called my father and tried to comfort him. After he consoled me back, he deeply sighed, "If our family's suffering would allow hundreds of thousands of families to be free of such kind of suffering, my heart would be in peace." I wept upon hearing this. My heart was touched by my father's kindness. Even more so, I wept for the plight of millions of Falun Gong practitioners and their families who are suffering the persecution simply for their steadfast belief in Truthfulness-Compassion-Tolerance. I can't be silent anymore.
I'd like to call for the US government, media, and all kind-hearted people over the world to pay attention to the ongoing persecution of Falun Gong practitioners in China and to please reach out your helping hands to help rescue our loved ones. I believe that every single voice of justice will make a difference and together, we can end the persecution.
Phone number of the Changchun Heizuizi Female Forced-Labor Re-education Camp: 86-431-5384310