Declaration from the French Green Party: Falun Gong Practitioners, You Can Count on Our Permanent Support!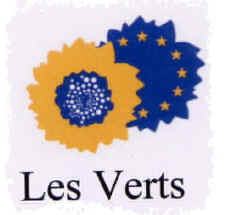 (Clearwisdom.net)
Paris, September 20th, 2002
We address this declaration to the Association Falun Gong France on the occasion of the Fourth Asia Europe Summit in Copenhagen. The French Green Party strongly condemns Jiang Zemin's inhuman persecution of the practitioners of Falun Gong, a popular holistic movement whose actions are non-political and peaceful. We express our compassion and our sympathy for those millions of Chinese citizens who suffer from the State terrorism and killing madness of dictator Jiang Zemin. According to the sources of official organisations, around 500 innocent men, women and children have died through torture. The persecution and torture are widespread at the instigation of Jiang Zemin who placed himself above Chinese law in order to establish a real Chinese Gestapo called Office 6-10, which is exclusively in charge of the persecution and media defamation of Falun Gong. Official sources within the Chinese government even talk of over 1 600 deaths.
Over 100 000 have been detained and over 20 000 arbitrarily condemned to forced labour camps. We demand the immediate ending of these heinous terrorist acts that are a shame to humanity. We also ask all European governments to initiate immediately a dialogue with the Chinese leaders in order to end this absurd persecution.
Recently we have been particularly shocked by the pressure exerted by Jiang Zemin and the Chinese regime in order to export its persecution of Falun Gong practitioners to foreign countries, including democratic nations.
Last June, during Jiang Zemin's visit to Iceland, under the order of the Icelandic government, the company Icelandair prevented Falun Gong practitioners from many Western countries to embark on planes to Iceland, where they wished to peacefully appeal against Jiang Zemin's order to shoot Falun Gong practitioners on sight in China. In addition, on the occasion, we took the time to call and send a fax to the Ambassador of Iceland in France to assure her of the totally peaceful nature of Falun Gong's actions in order to guarantee the free circulation of these exemplary citizens. We were sad to hear that a democratic country such as Iceland had finally decided to yield to Jiang Zemin's pressure. Its diplomats ordered Icelandair to use a blacklist on French soil at the Charles de Gaulle airport in order to prevent the check in of these people. We, the French Green Party, hope that the Iceland government will stay firm in the future on its democratic principles.
Regarding the issue of the Hong Kong trial against 16 practitioners of Falun Gong, who had also travelled to appeal against Jiang Zemin's order to shoot practitioners on sight in China, the verdict of the Hong Kong court shows that Jiang Zemin's dictatorship keeps a tight grip on Hong Kong. The issue shows that China's promise to leave Hong Kong's special status unchanged for 50 years, did not even last 5 years. This also proves that Jiang Zemin will stop at nothing to persecute Falun Gong.
Of course we also strongly condemn the error of judgement made by the Cambodian government to yield under Jiang Zemin's pressure and kidnap a couple of Falun Gong practitioners who were under the protection of the United Nations.
Through this declaration we urge the Cambodian government to respect its international commitment.
There is a Chinese proverb saying, "Good is rewarded with good, Evil is met with evil". We are thus convinced that humanity needs good actions to be rewarded and bad ones to be punished.
We hope that the success of your peaceful appeals will keep on echoing around the world. We admire and honour your spirit of courage, tolerance and non-violence.
PS: This declaration is addressed respectively
To the President of the European Union
To the European Green Party
To the Icelandic Government
To the Cambodian Embassy in France
To the Chinese Embassy in France
For the Green in France, Jean-Marc Br lé, the President of the Asian Commission of the Green.
The French Green Party's actions to support the fight of the Falun Gong practice in Europe and in China for its rights and freedom are supported by:
No l Mam re, French vip and Deputee
Alain Lipietz, European Deputee
Dominique Voynet, National Secretary of the Green and former Minister of Environment.