The Chinese Consulate Lures Overseas Chinese to Welcome Jiang with Mainland Citizens' Hard-earned Money (Photo)
October 26, 2002 | By Cheng Ming
(Clearwisdom.net) On the morning of October 22, the Chinese dictator arrived in the US for a personal visit. His first stop was Chicago's Ritz-Carlton Hotel. At 8:45 a.m. Chinese students who held small Chinese national flags gathered near the hotel and formed a Welcoming Group.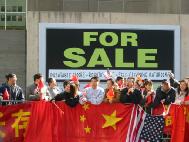 It was reported that the Chinese Consulate offered money to buy new clothes and provide free lunch and cash to Chinese students so as to attract them to join the Welcoming Group. A Chicago University student said the Consulate offered to buy high-quality leather clothes to attract students to come. Unfortunately, the students in the Welcoming Group may not have noticed that behind them, there was a huge advertisement board with the words "For Sale" written on it.
Bignews.org reported on October 21 that the organizer of a student group from a university came back from the Consulate and sent emails to the group's members to request them to execute a "Serious political task"--welcoming Jiang. The email described how the members could get a free shirt from the Consulate if they went to welcome Jiang and followed the requirements of the Consulate. One of the requirements was to join the activity at 6:05 a.m. on October 23. If they only participated in the first day's (October 22) activity, they could only get a shirt worth half ($17.50 out of $35.) of the original offer.
VOA reported on October 21, the Friendship Association of Chinese Students at the University of Houston said that all those who joined the welcoming group could not only get a free lunch, dinner and snacks, but also a free hat and T-shirt, and a ticket to a famous basketball player's match.
Moreover, according to the VOA report, Chinese overseas students in Texas forwarded a document to the VOA. It revealed that the Friendship Association of Chinese Students & Scholars (known as FACSS) required that any student wishing to participate in the Welcoming Group during Jiang's visit first had to sign a document relinquishing their First Amendment rights. Anyone who is against the agreement would be fined at least $5000. At the same time, if any other group such as Falun Gong contacted them or they became aware of any protests by any other groups, the members must contact the leaders of the Welcome Group as well as the proper authorities.
The designer of this document completely confused democratic America with autocratic Mainland China and has blatantly violated the law.