Canadian MPs and Falun Dafa Practitioners Hold Joint Press Conference (Photo)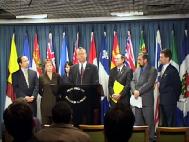 (Clearwisdom.net) At 1PM on October 23, 2002 many Canadian Parliament Members from different Parties and Falun Dafa practitioners held a joint press conference in the House of Parliament in advance of Prime Minister Jean Chretian's departure for the APEC meeting. The purpose of the press conference was to call on the Prime Minister to raise the issue of ending the persecution against Falun Gong in China. The press conference was hosted by the former Chairman of the Alliance Party and Foreign Affairs Critic, Mr. Stockwell Day. The MPs attending the conference included Mr. Irwin Cotler from the current ruling party, Mr. Scott Reid, and Antoine Dube from "Bloc Quebecois." Falun Dafa practitioner Ms. Zhang Li, whose husband was sentenced to three and a half years imprisonment for practicing Falun Gong, traveled from Toronto to attend the conference. Ms. Jeanette represented the Falun Dafa practitioners of Canada and delivered a speech at the conference.
Canadian TV stations, Canadian National Radio and other Chinese, English and French media interviewed the participants and filed reports.