World Journal Daily: Boston Falun Gong Practitioners Speak Out (Photo)
(Clearwisdom.net)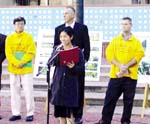 October 18, 2002 from Boston -- To rescue family member being persecuted in China, Falun Gong practitioners from the Boston area held a press conference in front of the Boston City Hall. They hoped with pressure and voices from all circles their family members who are being persecuted in China could regain their freedom.
Falun Gong practitioners from the Boston area said that this event was a part of the "Rescue Our Family Members and Get Them Home" international rescue effort. Several teams will start off from several major cities in US and all the teams will meet in Texas. Along the way they will hold press conferences and other activities to let more people know about Falun Gong and their family members' plight in China. They also hoped President Bush could convey the message to Jiang, who is going to visit the US.
He Haiying, a local practitioner, said that his whole family practices Falun Gong and since July 1999, his parents, brothers and sisters have suffered from persecution. They were sent to forced labor camp and forced to do heavy labor. They were placed in a dreadful environment and forced to endure inhuman treatment. The labor camp tries to force them to sign guarantee letters to give up Falun Gong, and his parents' pensions were cut or stopped.
He said that his activities related to Falun Gong in the US could aggravate the persecution of his family members in China. He called upon people to help his family and all Falun Gong practitioners' families.
Another practitioner Liang Yufeng told the story of his sister. The family has lost contact with her for two years after she was arrested because of her belief in Falun Gong. Milton resident Larsen briefly talked about the situation in China. He could not remain silent after seeing the torture Falun Gong practitioners suffered in China. He hoped that he would have the opportunity to go to China to help them. He also hoped American people will come to know the situation of Falun Gong.