Falun Gong Practitioner's Painting Exhibition Finds a Warm Echo in the Hearts of People from President Bush's Hometown (Photos)
October 17, 2002 | By practitioners from Texas
(Clearwisdom.net) On August 25 and 26, Falun Gong practitioners from Texas held a 2-day exhibition of practitioner, Ms. Zhang Cuiying's art painting works at Crawford, the hometown of President Bush. The Mayor of the City of Crawford personally hosted the exhibition and delivered a speech.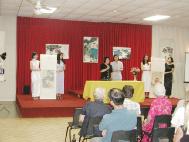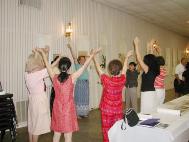 Many local residents and people from surrounding towns came to visit the exhibition. Major newspapers, TV stations including ABC and CBS came to take interviews on site and covered the event in time. Upon hearing overseas Chinese artist, Ms. Zhang Cuiying's cultivation story and her plight of being imprisoned simply because she spoke the truth, people's hearts were all moved, some people even wept. People all expressed that they would like to do their best to help and support Falun Gong practitioners. Some reporters came-and-went for a few times, unwilling to leave. A few local residents stayed at the exhibition hall for a whole day and would not like to go. Some people even introduced their friends and relatives to come to visit the exhibition. From word of mouth, people came in threes and fours. A number of people requested to learn Falun Gong exercises on the spot.
After the painting exhibition, local media reported the event. The most important newspaper in the local area gave the exhibition a wide coverage as the top story on their front page.