Letter of Support from US Senator Max Cleland to President Bush
(Clearwisdom.net)
October 10, 2002
Dear Mr. President:
I am writing on behalf of Zhou Xuefei, a Falun Gong practitioner in China who has been imprisoned for her religious beliefs and activities. Zhou Xuefei is the wife of Georgia resident Mr. Zhaohui (Sam) Lu.
Zhou Xuefei was arrested by the Chinese government as a result of her practice of Falun Gong, and it is my understanding that she was first detained in the Fujian District Prison of Shenzhen for two months, then transferred to the Women's Labor Camp of Guangdong Province in the city of Sanshui. According to reports from China, Zhou Xuefei has been severely tortured and forced to work long hours, and according to her family, she has become so malnourished that she has nearly lost her eyesight. Apparently, the family's medical parole request for her eye treatment has been repeatedly denied by the local authorities.
According to the Congressional-Executive Commission on China's recently released 2002 Annual Report, the Government of China continues to suppress the Falun Gong movement by arresting or detaining thousands of Falun Gong adherents for their beliefs. The report also indicates that "scores, and possibly hundreds of, Falun Gong practitioners have died in police custody since suppression of the group began in 1999."
During your visit to Beijing's Qinghua University in February 2002 you stated, "Freedom of religion is not something to be feared. It is to be welcomed." I appreciate your willingness to speak out in support of religious freedom while in China and would ask that you raise the issue of Zhou Xuefei's imprisonment during your upcoming visit with Chinese President Jiang Zemin. Thank you for your consideration of Zhou Xuefei's plight, as well as any assistance you can offer on her behalf.
á
Most respectfully,
Max Cleland
United States Senator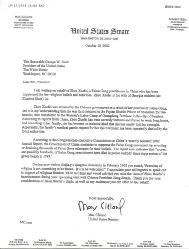 á
á