Australian Practitioners Celebrate "Truth Compassion Forbearance Week" (27th December 2001 to 3rd January 2002)
January 04, 2002 | Australian Practitioners
The Summer Festival
Truth-Compassion-Forbearance Week (27th December 2001 to 3rd January 2002) is now in mid-stream in Hobart, Australia. Hobart, the capital city of Tasmania (the southern-most state of Australia or Australia's 'Island State') has a population of approximately 190,000 people and hosts its annual Summer Festival from 28th December 2001 to 28th February 2002. People all over the world travel to the Hobart Summer Festival to enjoy this diverse event with a brilliant array of sounds, food, art, theatre, film and sport. Hosting the finish of the famous Sydney to Hobart Yacht Race, Hobart's population is estimated to swell to almost double its size.
In July 2001, Australia's Falun Dafa Association was invited by the Hobart City Council and festival organizers of the Hobart Summer Festival to participate in their event. Included in the Summer Festival Guide and daily local newspapers was a description of our Truth-Compassion-Forbearance Week - 'Promoting healthy living, harmonious family and a friendly society. Free exercise classes...'. In the past we had always applied for this kind of opportunity and this invitation was a result of the efforts by 15 practitioners who came to Tasmania this time last year.
This year, approximately fifty practitioners from Melbourne and Sydney joined local practitioners for Hong Fa activities including Journey of Falun Dafa Photo Exhibition, daily discussion forums, music performances, a video presentations, a Truth-Compassion-Forbearance Celebration Day/Opening Ceremony with guest speakers, daily Exercise Demonstrations and Hongfa/Truth Clarifying material distribution in the city mall and the marketplace amidst the festival.
St David's park (Hobart's weekly practice site) was the locale of daily practice, exercise instruction and Celebration Day activities. On the 28th of December, a journalist from The Mercury, a statewide newspaper publication, along with a photographer, came to interview us at the park. The interview focused upon the moving story of the death of a practitioner in China through torture. He was the husband of an Australian Citizen and father of a twenty-month-old girl. With the baby cradled helplessly in her arms, Ms. Dai wept as the photographer went to great lengths to find a better angle that would best depict the image of Mother and Daughter. The photographer was very moved. The next day the photo and article, entitled 'Widow in heart-rending call for support on China mission' were published in the Mercury paper (and has since been posted on ClearWisdom). The story had clearly touched the hearts of many as quite a few people came to the City Hall that day to offer Ms Dai their support after reading the article.
Celebration Day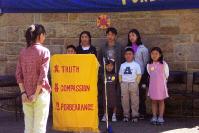 Celebration day (Opening Ceremony) was a wonderful day, with the sun reflecting off the 200 Falun spinning 'Falun pinwheels' that lined the paths of St. David's park. The proceedings started with the singing of Australia's National Anthem by the younger practitioners. A brief introduction about Falun Gong was then given with the importance of Truth-Compassion-Forbearance in all aspects of society emphasized. Guest speakers included the Chairman Festivals & Tourism Special Committee, President of United Nations Association of Australia, National Coordinator Coalition for Justice of Refugees and Migrants, and an Australian Member of Parliament and Shadow Minister for Justice, Customs and Population.
Gifts were presented by children as a small token of our appreciation (flowers, the new version of China Falun Gong, a pen engraved with their name and 'TCF week' and Pudu CD). These distinguished representatives spoke in support of Truth Compassion Forbearance and the plight of practitioners in China. Other speakers included Ms. Dai, Jennifer (1 year in labor camp in China) and Kate Douglass who recently returned from Tiananmen Square. After the Celebration Day activity came to a close practitioners and guests adjourned to the City Hall for a forum where experiences were discussed in more detail.
The Town Hall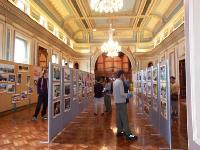 The Hobart City Hall, a grand building constructed in the 1860's, provided a solemn and peaceful backdrop for the Photo Exhibit (over 140 piece framed collection). Discussion Forums were held informally and music performances were given on a stage while people enjoyed the Photo exhibition down below. The Hall was home to a beautiful Steinway grand piano that offered practitioners an opportunity to perform Dafa music. With a VCD projector in a separate video room, we were able to continuously show 'A Peaceful Journey of Falun Dafa' and 'A Path to One's Original True Self' as visitors came by.
The Mall, Salamanca Markets, Harbor & Calligraphy...
While we were there, we visited the Council to ask for permission to set up stalls in the Elizabeth St. Mall as well as the famous Salamanca Market. The Market on Saturday was buzzing with hundreds of arts and crafts, food and fresh vegetable stalls. Only certain days were granted for the Mall and Markets but on other days, practitioners took the initiative to set up along the busy footpaths of the Harbor next to the 'Taste of Tasmania' food festival where close to 100 take away food stalls were cooking away under the one giant roof. Practitioners familiar with Hobart said there shouldn't be a problem and when Police occasionally came by our makeshift stall along the Harbor, instead of asking whether we had permission, they inquired with interest at our exercise performances, small photo exhibition (we took 6 or 7 of the photos from the exhibition with us) and our 'Get your name written in Chinese Calligraphy for Free' service.
The Calligraphy stand was very popular, especially amongst the younger generation. There would almost be no break the whole day as passers by crowded around watching in amazement the beauty of the art. Children and teenagers would write down their names on a piece of paper that had 'Truth, Compassion, Forbearance Week...Summer Festival' printed on the top (Dafa website details could have been included). Their name was then written in Chinese Calligraphy and its meaning translated into English. Dafa pamphlet in hand and petition signed, with great satisfaction they walked away in the knowledge that their name meant 'Silk Forest', 'Heavenly Girl' or 'Going with the Flow'...
Guest Speaker who became a friend...
We invited one of the guest speakers, Mr. Maqsood Alshams, to come down from Sydney. Kindly accepting the offer, he stayed with us in the Treasure Island Caravan Park for 2 nights. During his stay, we took him along with us on our activities and got to know him very well on a personal level. What we discovered was a very passionate man who dedicated his life to human rights causes and his role as a National Coordinator for the Coalition for Justice for Refugees and Migrants. It was a great opportunity for us to cultivate the preexisting relationship and we were also able to help him developed a much deeper understanding and appreciation of the plight of practitioners in China, especially after hearing more about Jennifer's story during the informal Forum. By the end of his stay, we were fortunate that he had become a good friend (on the last evening, we had dinner with him at the food festival and when asked what he wanted to do after a long day, he suggested watching 'Lord of the Rings', a classic Good vs. Evil epic which he enjoyed.)
At the airport, we exchanged details and were grateful when he offered us to stay at his place next time we were to visit Sydney. Likewise we extended our hospitality. He also provided us with a group email address that he said we could write to with regards to any related Dafa news. The group email is sent to 2000 organizations around the world (including China) and though moderated (only 5 or 6 emails get sent out from the 150 received each day), any news sent from Falun Dafa would reach over 60,000 subscribers including 800 journalists interested in human rights issues. After arriving in Sydney, he sent us a 'Happy New Year & Thank you... look forward to working on Human Rights & Justice..."
2 beautiful Rainbows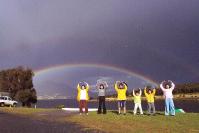 On New Years day, two Rainbows appeared after a day of showers. (Photos of practitioners exercising under the rainbow were taken).
As they say, after the rain, good things will come...