Truthfulness-Compassion-Tolerance Touches the Hearts of Israeli High School Students
A practitioner in city of Netanya is a teacher of a high school. He decided to bring Falun Dafa to the school and let students benefit from it.
Several weeks ago on a Friday around noon, several practitioners came to the high school. The manager of the auditorium helped us prepare. Practitioners intended to show several VCD films. The auditorium did not have the equipment so a practitioner brought a VCD player from home. At the beginning, the manager refused to let the practitioner use his own VCD player and said the connection was too complex. The practitioner told him that only two wires needed to be connected. A practitioner suggested that when talking to him we needed to send forth righteous thoughts. When the practitioner started to send forth righteous thoughts, the manager agreed at once as if he never had an objection. Practitioners realized the power of righteous thoughts.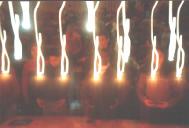 Photo taken while teaching the exercises shows miraculous lights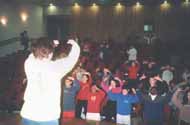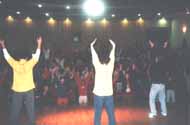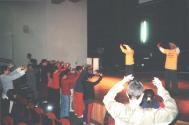 Students practice Falun Gong exercises together with practitioners
About 150 students attended the Falun Gong introductory session. Practitioners showed the movie Falun Dafa -- A Path to the True Origin. Then students practiced Falun Gong exercises together with practitioners. The effect of this event was very good. On the way home, practitioners were very happy that Truthfulness-Compassion-Tolerance touched the hearts of Israeli high school students