Photo Report: Falun Dafa Day, Ayr, Queensland, Australia
January 24, 2002 | Practitioners from Queensland, Australia
Saturday, 12 January 2002, in Ayr, Queensland, was proclaimed Falun Dafa Day.
We started the day of celebration by sending forth righteous thoughts and sitting in meditation. Then we read Master's latest Jingwen together.
á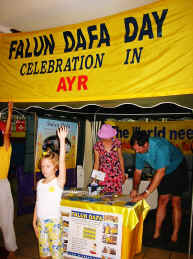 Mayor John Woods signing the Proclamation
á
The celebration was held in a shopping center in Ayr. We arrived at the shopping center a little early to ensure that we would be set up on time. Shortly after setting up, a seven-year-old girl, Kaitlin, greeted us. She ended up spending most of the morning with us, handing out flyers to interested people and learning the exercises.
á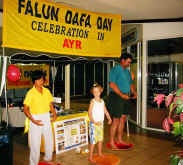 Kaitlin and the Mayor doing the exercises
á
The local reporter from The Advocate arrived at 11am. She asked many questions and we took the opportunity to clarify the truth to her and afterwards presented her with some flyers, a Falun Dafa booklet and the Justice for Falun Dafa video. At 11:15, Mayor John Woods arrived. He patiently watched the exercise demonstration. Afterwards, he willingly joined in the exercises, receiving encouragement from both the reporter and us. Following, the Mayor signed our Proclamation. We could really tell that his heart was moved with kindness as he spoke up for Falun Dafa to the reporter, explaining why he showed his support for Falun Dafa and the Falun Dafa Day Celebration.