Photo Report: Chicago Practitioners on Can TV
Chicago Can TV is a non-profit TV station with five channels in the Chicago area with over a million viewers. Through practitioners' efforts, the TV station gave us half an hour to talk about the persecution of Falun Gong in China on a talk show program. The program was shot in the evening of Sept. 13.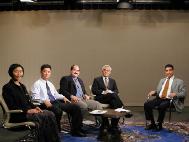 Can TV host (right) interview practitioners
Practitioners selected the materials and pictures carefully. It seemed there was a lot to talk about. To their surprise, the host had browsed the Dafa web page first and had gotten a basic understanding of Dafa. When the host saw what the practitioners had prepared, he decided to extend the program to one full hour. Now the practitioners had enough time to talk in detail about what is happening in China as well as the recent incident of practitioners being beaten in front of the Chinese Consulate in Chicago. During the taping of the program, the host Frank Avila asked many pertinent questions, which practitioners answered very well. The practitioners also took the opportunity to express their sincere condolences to the American people in the wake of the terrorist attack on September 11th.
One hour quickly passed. There was no time for the planned demonstration of five sets of exercises. The camera director said of his own initiative that they were going to invite practitioners back to show the exercises and also let the viewers call in to ask questions.