Photo Report: Hongfa in Morristown, New Jersey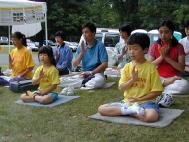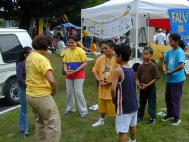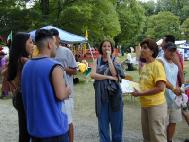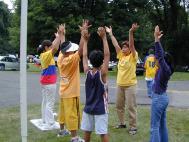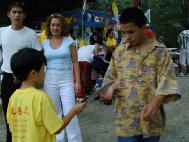 On July 29 we went to Morristown to celebrate a Spanish holiday, Columbia Summer Festival. Three Spanish-speaking practitioners also came and helped more people to know Falun Dafa.
Over 5,000 people passed by our booth, which was close to the entrance. Our peaceful exercises attracted everyone. We handed out all the Dafa materials and flyers.
A university professor learned the exercises and wanted to know more about Falun Gong. She told us that she was going to setup a class on campus to introduce Falun Gong, one for adults, and one for children. She invited us to teach the exercises at her class.
Some people read our SOS material and asked how to give their support. We offered some suggestions, such as tell the truth to their relatives, local government, and federal government to urge Jiang Zemin to stop persecuting Falun Gong.
At the very end, we sent forth righteous thoughts to eradicate evils in the three realms.