Photo Report: Geneva Group Practice in the Rain
On the afternoon of April 19, 2001, about 400 Falun Gong practitioners came to the bank of Geneva Lake for group practice. It was raining, but practitioners still showed up as planned.
On the other side of the lake is the UN building and some resident representative offices. In the rain, the exercise music and practitioners formed a peaceful scene and it attracted many passengers. One passenger even stopped and learned the second exercise.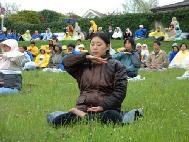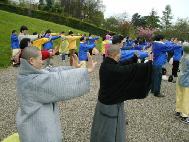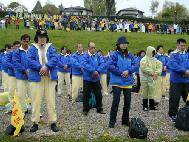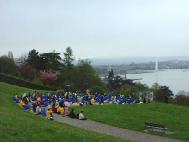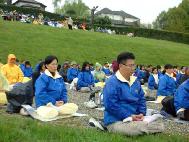 The group practice lasted about 3 hours. Among practitioners, there were teenagers, young mothers with their babies, and practitioners over 80-years-old.
Group practice again by the Geneva Lake
The next day, about 300 practitioners came to the same place for group practice again. This time it was sunny. We could see the UN building on the other side of the lake very clearly.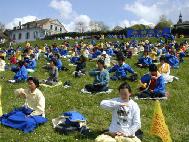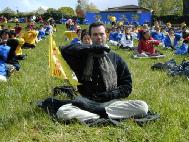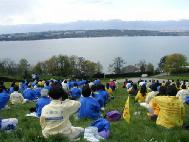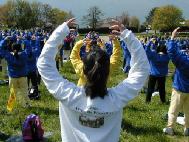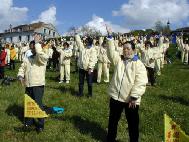 Like the day before, many cars stopped by. People watched us and took Dafa materials. They have heard Falun Gong from various avenues. They now had the opportunity to see the peaceful exercises for themselves. Many local residents got to know Falun Gong and its peaceful nature from outdoor group practices. At the same time they learned about the inhuman treatment of Falun Gong practitioners in Mainland China.