Master Li Gives A Speech at the 2001 Washington DC Falun Dafa Experience Sharing Conference
[Clearwisdom.net]
Washington DC, July 21, 2001 -- Close to 4,000 practitioners from over 30 countries around the world gathered at the Kennedy Center in the nation's capital to attend the 2001 Washington DC Falun Dafa Experience Sharing Conference. Practitioners were overwhelmed with joy when our great Master made an appearance at about 2 o'clock in the afternoon. All practitioners stood up and applauded enthusiastically, and many of them were moved to tears. Master Li gave an important speech for about 40 minutes.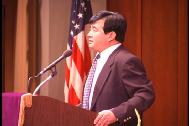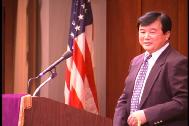 During the one-day conference, practitioners from the United States, Canada, Australia and Mainland China shared their experiences in Dafa cultivation and assisting teacher in the process of Fa rectification. Among the presenters were Amy Lee and Zhang Cuiying, who directly faced persecution and detention in China. Practitioners who participated in the recent "Walk-To-DC" campaign also reported their arduous journey to call for the urgent rescue of practitioners persecuted in China. The practitioners presented both the lessons learned in their efforts to clarify the truth and the cultivation improvements they received as a result of these efforts. Their experiences inspired other practitioners to advance diligently, to redouble their efforts to spread the truth, eliminate evil and offer salvation to people with the righteous thoughts of Dafa disciples. During the conference, practitoners also watched truth clarifying video programs produced by the "Illuminating Light" video team.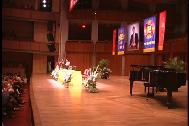 Due to the limited seats available, over 500 practitioners were not able to get into the conference hall, and thus missed the opportunity to see and listen to Master's speech in person. Although some of them came from a long way, they considered other practitioners first and gave up their tickets to others. This demonstrated the practitioners' unselfishness and lofty level.
The conference was concluded at 4:30 successfully. Thousands of practitioners went to George Washington University and the Capitol Mall for group study and discussions.