Beijing Police Beat Dafa Practitioner Ren Jinhuan to Death!
June 29, 2001 | Practitioners in China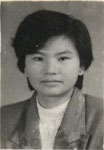 Ren Jinhuan was a resident of Fang County, Hubei Province. She began to practice Dafa in 1998. On July 22, 1999, she was dismissed from work because she held firmly to her belief in Dafa. On September 20, 1999, she went to Beijing to appeal. Since no governmental departments would listen to Dafa practitioners' appeal, she went to Tiananmen Square to unfurl banners. As a result, Beijing police captured her. Later she was taken back to the Fang county detention center. During the 28 days when she was jailed in Fang county detention center, she went on a hunger strike to protest the persecution, however, she was force fed and beaten brutally afterwards. The brutes in the detention center tried all torments meant specifically for death row criminals on her. Three days after she was taken back to Fang County, when her mother had a chance to see her, she was barely beyond recognition due to torture and her face was black and blue. While she was in detention, the local policemen came to her home to confiscate Dafa books. Moreover, they looted her VCR and tape recorder that till now they haven't returned to her family. They also pressured and threatened her more than 60 year-old mother. The elderly mother was paraded through the streets, and detained for two days without any food. Later the perpetrators forced her mother to pay 2000 Yuan RMB to bail her out, however, they did not release her until the 28th day. (Her mother had to pay the detention center 120 Yuan each week for her room and board there).
On April 25, 2000, Ren Jinhuan once again went to Beijing to appeal and was later arrested by Beijing police. On April 28, her family was informed that she was disabled (due to the cruel beating) and her mother had to pay 40000 Yuan for her medical expenses. On May 5, 2000, her family was told that she was dead. On May 11, her ashes were brought back to Fang County.
Ren Jinhuan once worked in Shenzhen city, Guangdong province before she died. She was an easy-going, kindhearted and versatile person. She could speak several foreign languages; she could drive; she was also a specialist in financial management.