Falun Dafa Practitioner Liu Shusong Murdered by Shijiazhuang City Public Security Bureau
May 28, 2001 | Dafa Practitioners from China
Liu Shusong, male, 28, Baoding City, Hebei Province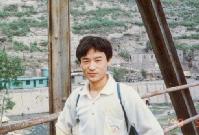 [Minghui Net] Liu Shusong was born on November 15, 1973. He was admitted by the Clinical Medicine Department of Hebei Province Medical University in September 1993. In 1994, he became a Falun Dafa practitioner, and had been striving forward diligently. He also actively participated in Hongfa [introducing Falun Dafa] activities, and enabled many people to obtain the Fa [law and principles] and benefit from practicing the Fa. In July 1998 he graduated from the Hebei Medical University and was assigned to work at the Pinggu County Hospital in Beijing. At work, he was strict with himself, and refused to accept any bribes from his patients. He handled everything according to the Fa, and used the Fa to measure everything. He was conscientious in fulfilling his duty and responsible for his patients. He wholeheartedly devoted himself to his work.
In July 1999, Jiang Zemin's political gang illegally banned Falun Gong. In line with the directive of Jiang Zemin's gang, Liu Shusong's hospital leaders forced him to hand in his Falun Dafa literature and cassette tape recordings. However, Dafa [great law and principles] was deeply rooted in his heart. He still strictly required himself to act according to the highest standard of a cultivator, remained firm and steadfast in his belief in Falun Dafa and followed the guidance of the Teacher. When clarifying the truth about Falun Dafa to the public, he did many things to spread Dafa and assist the Teacher in the Fa-rectification process.
On May 5, 2001, on his way from Baoding City [Hebei Province] to Beijing, Liu Shusong was detained on the train by the railway police. Two days later, the Shijiazhuang Public Security Bureau notified his family to claim his body. When his family members arrived, what they saw was a corpse that had obviously been subjected to severe torture. The "authorities" claimed that he had jumped from the top of a five-story building to commit suicide. However, what his body revealed was another situation: his wrists had a more than two-inch scar that had festered. Slightly above each of his nipples, there were four red spots; the "authorities" claimed that the red spots were left due to vein puncture when giving him emergency treatment. Two bones on his heel were exposed, but did not protrude enough to affect his wearing shoes, and his leg bones became quite brittle. There were also bloodstains on the ground. Except for the above-mentioned injuries, the other parts of his body were completely fine without even a slight cut on the skin. How can we believe that he jumped from the fifth floor to commit suicide? How can the authorities bring this case to an end like this? Liu Shusong didn't carry anything with him, but he was framed and reported to have carried flyers, materials, slogans and VCD's. Even if he carried all this, what crimes did he commit? His family members asked the "authorities" to take a look at this so-called "material evidence," but the "authorities" refused their request.
Liu Shusong was a good person, and all those who knew him commended him. Why didn't the vicious police allow a good person to speak out the truth, but instead smeared him and trumped up charges against him to ruin his reputation?! This brutal crime can't be accepted!