Latest News from China - 03/28/2001
[Yantai City, Shandong Province] Practitioner Liu Qiuhong, 8 Months Pregnant, was Forced to Abort in Yantai City
Practitioner Liu Qiuhong, was a 39-year-old female worker at the Zhongce Pharmacy Company. When she was eight months pregnant, she was forcibly taken away from her home by police and was forced to have an abortion. The newborn was still alive and could be heard crying during the abortion. But the baby was taken away, and its condition is unknown. After the abortion, Liu Qiuhong was not permitted to have a rest. Instead, for almost a month, she was confined in a "Transformation Class" in Fenghuangtai Administrative Office. Recently, she was illegally sent to a labor camp.
In addition, thirteen additional Dafa practitioners from Zhifu District, Yantai City, were illegally sent to labor camps, including 4 males and 9 females. The practitioners whose names are known were: Sun Yuanhua, Sun Yuehua (they are sisters.), Song Yu (female), Liu Qiuhong (female), Yuan Dong (male). Other practitioners' names were unclear.
[Masanjia Labor Camp, Laoning Province] Voice from the Universe Resounded in the Masanjia Labor Camp.
At the midnight on March 22, 2001, Voice of Falun Dafa resounded in No. 2 Section of the Masanjia Labor Camp, which shocked the evil forces, and at the same time greatly encouraged determined practitioners who are in detention.
Dafa practitioners placed loudspeakers outside of the labor camp and broadcasted twice at midnight. The contents of the broadcast included Teacher's three new articles, a solemn letter to the vicious people from Dafa practitioners and a letter to those detained people who have so-called been "reformed."[the people whose mind has gone astray due to Jiang Zemin regime's brainwashing or torture] This broadcast strengthened the practitioners' belief in the Universal Dafa [the great Law] and strongly suffocated the rampant vicious forces.
[Yongding River, Beijing] "Falun Dafa is Good"-Banners Fluttered Along the Yongding Riverside.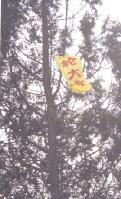 In the middle of March, banners reading "Falun Dafa is Good" fluttered in the pine trees alongside the Yongding River. Dynamic red characters applied to yellow background were very conspicuous and attractive in Beijing where yellow dust was flying in the air [because of the desert areas surrounding Beijing].
[Beijing] The Dafa Scroll in Xidan Shopping Mall in Beijing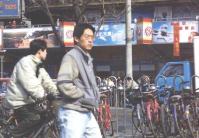 The Minghui Net published the news of "A Scroll Reading 'Falun Dafa Is Good' was Displayed Outside the Second Floor of Xidan Shopping Mall in Beijing on March 10, 2001." [http://www.clearwisdom.net/eng/2001/Mar/19/LNC031901_1.html] Passers-by across the street stopped and looked. The following is the picture of the news.
[Hebei Province] A Great Deal of Dafa Banners Showed Up in A City of Hebei Province
Recently, many posters written with red oil paint reading, "Falun Dafa is Good", "Falun Dafa is Righteous Fa "[law or universal principle],"Truth-Compassion-Tolerance," "Reclaim Innocence to Falun Dafa," and "True Practitioners Assisting Teacher in the Human World," appeared on electric power poles and on walls in the busy downtown area. Several days later, the posters were still there and very conspicuous.
[Jilin City, Jilin Province] Nearly A Hundred Practitioners Went on A Hunger Strike in Jilin City's Detention Center
On March 7, 2001, officials of the Jilin City Detention Center aggravated the persecution of Dafa practitioners. They grouped together more than 190 Dafa practitioners who were being illegally detained and set up an "Education Team" for them. Now, nearly a hundred practitioners have been on a hunger strike to protest.
Dafa practitioner Pan Zhaowen (male) and his brother were illegally taken into custody from their home on September 2,1999. Their Dafa materials and personal computer were confiscated, which have not been returned till now. Afterwards, the brothers were also illegally detained another time. On January 6, 2000, they were sentenced to 1 year of forced labor because of attending a Dafa Experience Sharing meeting. They have not been released as yet. Recently, Pan Zhaowen was taken to a "discipline room," as he did not do as a guard had ordered. When he came back, the corner of his eye was bleeding. The detailed information about his condition is unclear.
In June 2000, Dafa practitioner Li Wenjun and her mother, under false pretenses, were lured to go to the local police office. The mother was released at noon on the same day. But at 4pm that afternoon, Li Wenjun was sent to a detention center to serve 2 years of forced labor. Recently, Li Wenjun was handcuffed in the corridor for a day and was beaten with an electric baton, as she did not allow the guard to do a body search on her.
We call on all kind-hearted people with a good conscience to pay more attention to these Dafa practitioners who are on hunger strike and being persecuted.
[Benxi City, Liaoning Province] 40 Dafa Practitioners Went on A Hunger Strike at the Ajialing Detention Center in Benxi City
On March 20, 2001, 40 Dafa practitioners went on a hunger strike at the Ajialing Detention Center in order to press their case for an unconditional release. On March 25, during the night, the voice from the Falun Dafa Radio Station resounded in the air above the detention center, which suffocated the vicious forces.
[Shijiazhuang City, Hebei Province] According to reliable information, more than 20 male practitioners in No. 2 Team of Large Unit in Shijiazhuang Detention Center are on a hunger strike, in order to resist the persecution. We hope that all kind-hearted people could pay more attention to this matter!
[Jilin City, Jilin Province] Young Dafa Practitioners were Detained in a "Transformation Class" in Jilin City
More than 30 determined Dafa practitioners were illegally detained in a "Transformation Class" in Changyi District, Jilin City. They included three young practitioners: Hou Zhenlong (male, 8 years old), Zhao Qinu (female 14 years old), and Guo Xiujing (female, 15 years old, a student in grade eight). The oldest practitioner being detained was Ma Shuang, a 77 year-old teacher at Yongji Education Institute in Hewanzi.
[Hebei Province] Unreasonable Logic
In early March, manipulated by some people with ulterior motives, officials at a school in Hebei Province convened a school meeting. All of the teachers and students were forced to sign their names to the so-called "Advocate Science, Fight against XX [slanderous words omitted]" petition. A policeman from the local police office gave a speech, stating: "Falun Gong practitioners have never deceived and hurt others. They are trying to be good people. But the practice is prohibited, so everyone had better give it up."
[Heilongjiang Province] The Criminal Act at Boli Railway Station of Heilongjiang Province
Teacher's picture was placed on the ground at the entrance to Boli Railway Station of Heilongjiang Province. Plainclothes police watched over it in turns. People were ordered to step on the picture. Those who did not step on the picture would be detained. Two female passengers did not step on it. As a result, they were chased by plainclothes police.
[Jilin City, Jilin Province] The Persecution of Dafa Practitioners at Huanxiling Detention Center
In September 2000, at No. 2 Team of No. 3 Large Unit of the Huanxiling Detention Center, a collective beating of Falun Gong practitioners took place, a shocking event.
Here are the details. A guard named Zhang beat up practitioners, just because of a trivial personal problem. The practitioners were all severely beaten. As a result, their noses were bleeding and their faces were swollen. Wu Dexiu and other practitioners' teeth were forcefully brushed with a shoe-brush. Consequently, their gums were all swollen.
In November, a guard tortured more than ten practitioners from No. 4 Large Unit with an electric baton, because they practiced the Falun Gong exercises.
In January of 2001, in the bitter cold weather, Bai He and Xu Yanjun (both are female), from No. 3 Class of Education Team," were forced to stay in the corridor for an entire night without wearing cotton-padded clothes, because they repeatedly refused to study jail rules and regulations.
In February of 2001, officials from the detention center held a meeting to extend Falun Dafa practitioners' prison terms for not writing the "Breaking Letter"(break with Falun Gong). The longest extension term was 9 months. Practitioners from No. 4 Large Unit went on a hunger strike to protest, but they were placed in solitary confinement for more than 10 days. Among these practitioners were Liu Hongwei, Jiang Yihong, Sun Tiesheng and Tian Fusen (four are male).
In the middle of February, Liu Xun from Department of Education had a "talk" with the practitioners from No. 2 Class of Education Team. Practitioner Xu Zhiguo (male) accidentally smiled during Liu's talk. Liu thought Xu's smile was condescending. He pulled Xu into the office and beat him with an electric baton. On another bitter cold day, guard did not allow practitioners to wear cotton-padded clothes and hats during the outdoor morning exercise. As a result, many practitioners became frostbitten.
On March 6, 2001, Large Education Unit was set up. Guards searched and took away Dafa books from practitioners. Practitioners went to ask for the return of their books but were refused. Therefore, out of protest, a hundred practitioners started a hunger strike.
[Xi'an City, Shanxi Province] Liu Dianxun, Graduate Student from Xi'an Jiaotong University, was Coaxed to Go to the Police Station and was Illegally Detained
On January 12, 2001, two policemen from Beilin District Police Station went to Xian Jiaotong University to see Liu Dianxun, a graduate student of the Class of 1998 [enrolling in 1998]. They said that they sympathized with Dafa practitioners and wanted to encourage them. They asked Liu to bring Teacher's new articles and go with them. Liu has not come back yet. We condemn this kind of deceptive action of the police and also ask everyone to pay close attention to the situation of Liu Dianxun. We hope all practitioners will be more cautious and alert toward these deceiving actions.
[Huabei Oil Field, Hebei Province] The Police Illegally Persecuted Dafa Practitioners for Police Title
Recently, Huabei [North China] Oil Field worked out a vicious plan that they would transfer 63 practitioners out of 65 who have not been "reformed" by the end of April. They harassed practitioners' normal lives by forcing them talk with officers from the "610 Office" [a governmental organization specializing in persecuting Falun Gong], subject them to home-searches by the police, and other means. Practitioner Li Aihua, a teacher of the Technical School, has been removed from his teaching position in 1999 and was transferred to work in the library. But, he could not go to work for ten days because of the daily "talks" with the "leaders." They said if he would not be transferred, he would be fired. In addition, the "officials" monitored the retired employees by tapping their phones, following them, or harassing their lives under the pretense of having a "talk" with them. Since most practitioners are elderly people, as such, they have developed the habit during their several decade years of life to meekly submit to maltreatment. Therefore, they are used to being obedient to these evil arrangements to attend the so-called "Study" class. They did not effectively suffocate the intentions of the evil forces. Through studying the Fa among themselves and exchanging their understanding of Teacher's new articles, all of them realized that " walking out of the realm of ordinary people" meant freeing themselves from the mentalities of ordinary people. They awakened to the fact that they must suffocate the evil forces with their righteous thoughts and resist all harassment and damage of any form. One practitioner said, "I will shout out loudly if they catch me, and I will not voluntarily attend the 'Study' class unless they catch me." Another person said, "I will get rid of the mentality of ordinary people once it flashes in my mind, never allow my thoughts to have any loopholes." Yet a different individual said, " We should not submit to any of their demands."
After March 15, two practitioners who published a "Solemn Statement" on Minghui Net [to retract their previous statements giving up their belief] were detained; two others were placed under house arrest for a "study" class, while several practitioners became homeless as a result of the constant threat of arrest. No-one could understand why the Party Committee of Huabei Oil Field and the police treated their own people like this, because everyone at the Huabei Oil Field was part of a small community, all co-workers were friends. But the overseers had the nerve to even sentence an elderly lady, over 60 years old, to 3 years in a labor camp. The sentence was much heavier than that in other surrounding counties and cities.
Later, people knew that the police of Huabei Oil Field had been only the "inside safeguards" without having any police title. The Police Department of Hebei Province intended to grant them the titles in 1999. But after July 20, 1999, Dafa practitioners became more and more mature in safeguarding Dafa, which had strengthened the manifestation of Dafa in the human world. The Police Department of the province took the promise of a title as an incentive to follow the police' directive to persecute Dafa practitioners.
Now, 15 Dafa practitioners have been illegally sent to labor camps. Among them, 13 are female and include: Lu Zhanping (3 years), Zheng Shuyan (3 years), Guo Yongzhen (3 years), Fu Yanfei (3 years), Li Jingling (3 years), Li Danfeng (3 years, has been "reformed" by the evil). Others are all between 50 to 70 year-old elderly women practitioners; most of them were sentenced to 3 years of forced labor. There were also three male practitioners: He Huifang (3 years), Wu Zhidong (3 years), Liao Youheng (2 years).
[Hubei Province] Liu Huiyong and Others from the Science and Technology Association of Hubei Province Slandered Dafa
On the morning of March 7, 2001, there was an indoor Anti -Falun Gong Picture Exhibition at the Science and Technology Building in Hubei Province, sponsored by Hubei Province Science Museum. Later, the exhibition was moved to Hongshan Square. That morning, a big wind blew with gale force strength. The posters that misinformed and tried to sway the public were blown down one by one and even again and again after having been straightened and re-hung.
Secretary Liu Huiyong and others from Hubei Province Science and Technology Association also established a so-called "association" to slander Dafa.
Liu Huiyong: Office phone: 011-86-27-87824292, Home phone: 011-86-27-87826132
[Huoshan County, Anhui Province] The Police Illegally Arrest People
The local policemen got very angry when they discovered that their criminal acts that persecuted Dafa practitioners have been exposed on the Minghui Net. They suspected it was done by a young college student from Huoshan County, Hefei City. They forcibly put him into jail and have not released him up until now.
[China] What a "Country Ruled by Law" It is!
I am 30 years old. I started practicing Falun Gong in September 1998. It is hard for me to express in words the benefits I obtained from the practice. After Falun Gong was banned by Jiang Zemin's group without any reason, I appealed twice in April and December 2000, but was illegally detained for one month each time. I was forced to submit huge sum of fine (4000 Yuan and 6000 Yuan, this equals the total income of 5 to 6 years for a Chinese peasant), and to write Guarantee (my relatives were asked to be my guarantor). They deprived me of my basic legal rights as a citizen by putting high pressure on me. Now I cannot go home, and can only wander about as a homeless person. My wife and child are not allowed to rent an apartment (they are not practitioners). They threaten my wife to divorce me. They also threaten my sister to divorce my brother-in-law (they are my guardians). Otherwise, they would put my brother-in -law in jail. At the same time, even my relatives and friends have also experienced different kind of threatening from different level of governments for the purpose of catching me. What kind of "country ruled by law" is this!
A Practitioner from China
March 26, 2001
[Jixi City, Heilongjiang Province] Jixi Detention Center Excruciatingly Tortures Dafa Practitioner Zhang Shili
About ten days ago, Dafa Practitioner Zhang Shili, about 40 years old, from Jixi City, was arrested by officers from the local police station and City's National Security Bureau. During the period of illegal detention at No. 2 Detention Center, he was severely beaten repeatedly. The policemen beat his head, face, chest and back with the "small white dragon" (a white plastic pipe) and caused him serious, painful injuries. They held him alone and poured cold water onto him. We call on people with righteous minds to pay attention to this matter.
[Xiaogan City, Hubei Province] Details of the Persecution Suffered by Dafa Practitioner Wang Xinbi and Her Relatives
Dafa practitioner Wang Xinbi from Xiaogan City, 53 years old, is a retired employee of Sanjiang Hangtian Automobile Industrial Corporation. She (?) began cultivating Falun Dafa since 1997, and felt great improvement both physically and spiritually. She had previously undergone an operation for rectal cancer. Wang went to Beijing in October 1999, after the "July 20 Incident." Later, she again went to validate Dafa at Tiananmen Square in April 2000, was escorted back to Xiaogan City and put into criminal detention for more than 100 days and was later bailed out. As she lived alone in Xiaogan City, her daughter sent many requests to Xin Yougui, the division head of the Development Zone Branch of Xiaogan City Police Department, to ask permission to bring her mother to her home to live with her and her husband. But he refused all the daughter's requests. Xin Yougui even ransacked Wang Xinbi's home without her permission and additionally threatened her by saying: "I'll arrest you if you still practice it." (Falun Dafa). Wang Xinbi was forced to leave home. She went to Tiananmen Square again in February 2001, unfurling a banner to validate Dafa. Her right wrist was broken when she protected the banner from being grabbed by the policemen. She managed to escape from the local government liaison office in Beijing and her whereabouts are not known now. In order to find Wang Xinbi, the official named Xin Yougui seriously harassed her relatives and friends. We call on kind-hearted people to pay attention to this matter.
Address of the Political & Security Division of the Xiaogan City Development Zone Police Branch:
Political & Security Division, Development Zone Police Branch
Wenhua Dong Road, Xiaogan City, Hubei Province. Postal Code: 432100
Telephone number: 011-86-712-2843316
[Dalian City, Liaoning Province] Dafa Practitioner Cui Yuzhang was Sentenced to 3 Years of Forced Labor
In November of 2000, Dafa practitioner Cui Yuzhang from Dalian City was illegally detained by officials from the Changchun City Police Department, Jilin Province. [next to Liaoning Province] She was sentenced to 3 years of forced labor and is now held at Chaoyanggou Detention Center at a suburb of Changchun City.
[Yantai City, Shandong Province] A Practitioner from Yantai City was Illegally Sentenced to Forced Labor
Wan Ximei, female, 55, is a retired employee of No. 4 Plastics Factory of Yantai City. Since December 2000, she has been deprived of receiving her retired pension, because she insists on practicing Falun Dafa. She was forcibly taken away by staff from her work unit as well as police from Beidaxi Street Police Station, to a so-called "Isolated Transformation Class." Later, on March 9, 2001, they sentenced her to 2 years of forced labor.
Unscrupulous persons in charge:
Zhang Ailing, division director of Yantai City No. 4 Plastics Factory, home telephone number: 011-86-535-6209807; office telephone number: 011-86-535-6010804.
Sun Pu, policeman from Yantai City Beidaxi Street Police Station, office telephone number: 011-86-535-6255110.
[Zizhong City, Sichuan Province] Illegal Actions by Guards of Nanmusi Women's Labor Camp in Zizhong City
Recently, in order to force Dafa practitioners to write so-called "repentance statement," guards and officials from the Nanmusi Women's Labor Camp in Zizhong City, Sichuan Province, adopted measures to torture Dafa practitioners. The guards used means such as making practitioners stand up for long periods of time, depriving them of their sleep, not allowing their family members to visit them and bring clothes to them.
We hope kind-hearted people to pay attention to this matter.
[Dalian City, Liaoning Province] Police from Malancun Police Station of Shahekou District, Ransack People's Homes and Illegally Arrest People
Between 8am to 9am on March 3, 2001, a policeman with last name of Yue, from Malancun Police Station, together with another policeman and two security personnel suddenly ransacked Huang Kemei's home. Disregarding the cries of protest from Huang's 82-year-old paralyzed mother who was in bed, those four people dragged and pushed Huang Kemei out of the house. Hung Kemei was not even dressed and wore no shoes. Huang asked to be allowed to put on her clothes and shoes. The policemen returned to get them for her and locked her elderly mother in. The onlookers there all condemned the wicked deeds of the police and their indifference toward and neglect of senior people's life and illegally arresting people. The policemen felt guilty and tried to unlock the door, but they broke the key in the lock. Hurriedly, they then forcibly took Huang away. Huang is now illegally held at Yaojia Detention Center. Later, the policemen opened the door to Huang's home with an electric drill. The neighbors questioned them while they drilled the door. The plain-clothed policemen answered: "Somebody reported that this family is practicing Falun Gong."
[Shenyang City, Liaoning Province] A Woman Practitioner from Shenyang couldn't Go Back to Her Home
Li Hui (pseudonym) is a 54 year old woman. On September 21, 1999, someone from the "Street Administrative Office" knocked at her door and informed her that she must not to go to Beijing. Li Hui replied: " I don't blame you for your message, since you are dispatched to me by someone in a position above you. I'd like to meet them." She went to the local police station to see that someone. She didn't come back from 9am till 5pm. After that, she was sent to Danan Detention Center. The reason given for her detention was that of "the possibility of her going to Beijing." At the center, the female secretary shouted at her: "I will send you to the room for mental patients." There was no window in the room. Li Hui could only sleep on the concrete floor. Three people shared one quilt. The living expenses charged to them are 20 Yuan per person per day. The food is cabbage soup or the leftovers from the guards' meals. Forty people share 15 pieces of steamed bread. [Note: a piece of steamed bread, a type of roll, is only the size of an American doughnut. Fifteen pieces for 40 people is not nearly enough]. She had to live and eat with the mental patients and was detained for 25 days. When she was released, she was forced to pay a 5,000 Yuan "fine."
In December 1999, Li Hui, along with another two practitioners, went to a practitioner's house and was subsequently arrested illegally by people from the Dadong District Police. The "charge" was that a group of three is counted as "illegal gathering and assembly." They were detained at Fangjialan Detention Center for 15 days.
In March 2001, Li Hui's house was besieged for a long time by the police, due to her firm determination of practicing Falun Dafa. She was forced to leave home and couldn't go back since then.
[Harbin City, Heilongjiang Province] The Illegal Behavior of Persecutors During the Persecution of Dafa Practitioners in Heilongjoang Province's Civil Aviation Bureau
Several persons in leadership positions of the Heilongjiang Province's Civil Aviation Bureau cooked up a scheme. They called Dafa practitioners whose paychecks had been stopped, who had lost their jobs and almost became destitute and homeless, to attend a "study" class. Because practitioners refused to do so and told the truth about Falun Dafa with justice, some leaders were consumed with fury. They practically lost their minds. They forced two practitioners to get out of their house and sent them to a "transformation" class, held by the Drug Rehabilitation Center. The reason given for this action was "personally and verbally contradicting the management and making the management lose face." These two practitioners were forced to pay 5,000 Yuan each as "expenses."
The so-called "transformation" class was said to last for one month. We can't imagine what kind of torture the practitioners will face. What will happen at the end of the month is beyond our imagination. When the practitioners' family asked the leaders what would happen, the answer was that we are going to "help them and educate them." The leaders said the practitioners were all good people. As long as they give up practicing Falun Gong, they could do anything they wanted. They would then even be capable to be "management" themselves.
We care for these practitioners' safety. We are ready to expose any behavior that is against human rights.
Civil Aviation Bureau switchboard telephone: 011-86-451-2627070
Officials of Civil Aviation Bureau:
Sun Shiyan, telephone: 011-86-451-2896387
Zhou Jiace, telephone: 011-86-451-2896188
Zhou Zhanwu, telephone: 011-86-451-2896859
[Harbin City, Heilongjiang Province] The Illegal "Transformation" Class in Heilongjiang Province's Civil Aviation Bureau, Harbin City
The Falun Dafa practitioners, most of female, in the Heilongjiang Province Civil Aviation Bureau are getting more determined in stepping forward and clarifying the truth about Falun Dafa to people. For this, the bureau stopped their wages and cut their jobs. On a daily basis, persons from the bureau call on the phone those practitioners who were fired from their jobs and disturb the routine of their normal life. Those who do go to work are also scrutinized by the "leadership." After Jiang Zemin's group staged the "self-immolation massacre", this particular bureau started to have another, new round, of persecution. They set up 10-day "study" classes. The first day, the practitioners did not know the purpose of the class. They went to the class, though. Some practitioners left right away, after they figured out what the class was all about. Some stayed behind and took out the materials clarifying the truth about Falun Dafa and discussed the truth of "the self-immolation" incident, as well as Jiang Zemin group's illegal persecution of Falun Dafa. The practitioners spoke the truth without reservation, open and above board. Because the "leadership" realized that the result was not what they had intended, they left depressed.
After 10 days, the head of the bureau, Sun Shiyan, said: The students contradicted the leadership in front of the class; didn't take into consideration saving the leadership's face; and did not allow the "leader" to be able to get out of an awkward situation gracefully. The leadership all was mad. Actually, our practitioners only spoke out the truth. Don't we have the right to speak something that is true and to appeal for justice? But Jiang Zemin's group does not allow Dafa practitioners to speak for Dafa while continually persecuting practitioners. They treat this group of peaceful and good people by sealing off people's mouths and persecuting them. But for their power and for the so-called "face," to ventilate their anger, these "leaders" made the decision: the bureau disburses 5,000 Yuan for each practitioner's expenses in the so-called "transformation" class in the City Drug Rehabilitation Center. They swindled two practitioners out of their homes, and forcefully sent them to the Drug Rehabilitation Center. Moreover, the bureau is going to set up the same type of class for those practitioners who were not there this time.
There is nothing human in this persecution in the one-month-long "transformation" class in the City Drug Rehabilitation Center. The center adopted vicious means such as threats and intimidation. They tried to tempt people with the promise of gain, and scared the good people with the possibility of isolation to forcefully "transform" the practitioners. They sent determined practitioners to a labor camp.
Recently, under a new round of pressure from the upper level, many work places turned the way of persecution from firing, stopping jobs, not inquiring about, to deceiving practitioners into attending the forceful "study" class held by the work units. They also directly send them to the so-called "transformation" class especially set up for persecution of Falun Gong. The practitioners who were not "ed" (would not submit to brainwashing) would be sent directly to labor camps.
The work units who cooperated with Jiang Zemin's group and local police, failed to make a clear distinction between right and wrong in this persecution. For selfish, personal gain, they escalated the persecution.
Hypocritically, they said that Falun Gong practitioners in their units are all extremely good people. As long as they do not to practice Falun Gong, everything will be fine, and the practitioners can even be promoted to leadership positions of their units. But in their practical actions, they sent practitioners to the "transformation" class that is like a living hell.
In such persecution, some practitioners even thought the units were actually also caring for them. How fearless are the thoughts of the people?
Therefore, we all should be wise to all the different means the evil forces are using by standing firmly on the Fa, expose their deeds and stop them.