Photo report: Hamilton - the first city in New Zealand to proclaim Falun Dafa Day
On the 24th February 2001, Falun Dafa Day was celebrated in the beautiful Rose Gardens in Hamilton. After forecasts to the contrary and a very wet week, Saturday the 24th dawned with cloudless skies and the weather was perfect. His Worship the Mayor, Mr. Russ Rimmington and the Mayors wife Edwina Rimmington arrived at 2.30 p.m. Our guests showed a great interest in all parts of the ceremony ?the introduction to Falun Dafa, practitioners experience telling and the short demonstration of the exercises. The Mayor himself gave a speech that amazed the listeners. First of all, he was very appreciative of the honor that was being bestowed upon the City of Hamilton. Hamilton is the very first city in New Zealand to have proclaimed a Falun Dafa Day. He also expressed appreciation at having been invited to take part in this ceremony. In fact, when we first invited the Mayor to proclaim a Falun Dafa Day in Hamilton, he did not hesitate at all in accepting the invitation. Secondly, the practitioners were moved by the Mayor抯 depth of compassion and understanding for the situation of Falun dafa practitioners in China and elsewhere in the world. The Mayor expressed an understanding of the positive benefits of Falun dafa for society in general and how it could be used to bring the different cultures together.
At the end of the ceremony, Mr. Rimmington was invited to sign the Proclamation and place the official seal. Photos were then taken of the Mayor with the Proclamation. He was then presented with a copy of Zhuan Falun and China Falun Gong, and finally, both our guests received a posy of flowers. When presented with Zhaun Falun, the major expressed that he was very enthusiastic and could not wait to read it and would keep a copy in his Office in the local Majors chamber. Further photos were taken of the official guests and all the practitioners together. It was, in all, a very successful and happy day.
By kiwi practitioner in Hamilton, New Zealand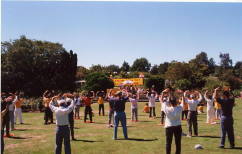 Demonstrate Five Sets of Exercises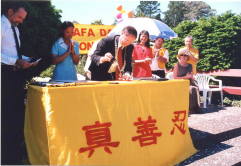 Sign the Proclamation and Stamp the Official Seal
Issue the Proclamation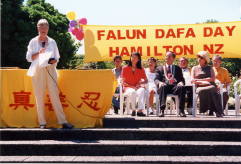 Welcome Speech from Local Practitioners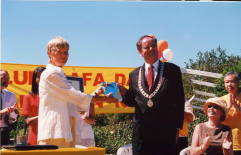 Accept the Precious Gift-<< Zhuan Falun >>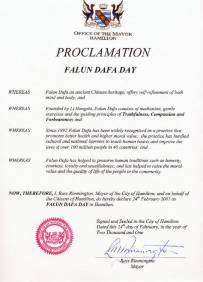 The First Falun Dafa Day Proclamation in New Zealand