The First Promotion of Falun Dafa in Vermont State
[Minghui net] The State of Vermont is located in northern New England near Canada. No practice sites, seminars or introductory classes had ever been offered in the state. Two years ago, several Westerners traveled to the neighboring state of New Hampshire to attend the first English experience sharing conference. After learning about the Dafa situation in Vermont, several practitioners decided to promote the Fa in that state. So a few practitioners from Massachusetts, New Hampshire and Maine voluntarily formed a group to promote the Fa in Vermont.
These practitioners decided to start with the four major cities in the state, including the state capital. Using both days of the weekend, introductory classes were arranged in the cities of Montpelier, Barre, Burlington and South Burlington. At the same time, we applied for proclamations from these cities and sent out Dafa introductory materials and information about our classes to all the local media. The media published our class information for free. Adam Silverman, a reporter from the Burlington Free Press, was very interested in Dafa and wanted to write a special report on our activities. So before the weekend, we mailed him Dafa materials and videotapes. Later he wrote a very good report, including two photographs. His article was published on the front page of the Sunday newspaper. Also, two cities had issued proclamations for us. To celebrate the promotion of Dafa for the first time in the State of Vermont, the mayor of the state capital, Montpelier, named the week of Jan. 22nd to 28th as "Falun Dafa Week", and the day of Jan. 28th as "Li Hongzhi Day". We also sent out Dafa newspapers and information about our introductory classes to the local libraries and churches to get more publicity.
To support the spreading of the Fa in Vermont, the practitioners from Boston specially relocated their regular weekend Fa studying sessions to a site close to the city of Barre in Vermont. In total around twenty people came to our introductory classes and study sessions. The Boston practitioners strongly supported the first promotion Fa in Vermont.
An important aspect of this activity is that all the classes were hosted by two westerners, with Chinese practitioners' assistance, so that the westerners could actively use their abilities and wisdom.
At the public library in Burlington, about twenty more people attended our introductory class. Most people expressed the hope that we would come again and establish a regular practice site.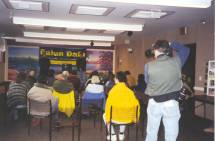 A reporter from Burlington Free Press photographs practitioners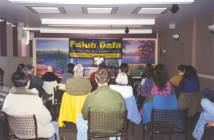 Playing the videos "Introduction to Falun Dafa" and "Falun Dafa-The Real Story"