Township of Hillside, New Jersey Issues Proclamation Condemning the Brutal Persecution of Falun Gong in China
December 24, 2001 | New Jersey Practitioner
On December 18, 2001, Ms. Karen McCoy Oliver, the mayor of Township of Hillside, and the City Council issued a proclamation condemning the Jiang Zemin regime's persecution of Falun Gong practitioners. The proclamation said that the Jiang Zemin regime's persecution of Falun Gong practitioners is trampling human rights and freedom, and should be condemned.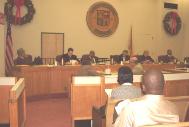 Meeting of the City Council of the Township of Hillside, New Jersey
A representative of Falun Gong practitioners attended the meeting and in his speech praised the mayor and the City Council for upholding justice and condemning the evil forces. He expressed his appreciation to the mayor and City Council for their support to Falun Dafa and his wish to all for a happy holidays. He also recounted the experience where many local residents learned Falun Gong during the 31st Health Expo in the Township of Hillside last October. The Chief Financial Officer of the City Government attended the meeting and said that he would contact the Department of Health to have a Falun Dafa class. The wife of the Vice Speaker expressed her wish to attend the Falun Dafa class after hearing the speech of the practitioner. The practitioners handed Falun Dafa literature to her and welcomed her to attend the Falun Dafa class to be held once a week in a community center in the City of Elizabeth nearby.
The mayor and City Council also issued a proclamation last year declaring Falun Dafa Week in the city during December 4-8, 2000.