Deputy Mayor of the Leichhardht City Council (Australia) Hosts the "Justice for Falun Dafa" Video Launch
December 18, 2001 | By practitioners in Sydney
(Clearwisdom.net)
5 December 2001 -- Sydney There was a full house at the "Justice for Falun Dafa" Video Launch, hosted by Jamie Parker -- Deputy Mayor of the Leichhardht City Council in Sydney.
Prominent members of the local and international community attended, including diplomats from the Taiwanese Government, Mayor of Leichhardt, Councilors and Amnesty in Australia.
Jaime Parker expressed great interest in the Falun Dafa program, as he believed that it is
"... important to speak out because -- it shows that people of good conscience and spirit support social justice and human rights, and the type of severe repression of Falun Gong practitioners is unacceptable in any culture. The treatment is also unacceptable according to the international declaration of human rights, and unacceptable to people who recognize freedom of assembly and freedom of religion -- these freedoms are critical to any functioning society."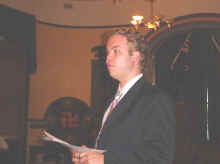 The Mayor, Marie Sheehan, also shared similar sentiments, ".... it is important that people have the opportunity to express their democratic human rights -- speak freely and act freely as long as it does not harm others."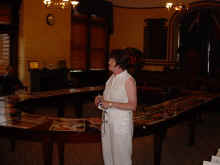 Mayor Sheehan is ".... very interested to see the video and offer congratulations on the launch, hoping it spreads out the message of peace and harmony."
David Chai -- the Director of the video production and a Falun Dafa practitioner said "I felt like I had to do something. Action starts at home."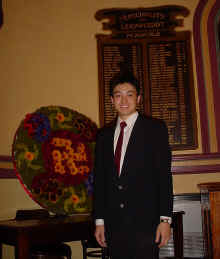 Concluding points from Deputy Mayor Jamie Parker "... provides an overview of situation from the Australian experience and encouraged people to use the video and pass it on to other people."
Where can we take the campaign from here?
According to Jamie, China was recently successful in 2 areas:
Gaining entry into the WTO
Right to host 2008 Olympic games
"...Both successes for China provide us with opportunity to uphold what are the higher ideals of the Olympics and contrast those activities on the grounds of the Chinese authorities' record of human rights. It is clear that the high ideals of the Olympics are nowhere near the ideals that the Chinese authorities are taking through their activities in relation to the Falun Dafa Practitioners."
"... WTO presents a tremendous opportunity for us to take up the issue of democracy and human rights..."
"... We should challenge China's terrorism in terms of the uncalled for and unjustified brutal repression of people in China who chose to assemble in public and have certain beliefs."
Jennifer...A Labour Camp victim re-lives her traumatic experience in China
Jennifer recounted her long period of sleep deprivation, exposure to electric shock, hard labour and degrading and inhuman treatment during her year-long imprisonment.
Although it is the 21st Century, the current injustice against Falun Dafa will be a tragic chapter in the history of human kind. Fortunately Jennifer was able to speak freely that night -- a poignant remark made was "...if truth, compassion and forbearance is illegal in China, then what do the Chinese people practice?"
When questioned about why the persecution was happening in China, Jennifer believed that maybe this is because "we allow this to happen by keeping silent...by sitting on the fence. [If] you don't want to lose your job, be silent. [If] you want to do business with China, shut your mouth [and] don't talk about your human rights..."
Jennifer reminded the audience that the next time one buys a cheap sweater or some goods like soft toys, these could have been made by the "tears and blood of the practitioners in China."
Deputy Mayor Jamie Parker also highlighted "the strength and privilege we have as Australian citizens and the tremendous power we have to make a difference to people's lives in China, and help stop the abuses."
The Australian Government's position as stated by John Howard "...will raise at an appropriate opportunity..." The problem is, how many appropriate opportunities are there according to the current government? It is up to us to make it a real priority for the federal government.
Sharon Burrows ACTU is supportive and wrote a letter to the Ambassador of China in Australia.
A turning point that will make a difference to the future of Australia is that "There are good words but no good deeds and what it takes from us is...putting those words into action," according to Jamie.
Sharing from the Audience
Dr Lambert Carter representing the Friends of Falun Dafa also reiterated that "actions speaks louder than words."
Joy from Channel 31 said that she is not afraid of anybody...and most certainly not afraid of the Chinese Government, and is very happy to put anything at all about Falun Dafa on her weekly TV program.
Councilor Clive Taylor commended Jennifer for her resilience to the suffering in China. He tried to put a motion through Bankstown Council to condemn the persecution of Falun Gong, but was met with reluctance to acknowledge and find out the truth about the situation in China.
According to Councilor Taylor, "the Chinese Government attempted to influence the General Manager of Bankstown to withdraw the motion to the council. Ultimately the motion was deferred, because the local council did not want to take a position on the matter or appear to offend the Chinese Government. It does not matter through what level of Government, as an elected member, the obligation is to represent the people. To sit on the fence and pretend that it does not exist is reprehensible; I think any normal person would support them in their beliefs. "
He also advised the audience to "...see as many people as possible, work through local councils to bring motions to highlight these issues...not just one resident in Bankstown, but numerous residents throughout Australia. I think the only thing we can do is to increase pressure on the Chinese Government by making this a public issue, and they have to justify why they are doing this...We have to put them on the back foot, as often and as much as we can."
Ms Jane Dai also brought tears to many people's eyes when, while displaying her family photo, she explained that her husband was mysteriously murdered. She spoke of how she discovered his death a few months ago whilst reading from Falun Dafa's Clearwisdom Website.
Currently her sister-in-law is in a labour camp in China, and her father-in-law recently passed away. His untimely death was due, in part, to the shocking news of his son and daughter.
Ms Dai is seeking assistance from the Australian government to safely return to China and attain the ashes of her husband.