Greece: Spreading Falun Dafa in Greece
A Falun Gong exercise site has been set up in northern Greece. Falun Gong practitioners practice Falun Gong exercise in a martial art center. There are about 15 children from 6 to 12 years old who attended the exercise. Some of them can practice the sitting meditation with legs double-crossed. The practitioners also read Falun Gong in Greek.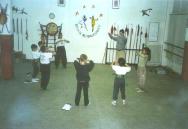 1. The Falun Gong exercise site for the children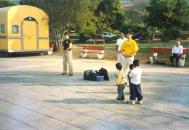 2. In Thesaloniki (the second largest city of Greece), the Falun Gong practitioners show the exercise.
The ticket office for the famous Acropolis is an excellent site to show Falun Dafa exercises to the many visiting tourists. Acropolis is possibly the tour site with most tourists in Europe and tens of thousands of tourists visit it everyday.
The Falun Dafa practitioners saw many police present when they arrived there on foot, and learned that the Greek Prime Minister would make a speech there. All state TV stations dispatched reporters there. Thus, the practitioners took advantage of this opportunity to show the Falun Gong exercises. Later, they were told that they were seen on the TV news report.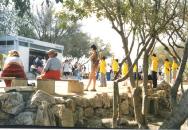 3. The Falun Dafa practitioners show the Falun Gong exercises in one of the most famous tour sites in Europe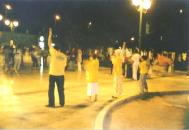 4. Syntagma Square in front of the Greek Parliament is the busiest square in Greece. The Falun Dafa practitioners show the Falun Gong exercise and tell people about Jiang Zemin's persecution against Falun Dafa practitioners.