Belgium's Prime Minister Expresses His Support to Falun Gong Practitioners
On November 2, 2001, Belgian Falun Gong practitioners received the following reply letter from Belgium's Foreign Minister:
Dear Mr. X,
Thank you for your letter on August 27, 2001 about human rights in China.
I am also very concerned about the issues you mentioned in your letter. You possibly have already learned that I directly and firmly put forward the issue to the Chinese Prime Minister in the meeting of high-ranking officials between the European Union and China on September 5, 2001.
Yours sincerely,
Guy Verhofstadt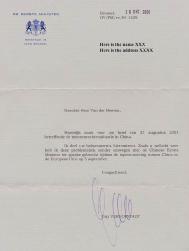 (From ClearHarmony.net)