SOS! Global RescueWalk - The Across US Walkers Passed by Tennessee and Clarified the Truth
On October 24, 2001, SOS! Global RescueWalk - the cross-US group arrived in Diskson. The Mayor issued a proclamation that October 24 is Falun Dafa Day.
| | |
| --- | --- |
| | |
| Short break on the road | Hongfa at a local fair on the weekend |
| | |
| Everyone gained something at the end of the day | Clarifying the truth in the streets of Nashville |
With the help of the Amnesty International office in Tennessee University, walkers and local practitioners held a seminar on Falun Gong and showed a video on human rights. Practitioners answered Falun Gong related questions from professors and students.
One student gave practitioners a thumbs-up when he learned that Falun Gong takes no donations and provides free teaching. After learning about the brutal persecution of Falun Gong in China, some students asked, "What can we do to help?"
The discussion lasted until dinnertime. They still didn't want to leave, so we had dinner together.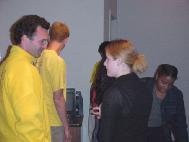 Answering a student's questions
On the evening of October 24, practitioners were invited to UU Church to introduce Falun Gong and the persecution in China to their members.
Upon hearing that the purpose of the Global RescueWalk is to end the persecution of Falun Gong in China, many people were deeply moved. They wanted to donate money but their offers were kindly declined by practitioners. Then they decided to collect signatures to support Falun Gong practitioners and call on the Chinese government to stop the killing.
| | |
| --- | --- |
| | |
| Practitioners introduce the persecution of Falun Gong in China at UU Church | Take photos with the church members |
On the afternoon of October 20, 2001, walkers and local practitioners held a Falun Gong workshop at Knoxville Library. A lady told practitioners that she had read Zhuan Falun a few times and she believed that Falun Gong brings her a real and righteous path.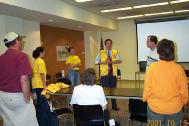 Workshop at a Knoxville Library