"I am very Calm now. Don't be Sad for Me."
January 23, 2001 | Mainland Practitioners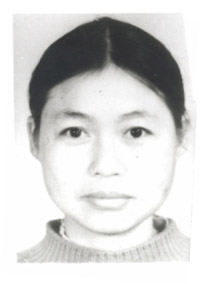 Feidong County, Hefei City, Anhui Province: Dafa practitioner Zhang Guiqin, who was incarcerated by the Chinese public security departments, died at 1:03 PM on January 17, 2001 after 5 months of torture and suffering, at the age of 37.
Zhang Guiqin, because she persisted in the practice of Falun Dafa, was incarcerated three times by the Feidong public security bureau. The first time, on November 29, 1999, she was illegally detained for 15 days for persisting in her practice, of Falun Dafa, without repentance. The second time was on March 29, 2000, when she went to Beijing to appeal, and was detained for 24 days (9 days over the legal limit for detention). The third time was on July 24, 2000 when she was arrested for distributing teacher's articles and factual flyers about Falun Gong. Her arrest was approved on August 7. Each time when she was detained, she was tortured, at the detention centers, with beatings, forced feedings, shackles, electric shocks, etc. A healthy person was tortured until she was in critical condition.
On August 24, 2000, people at the detention center saw that Guiqin had been seriously tortured and in deplorable physical condition. Being afraid of the responsibility, they then contacted her family to take her home. At home, the security forces still kept up the pressure. The Feidong Procurator brought a suit against Zhang Guiqin. Due to her poor health, she could not be sent to the labor camp. They finally gave up. However, after 5 months of painful sufferings, Guiqin finally left us on the 17th of January.
Several days before she passed away, her body was very weak. Her vocal cords were seriously damaged due to the force-feeding at the detention house. She could not use her voice. Her body was so weak that she needed help even for little things such as leaning against the bed. Her lung was also seriously damaged by the forced feeding tube. She was out of breath and every cough caused severe pains. She was emaciated and could only eat fluid foods. During these 5 months, she endured tremendous suffering and pain. Whoever saw her wept.
The day Guiqindied, she told her family she would leave that day. Her family asked her what she had in mind. She said: "I am very calm now. Do not be sad for me." She died quietly afterwards. Her eyes were wide open, as if she was looking at the world full of disasters and sufferings; her mouth was also open, as if she wanted to shout to give innocence back to Master and to Dafa.
Sorrowful Guiqin! Heroic Guiqin!
(She left two grieving daughters, one 12 years old, and one 9 years old.
Some of the wicked people involved in this atrocity:
Feidong County public security bureau, Hefei City, Anhui Province:
Gao Ligang (in Division 1, extremely cruel, actively persecutes and beats Dafa practitioners): 86-551-7711022.
Office number of the Head of the Public Security Bureau: 86-551-7711268
Wang Jianye(Head of Feidong House of Detention), Doctor Cai (Took part in force-feeding each time and beating Dafa practitioners): 86-551-7711348, 86-551-7730111
Feidong House of Procurator: 86-551-7712905
Feidong Court: 86551-7711478
Feidong Chengguan Local Police Station: 86-551-7711324
| | |
| --- | --- |
| Picture 1, January 17, 2001, She Died with Her Eyes Open | Picture 2, A Portrait of Zhang Guiqin Taken at the time of Her Death |
| | |
| --- | --- |
| Picture 3, A Photo Taken Several Days before Zhang Guiqin Left Us | Picture 4, "I am Very Calm Now, Please don't be Sad." |
Organized by Mainland Practitioners
January 19, 2001