EpochTimes: Falun Gong Practitioners Arrested During Jiang Zemin's Visit to Macau
[Minghui Net] According to a report from Dajiyuan, on December 19th, 2000, Jiang Zemin and his wife arrived in Macau in the company of He Houhua, the Chief Executive of Macau Special District, to celebrate the first anniversary of Macau's return to China and pay a 3-day visit to Macau. Macau police detained Falun Gong practitioners as well as democracy activists and they raided homes of Falun Gong practitioners, attempting to assure that everything would be OK during Jiang's visit.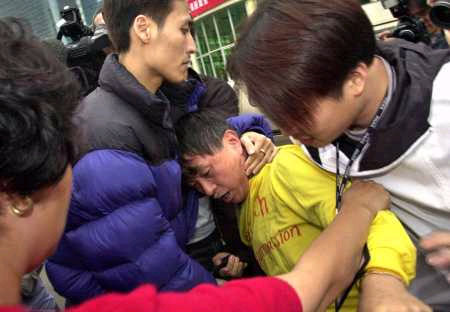 The Macau police arrested over 20 Falun Gong practitioners (picture from AP)
Falun Gong Practitioners: 20 Arrested, 30 Repatriated, Homes of Practitioners Raided
According to a report from AP, the police arrested over 20 Falun Gong practitioners and repatriated over 30 practitioners to prevent them from going in to the streets to protest. Several democracy activists from Hong Kong were denied entrance on Wednesday before the anniversary celebration. Macau police also detained democracy activists.
According to a report from AFP, the Macau police raided the home of Lin Yunle (translated from pronunciation), a Falun Gong practitioner, early in the morning of December 19th. The police suspected that there was an "illegal thing" in her home, however, the police failed to find anything suspicious. They then claimed that her family members did not hold legal identification.
AFP also reported that five Falun Gong practitioners were arrested on their way to meet other practitioners. The witness said three of them were stopped and arrested by the traffic police when they took a taxi to a Macau pier. Another two were arrested when they argued with the plainclothes policemen in the waiting area of the pier. A Falun Gong spokesman said that another 20 practitioners were detained at Macau Customs. They were later released and sent on the boat to Hong Kong.
Some other political activists in Hong Kong and Falun Gong practitioners wanted to come to Macau and advise Jiang Zemin about the human rights violation that the Chinese government has committed. However, they were all denied entrance.
The Macau police refused to approve the application of Falun Gong practitioners to hold a protest at the first anniversary of Macau's handover to China last month and the reason was that the practitioners' proposed place was close to the spot where the official celebration was supposed to be held.
Last year, the Macau police detained and repatriated up to 40 Falun Gong practitioners before the handover ceremony and they were condemned by Amnesty International.
Macau and Hong Kong are both under Chinese rule but theoretically they have full discretion in political and juridical administration and Beijing should not interfere.
Jiang Zemin Extremely Nervous, Tighter Security Than That During Deng Xiaoping's Visit to Southern China
According to another report, in order to assure Jiang Zemin's safety, Guangdong Public Security Headquarters dispatched nearly 1,000 soldiers and a dozen ships to Zhuhai to enforce the security during the anniversary celebration in Macau. The Liberation Army of the People's Republic of China also sent armored cars to the downtown area in Macau on the 17th.
Recently, Macau and Guangdong launched a large-scale attack on various activists in Macau, Zhuhai and Zhujiang Sanjiaozhou, arresting nearly 900 people from these areas. The security level even exceeded that during Deng Xiaoping's visit to southern China.
Macau was returned to China on December 20th of last year and Jiang Zemin attended the handover ceremony of transferring the power from Portugal to China.
Pictures from AP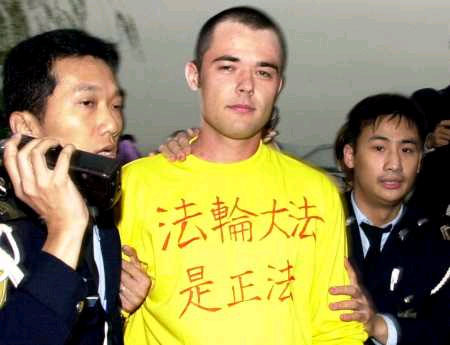 A Falun Gong practitioner named Tomas Robinson from Dalington, England was arrested on the 19th in Macau.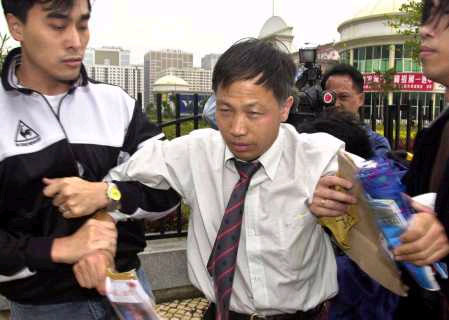 Macau plainclothes policemen arrested Falun Gong practitioners.