Sacramento, California: "Falun Dafa Practitioners Have a Big Impact on Society"
Aug. 9, 2022
|
By a Falun Dafa practitioner in Sacramento, California
(Minghui.org) The California Expo was held for the first time since the COVID-19 pandemic during the last three weeks in July 2022, in the capital of California, Sacramento. Despite the hot summer weather at the expo, practitioners made great efforts to talk to people about Falun Dafa.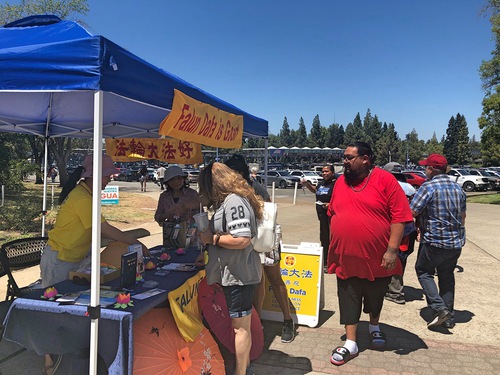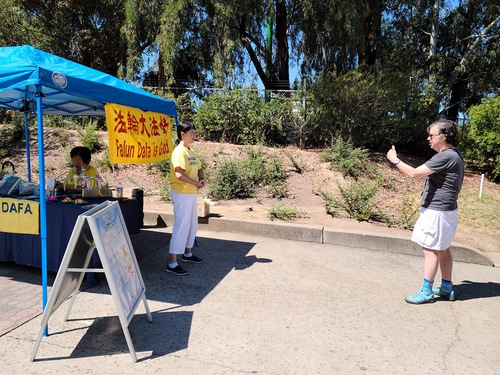 Many passersby stopped by the booth and inquired about the practice.
Many were already aware of the Chinese Communist Party's persecution of Falun Dafa practitioners. One person said, "I support you all the way!" While another said, "I have watched Shen Yun performances and learned about Falun Dafa." Many said they were interested in meditation exercises and wanted to give the exercises a try or research about Falun Dafa online.
"Falun Dafa practitioners have a big impact on society"
Expo organizers provided electric scooters to elderly and disabled attendees. One of the expo workers shuttling people has done it year after year. His name is David and he was very compassionate and said he loved his job because he enjoys helping others.
He chatted with practitioners for a long time on the first day of the expo. He happily accepted truth-clarification materials and origami lotus flowers. When he met practitioners for a second time on the following weekend, David started to describe his encounter with a lady at the health expo, "I saw a lady who looked very upset at the expo and her husband was trying to console her. I suddenly remembered that I had received some Falun Dafa materials. My intuition told me that Dafa materials might be able to help this lady. Upon handing her Falun Dafa materials and paper lotuses, the lady was no longer upset. Her frowns turned upside down immediately and she treasured the materials I gave her. She was no longer upset!"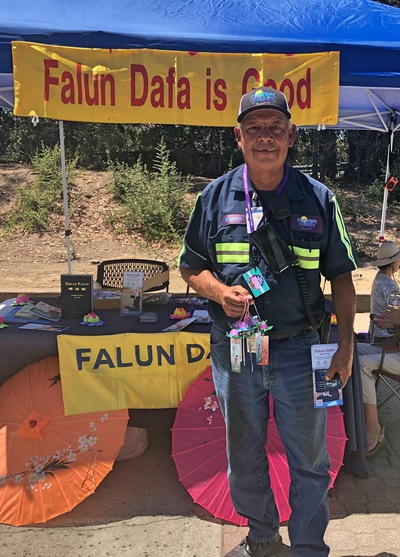 David said, "What Falun Dafa practitioners are doing has a big impact on society."
David went on to say, "I have to tell you about what I encountered. Perhaps you do not know what a big impact you [practitioners] have on society. You are doing something very meaningful."
David happily took more lotuses and truth-clarification materials. After distributing everything he took, David came back to the booth for more. He became a messenger of sorts to spread the beauty of Falun Dafa.