73-year-old Woman Convicted the Second Time for Her Faith
Aug. 25, 2022
|
By a Minghui correspondent in Liaoning Province, China
(Minghui.org) A 73-year-old woman was recently sentenced to 1.5 years in August 2022 for her faith in Falun Gong. Her latest sentencing was preceded by a one-year sentence handed down six years ago, also because of her faith.
Falun Gong, also known as Falun Dafa, is a spiritual discipline that has been persecuted by the Chinese communist regime since 1999.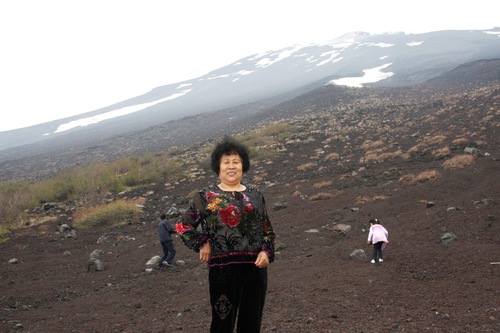 Ms. Bi Guiying
Ms. Bi Guiying, of Dandong City, Liaoning Province, was arrested on December 14, 2021. One officer showed her a surveillance video of her distributing informational materials about Falun Gong. Her tablet, cellphone and Falun Gong related materials were confiscated.
Ms. Bi was taken to the Dandong Detention Center on the next day. The police submitted her case to the Zhen'an District Procuratorate in January 2022. She was then indicted, and her case was moved to the Zhen'an District Court.
During her first hearing (date unknown), the court didn't inform her family of the session, citing the pandemic as an excuse. Ms. Bi appeared in court for a second time on August 17, 2022 and was sentenced to 1.5 years.
Ms. Bi runs a deli store and enjoyed good business with quality food and fair prices. Crediting Falun Gong for giving her good health, she could carry a bag of 25 kg (55 lbs) rice to the fifth floor, even in her 70s.
Since the Chinese communist regime ordered the persecution, the authorities have been monitoring her daily life and tapping into her landline to listen to her calls. To avoid the persecution, she moved from Jixi City, Heilongjiang Province, back to her hometown in Dandong in the same province.
After being reported for distributing informational materials about Falun Gong, Ms. Bi was arrested on June 14, 2016 and held at the Dandong Detention Center. She was sentenced to one year and fined 5,000 yuan by the Yuanbao District Court on September 28, 2016. She appealed with the Dandong City Intermediate Court, which ruled to uphold her original verdict.
Ms. Bi was taken to the Liaoning Province Women's Prison on February 14, 2017. She was monitored by two inmates around the clock and deprived of sleep. She experienced systemic edema, especially in her legs and feet.
Perpetrators' contact information:
Ning Wei (宁伟), president of Zhen'an District Court: +86-13942587528Wang Dequan (王德全), president of Zhen'an District Procuratorate: +86-15941511666Wang Haibin (王海斌), head of Zhenxing District Domestic Security Office: +86-13841591159Kang Dawei (康大伟), head of Yongchang Police Station: +86-17641585217Yu Yunpeng (于云鹏), officer of Yongchang Police Station: +86-15141567420
Related reports:
Liaoning Woman Framed by Police and Denied Family Visits