(Minghui.org) May 13, 2022, is World Falun Dafa Day and the 30th anniversary of Falun Dafa's introduction to the public. Falun Dafa practitioners held a celebration in front of Parliament Hill in Ottawa, Canada on May 10. Nine Members of Parliament--Judy Sgro, Garnett Genuis, Scott Reid, James Bezan, Melissa Lantsman, Anna Roberts, Larry Brock, Michael Cooper, and Arnold Viersen--joined the celebration and gave speeches.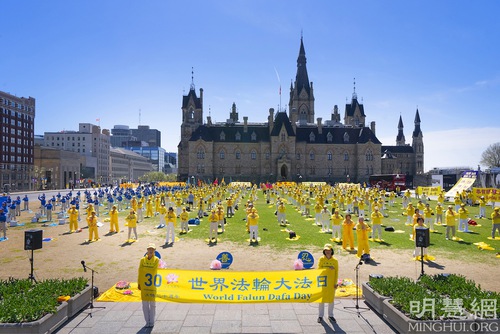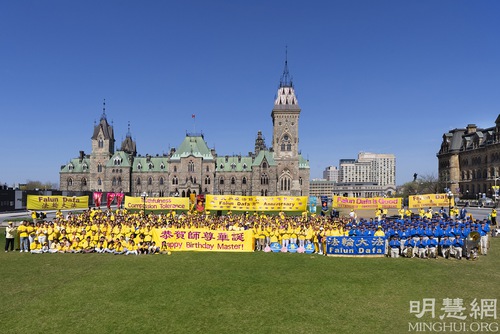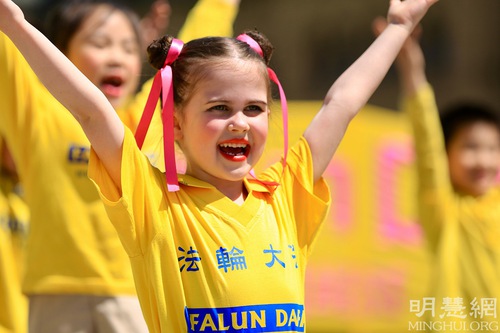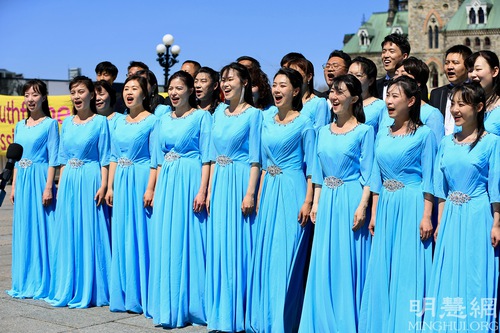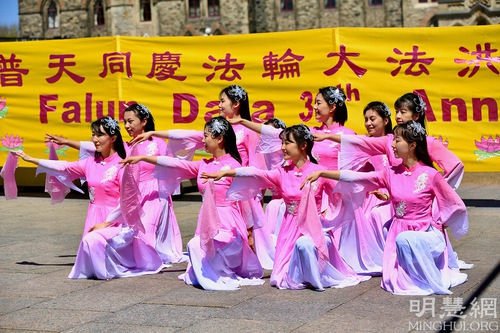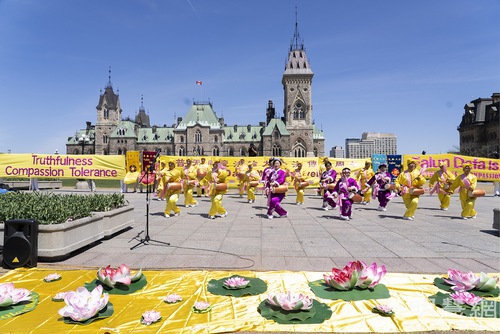 Several hundred practitioners celebrated Falun Dafa Day in front of Parliament on May 10, 2022.
"It is such a pleasure for us to all be together out here on the grounds of Parliament Hill. It's been a long time. We've missed not being able to come together for this momentous occasion that all of us on Parliament Hill look forward to when we see all of the yellow. And on a perfect day when you're looking from the 12th floor of my unit right over there and looking down and seeing all of the yellow on the green grass, and talking about the very issues that Canadians want to hear more about, which is hope for the future, to talk about the truth and compassion and the forbearance that you talk about all of the time." said Judy Sgro, MP, in her speech.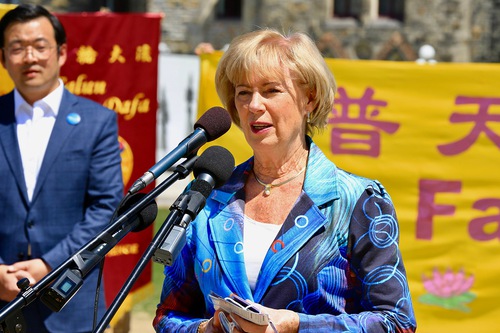 Judy Sgro, MP, addressed the celebration on May 10.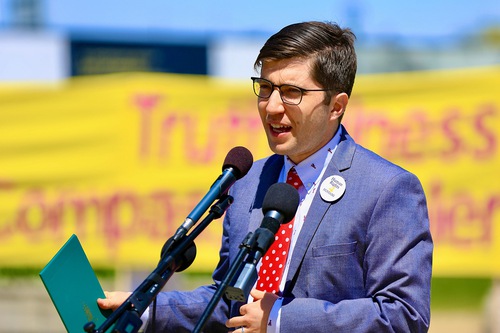 Garnett Genuis, MP, spoke during the celebration. He is an active sponsor of the bill against live organ harvesting. He said, "Members of Parliament have been trying to do this for 15 years. But I think that the 44th parliament is finally going to be the one that gets it done. We have momentum behind it."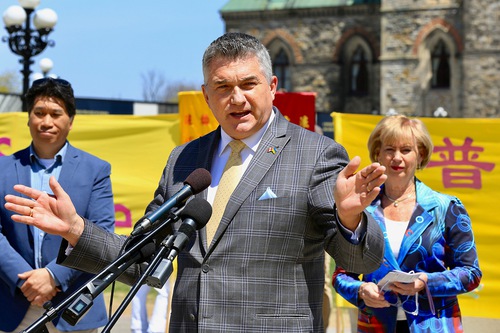 James Bezan, MP, said in his speech, "Falun Dafa has made a positive impact in Canada and around the world. I have to thank all of you who fled Communist China and called Canada home. Thank you for making us a better and stronger country."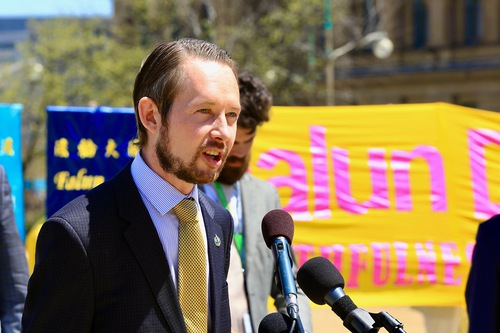 Michael Cooper, MP, said in his speech, "I want to take this opportunity to congratulate all Falun Gong practitioners on the occasion of the 30th anniversary of the movement, a movement that is guided by truthfulness, compassion, and forbearance. Falun Dafa is good. It is a movement that has brought peace of mind to millions of practitioners around the world. And despite being a force for the best in humanity."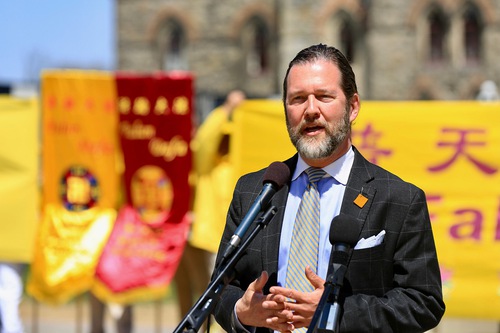 Scott Reid, MP, said in his speech, "Falun Dafa Day on the Hill is back after two years of absence. It is wonderful to see you all here. It's wonderful to have good weather for you. And just the wonderful sense of normalcy of honesty and integrity that the Falun Gong practitioner community brings to this country and is so reassuring."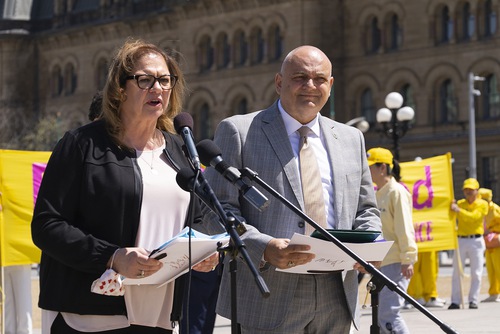 Anna Roberts, MP, and MP Larry Brock, MP
Arnold Viersen, MP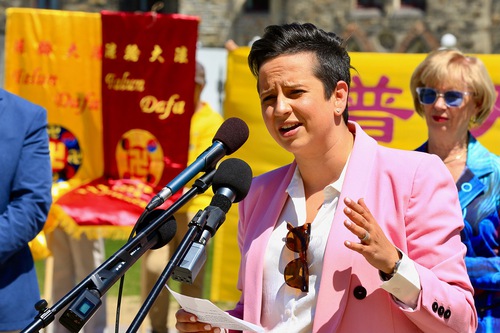 Melissa Lantsman, MP, said in her speech, "On this solemn day on this anniversary, we acknowledge the resilience and the strength and the perseverance of the millions of Falun Gong practitioners still under threat by the communist government in China. We applaud their efforts to practice their religion even in the face of a constant campaign of fear and intimidation, both in China and here, right here in Canada."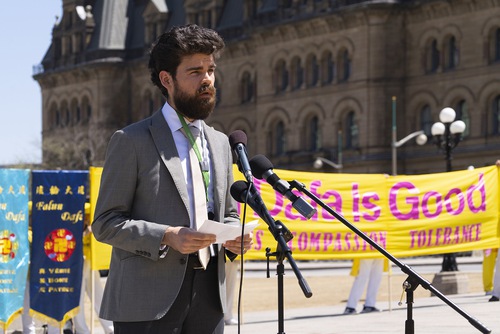 Patrick Bondy, the assistant for Chris Warkentin, MP, reads the MP's message. Chris Warkentin wrote, "Today, I pay tribute to you and your guiding principles of truth, compassion, and tolerance. These are important qualities for us all. And I am grateful for your example."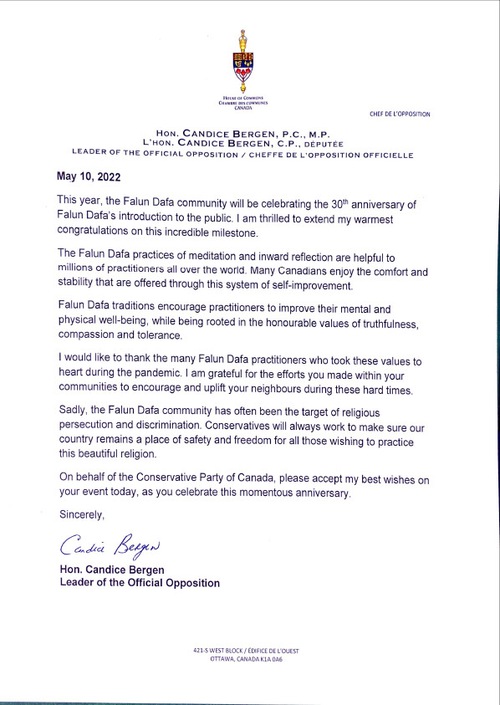 Letter from Candice Bergen, MP, Leader of the Official Opposition
Chris Warkentin, MP, who was unable to attend the celebration, sent his assistant Patrick Bondy to convey his greetings. Congratulatory letters were also received from the Conservative Party interim leader Candice Bergen and former Amnesty International Canada president Alex Neve. The Prime Minister's Parliamentary Secretary, Liberal MP Kevin Lamoureux, and John Brassard, MP, sent video congratulations.
The officials praised the benefits of Falun Dafa's principles of Truthfulness-Compassion-Forbearance for Canadian society and the world; and Falun Gong practitioners' courage and perseverance in persevering under the severe persecution over the past 30 years. At the same time, they condemned the persecution and called on Canada to pass legislation to punish those responsible for the persecution and to stop the CCP's atrocities of live organ harvesting.
Truthfulness-Compassion-Forbearance Makes Canada Strong
Judy Sgro, MP, said in her speech, "Canada is so strong because of all of you, because you are here today. And you're teaching us about peace, truth, the tolerance and the respect that we need to continue to have for each other."
"On behalf of all of my colleagues in Parliament and my other colleagues will be speaking as well know that our hearts are with all of you. And that the message that we continue to send abroad is that the Falun Dafa is safe. It's positive, it's making Canada strong. So to the rest of the world and in particular, China, open up your hearts, let people practice what they believe in, and your country will be better than what it is today."
Anna Roberts, MP, said in her speech, "Canadians are encouraged by your vision of truth, compassion, and acceptance as it resonates with many citizens who regard these values important in our democratic society. Your efforts continue to encourage everyone to make the time for goodwill and compassionate acts of kindness."
Larry Brock, MP, said in his speech, "The teachings of Falun Dafa help people around the world improve their spiritual and physical well-being. In Canada we are privileged to embrace the values of openness, diversity, and freedom of belief. In this spirit, your message of truth, compassion and tolerance is inspiring to people of all backgrounds. It resonates with Canadians, where these principles are central to our democratic society. Your continued efforts serve as a motivation to all of us that there should always be time made to promote goodwill and humanitarian acts of kindness."
Two Bills Sanction Human Rights Violators
Michael Cooper, MP, said that in the past 23 years, we had seen a systematic and constant campaign of persecution. The Chinese Communist Party (CCP) has committed serious crimes against humanity. In labor camps and brainwashing centers, Falun Gong practitioners have been raped, tortured, murdered, and subjected to forced organ harvesting. The crimes committed by the CCP shock the world. We must not relax until those responsible are held accountable.
The lawmakers emphasized the use of two judicial proposals to punish CCP human rights criminals who persecute Falun Gong—Magnitsky-style sanctions and Bill S-223, which prohibits live organ harvesting.
James Bezan, MP, said in his speech, "One thing, I'm very proud that in my time in office I've been able to bring forward the Sergei Magnitsky law to hold those gross human rights violators and corrupt foreign officials to account to be able to name them, shame them, sanction them, and ensure that they don't get away with their violations of basic human rights."
Arnold Viersen, MP, a member of international human rights committee, said, "I want to thank the Falun Gong community for their advocacy on behalf of the folks who are suffering under the forced organ harvesting. I want to thank you for all the petitions that you supply us. So that we can continue to bring that issue up over and over and over again. Probably nearly every day, we get to present a petition on that because of all of the people across the country that have signed petitions on that."
He said he looked forward to working with the Falun Gong community to stand up for human rights around the world.
"We Stand with You"
Melissa Lantsman, MP, said in her speech, "Many have been touched by the teachings of Falun Gong, which emphasize self-improvement and using traditional Chinese methods and freedom of religion. This is one of the values that we hold most dear in Canadian society and we will not rest until all Canadians are free to practice the religion that they choose. We will fight to uphold Truth, Compassion, and Forbearance right here at home and abroad. I will always be a friend to this community."
Michael Cooper, MP, said, "We're here as members of parliament to stand up to fight and to stand with you because no matter how aggressive the Chinese Communist regime is, no matter how far they go with international support, and those who stand on the side of what is right. Truthfulness, Compassion and Forbearance will prevail over the evil that is the Chinese Communist regime."
Scott Reid, MP, said, "We had great success early on, in helping to get Falun Gong practitioners with links to Canada, people who had some kind of family link to this country, out of prison in China to come here, where they've been model citizens ever since. I do hope that over time, the people who run China right now will learn from the example that you are setting, true to the traditional values of Chinese civilization."
The MPs also mentioned Mr. David Kilgour, who recently passed away, and highly praised his contribution in protecting the human rights of Falun Gong practitioners and investigating the CCP's organ harvesting. They also stated that they would continue to speak out for Falun Gong practitioners and other groups persecuted by the CCP, following his example.
On that day, Falun Gong practitioners celebrated the 30th anniversary of Falun Dafa's introduction to the world with a parade led by the Tian Guo Marching Band, singing and dancing.