(Minghui.org)
Name: Wu DaxingChinese Name: 吴大兴Gender: MaleAge: 52City: ShenyangProvince: LiaoningOccupation: Home renovation contractorDate of Death: February 4, 2021Date of Most Recent Arrest: March 13, 2007Most Recent Place of Detention: Xihu Prison
During the past 23 years of the persecution of Falun Gong by the Chinese Communist Party, Mr. Wu Daxing of Shenyang City, Liaoning Province, was repeatedly arrested and harassed. While serving a three-year term between 2007 and 2009, he endured severe torture that took a toll on his health. When he was not in detention, he moved several times to hide from the police, but they located him and harassed him again. His son was also bullied at school and intimidated by the police. Mr. Wu succumbed to the mental distress and died prematurely on February 4, 2021. He was 52.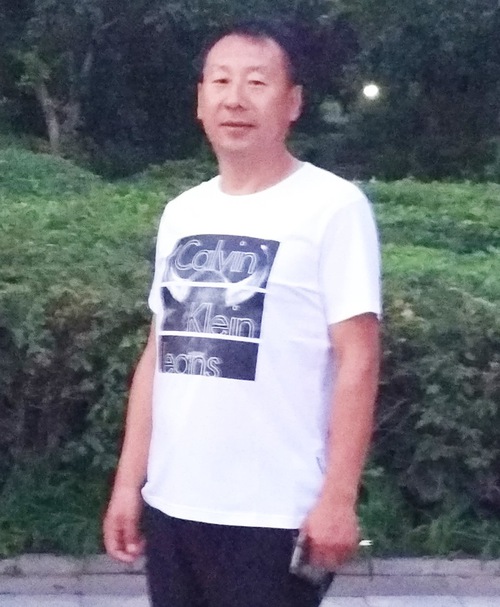 Mr. Wu Daxing
Taking Up Falun Gong
The first time Mr. Wu read Zhuan Falun, the main book of Falun Gong, in 1996, he was drawn to the principles it covered. Six months after he began to practice Falun Gong, minor ailments, including a cough and a runny nose, disappeared. He also quit smoking and drinking. He stopped being competitive and was considerate and always ready to help others.
Mr. Gong's wife had had one of her fallopian tubes removed after an ectopic pregnancy. Because her other fallopian tube was twisted, the doctor told her that the chances of getting pregnant were very slim. After Mr. Wu took up Falun Gong, she read Zhuan Falun with him. Shortly after, she was delighted to find that she was pregnant.
Practicing Falun Gong also granted Mr. Wu more wisdom to learn professional skills in house renovation and financial management of projects. Many of his customers were very satisfied with his work.
Imprisoned for Three Years
After the communist regime ordered the persecution in July 1999, Mr. Wu went to Beijing to appeal for the right to practice Falun Gong, only to be arrested and detained for seven days. The local police and residential committee staff members harassed him frequently after that.
At 7: 30 p.m. on March 13, 2007, around ten officers broke into his home and confiscated many of his personal items, including a computer, a DVD burner, a printer, an audio-recorder, a new Samsung cellphone, an MP3, an electronic reader, Falun Gong books, and a photo of Falun Gong's founder. The police stayed at Mr. Wu's home for the next three days, attempting to arrest other practitioners if they came to visit Mr. Wu.
Officer Li Zheng and others tortured Mr. Wu at the Qinggong Police Station. They scraped his inner thighs so badly that he could barely move freely for two weeks. They also whipped his head with a leather belt and punched him on the face. They held him down on the ground, stomped on him, and shocked his hands and soles with an electric baton until midnight. After forcing Mr. Wu to fingerprint his case document on the next morning, they took him to the Shenyang City Detention Center.
The police later submitted Mr. Wu's case to the procuratorate. The Tiexi District Court sentenced him to three years in the Xihu Prison on July 13, 2007.
Because Mr. Wu refused to renounce Falun Gong, the guards forced him to sit on a stool with ridged surface, sometimes placing his hands on his head and pressing his head against the wall. They also verbally abused him, forced him to watch videos smearing Falun Gong, and later to do intensive labor without pay. They also instigated the inmates to torture him, such as hitting his head with sticks.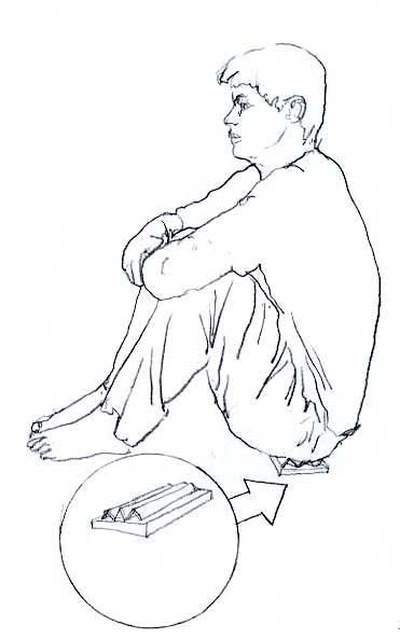 Torture illustration: Sitting on the stool with a ridged surface
In the winter of 2008, someone released from the prison told Mr. Wu's wife that her husband had been severely tortured. His wife, who had not been allowed to visit him, applied to have him released on medical parole. The guards turned her down and attempted to find out how she knew about her husband's situation.
Her appeal, however, restrained the guards from torturing Mr. Wu so frequently. He was released on December 13, 2009.
Continued Harassment and Family's Plight
Upon returning home, Mr. Wu struggled to recover from the damage to his health caused by the torture. He was no longer the strong man he used to be and had to take frequent breaks even when cooking meals for the family.
Fearing being targeted again, he moved in 2010, but the police found him shortly after. When an officer knocked on his door one day at 7 p.m., he jumped out of the window and escaped. The police then harassed his son at school to try find out where he was. The boy, then in elementary school, had to stop going to school for several months. The police harassment continued over the years, especially when his father was imprisoned. The boy's teachers often bullied him, which scarred him for life.
Mr. Wu's arrest in 2007 upset his mother so much that she suddenly became blind. Although he tried to provide good care to her after being released, her health continued to decline and she later passed away. Her passing and the police harassment distressed Mr. Wu greatly. He decided to move again in 2019, but the police still managed to find him and began to harass him again.
Every time after he was harassed, Mr. Wu was always in a bad mood. His health deteriorated further and he developed a severe heart condition. He passed away on February 4, 2021. He was only 52.
Perpetrators' information:
Feng Liqiang (封力强), head of Qinggong Police StationChen Ge (陈革), officer, Qinggong Police StationLi Hongwei (李宏伟), officer, Qinggong Police StationLiu Bo (刘波), officer, Tiexi District Domestic Security OfficeLiu Qing (柳青), officer, Tiexi District Domestic Security OfficeLi Zheng (李征), officer, Tiexi District Criminal Police ForceBao Jieqing (鲍杰青), head of Xihu PrisonTian Dengfeng (田登峰), deputy head of Xihu PrisonChen Zhongwei (陈忠维), political secretary of Xihu PrisonZhao Xuezeng (赵学增), education director of Xihu PrisonDing Chao (丁超), education director of Xihu PrisonTian Yong (田勇), guard, Xihu Prison