(Minghui.org) Falun Dafa practitioners held a parade in San Francisco on Saturday May 7, 2022 to celebrate the 30th anniversary of Falun Dafa's introduction to the public, as well as the founder Master Li Hongzhi's 71st birthday.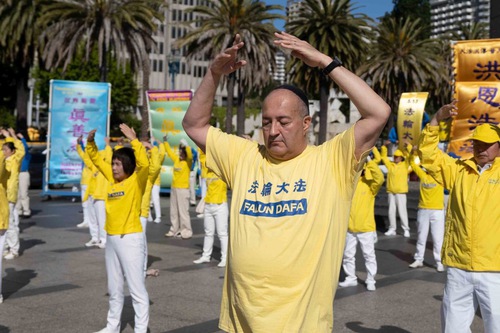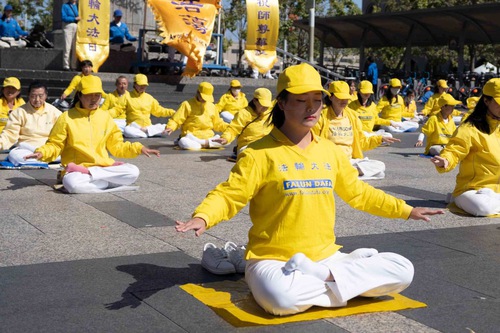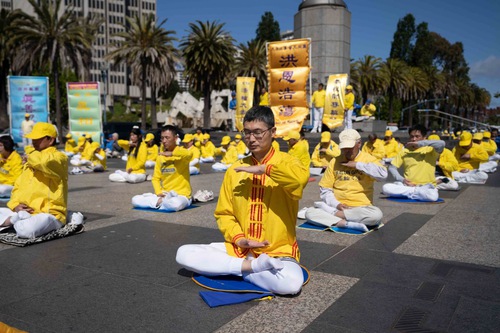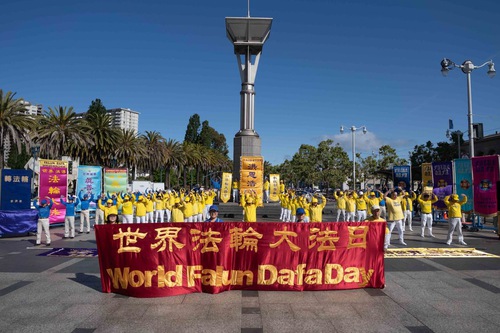 Falun Gong practitioners celebrate World Falun Dafa Day.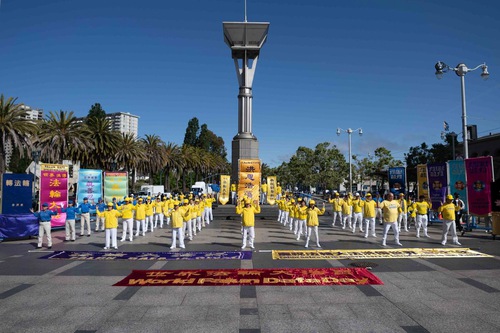 Practitioners do the exercises in front of the Ferry Building in San Francisco.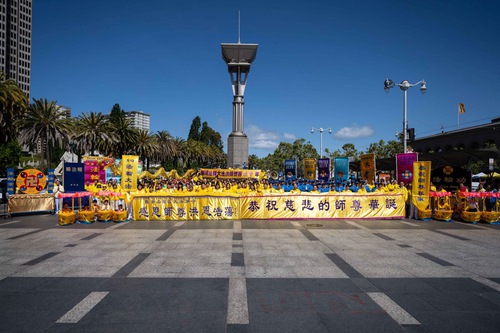 Falun Gong practitioners in San Francisco wish Master Li Happy Birthday.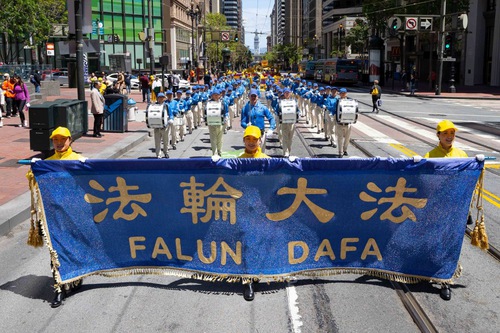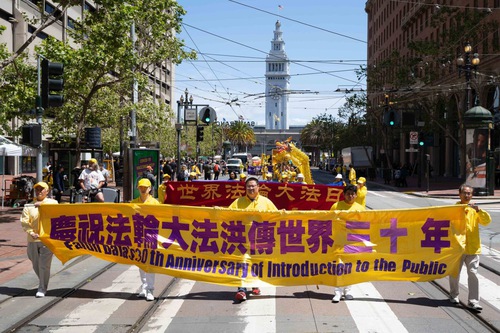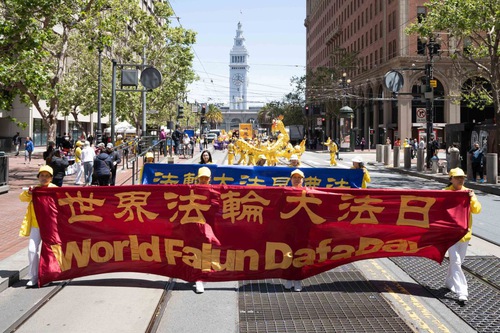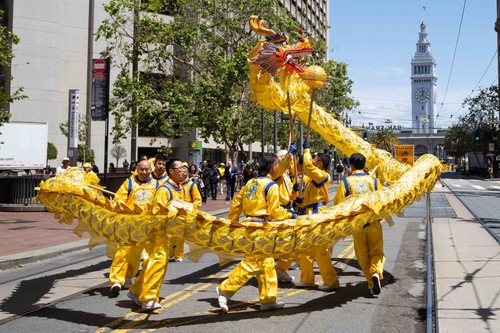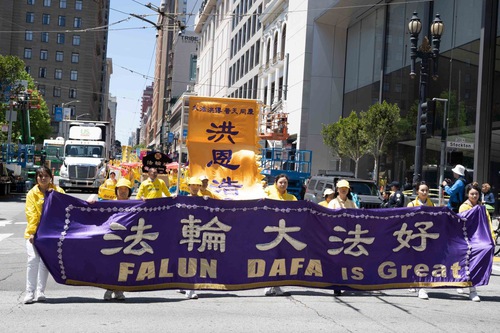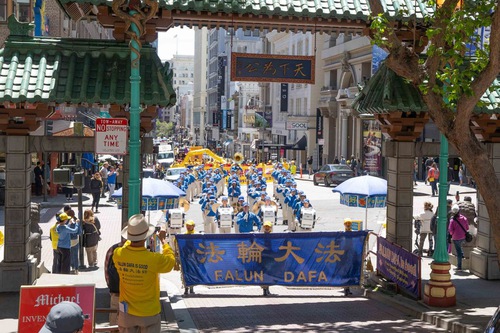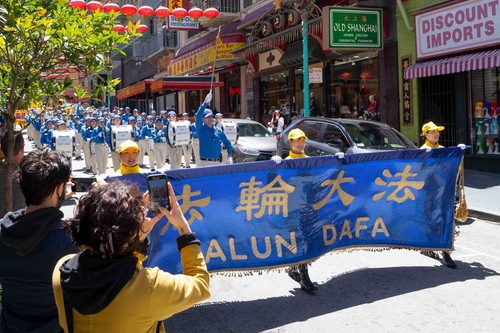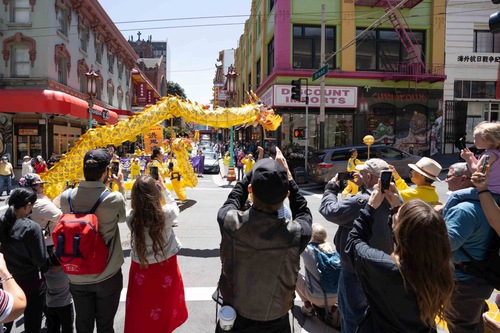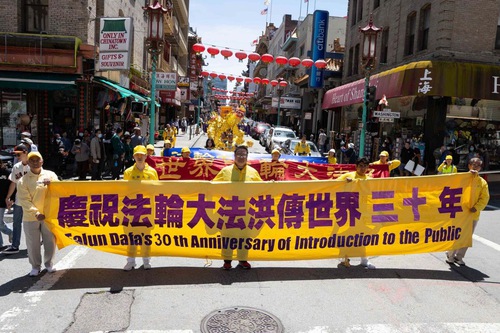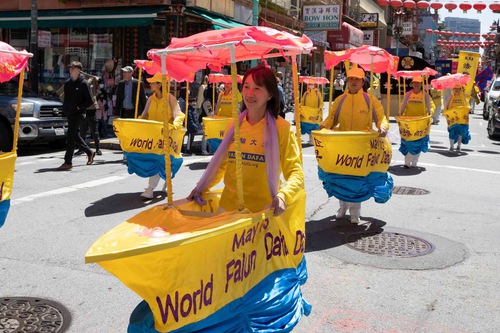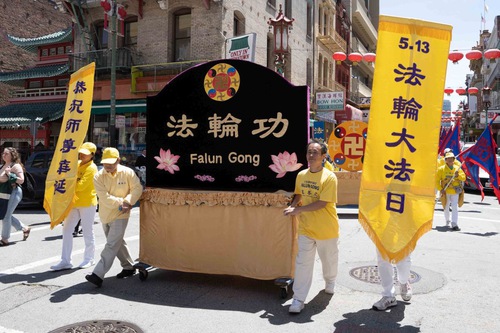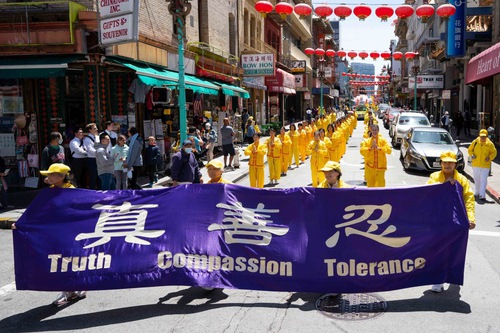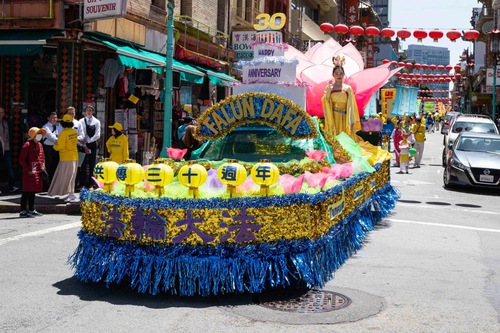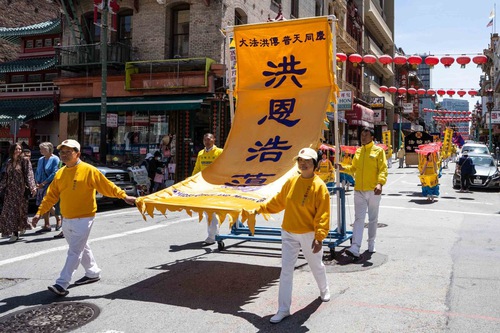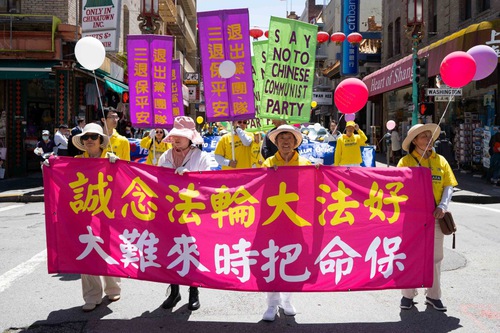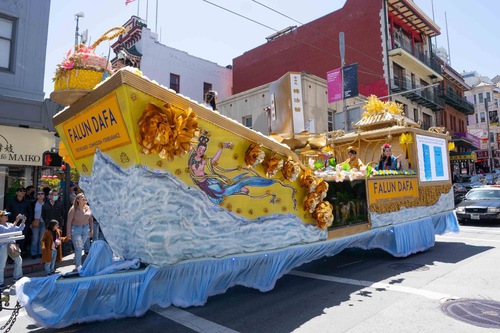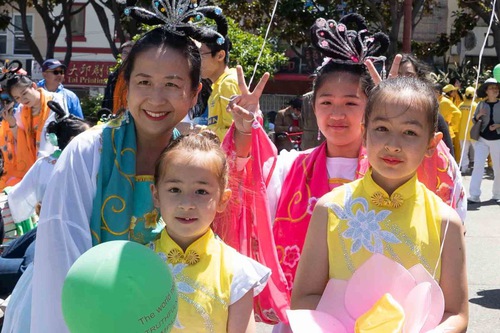 Practitioners held a parade to celebrate World Falun Dafa Day.
Mr. Li Hongzhi first introduced Falun Dafa (also called Falun Gong) to the public in Changchun, China on May 13, 1992. In the past 30 years, the mind body practice has spread to over 100 countries and regions and people from different ethnic groups practice it. To date, Falun Dafa has won over 5000 awards internationally, the main book on the teachings, Zhuan Falun has been translated into more than 40 languages.
The practice is based on the characteristics of the universe – Truthfulness, Compassion, Forbearance, emphasizing the importance of cultivating virtue and compassion. Many people report improvements in health and moral values through the practice.
Practitioners started off the day by doing the exercises outside San Francisco's Ferry Building at 9 a.m. Many tourists were drawn to the scene of the peaceful exercises and wished to find out more about the practice. Some even began to learn the exercises on the spot.
The parade began at 12 p.m. Setting off from the Ferry Building, practitioners walked along Market Street, passing through Chinatown and ending at Portsmouth Square.
Witnessing Extraordinary Powers of Dafa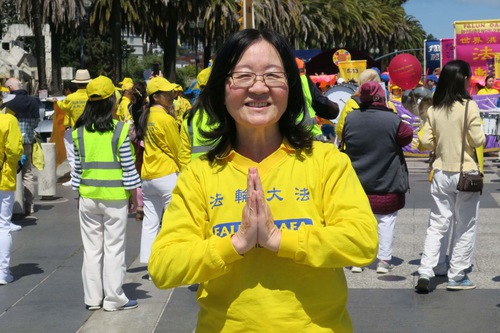 Chen Ping thanked Master for his compassionate salvation.
Ms. Chen Ping began to practice Falun Gong in 1998, and she's always participated in World Falun Dafa celebrations. On the occasion of the 30th anniversary of Falun Dafa's introduction to the public, she said gratefully, "I am delighted and moved to take part in today's activities. Looking back at practicing cultivation for over two decades and the positive changes I experienced physically and mentally, I thank Master for his compassion and protection."
"I suffered from ailments head to toe before practicing Dafa. My two children were also frequently ill. I lived in extreme fear for over 10 years, often unable to sleep at night. I wondered why life was so hard. I was lucky to find Dafa in 1998. My children also began practicing. Soon after we started to practice, our illnesses were gone. It was a miracle! I thank Master for his compassionate salvation!"
Falun Dafa Has Given Me a Life With Purpose
Kevin Snead found what he had been searching for in Falun Dafa.
Three years ago, Kevin Snead received a flier on Falun Dafa at the entrance to a supermarket. He often saw practitioners doing the exercises while strolling in the park near his home.
"I felt an energy when they did the exercises, it made me comfortable. This practice is so profound. I decided to learn it too."
He went home and found the Falun Dafa website on the Internet. He watched the video teaching the exercises. "I began to learn the exercises myself before going to the practice site to join the group exercises."
"I observed that my mind became clearer after practicing cultivation. I found answers to questions I had about life. I felt energy while doing the exercises."
"Today is World Falun Dafa day. I hope to do my best to tell people how wonderful the practice is. Falun Dafa has given me purpose in life. I am grateful to Master."
Recovering from Years of Insomnia Through Reading Zhuan Falun
Aunt Xia, 84, was grateful to participate in activities to celebrate World Falun Dafa Day.
Aunt Xia read an article about Zhuan Falun in a Chinese newspaper in Montreal, Canada in 1998. She thought that the writer of the book must be very knowledgeable, and she decided to find the book. She searched everywhere for Zhuan Falun but six months went by and still she could not find it.
At a gathering at the end of the year, she finally found someone who had a copy of Zhuan Falun. She called the person who told her to come to the practice site. "They were playing Master's taped lectures when I arrived. I joined them in watching the lectures and that's how I began the practice."
Aunt Xia received a copy of Zhuan Falun. After reading it, she discovered that the insomnia that plagued her for many years was gone. "My health was terrible. I could not sleep and kept taking pills but it did not help my condition. I could sleep again after I read Zhuan Falun. A week later, I could sleep for 8 hours."
Her view of the world changed as well. "No matter how others treat me, I hold myself to the principles of Truthfulness, Compassion, Forbearance. My surroundings became better and my son also began practicing."
"Everyone in my family has been saved by Master. We attend today's activities to celebrate Falun Dafa day with grateful hearts. We will be more diligent in the practice and fulfill our mission in saving more sentient beings."
Doctor Becomes Healthy Through Practicing Falun Dafa
Jessica Du first heard of Falun Dafa in 1999 while training at a hospital in Beijing. Her teacher told her the lecturers in the hospital were all practitioners so she had a good impression of Falun Dafa.
After moving to the U.S in 2003, although a doctor herself, it was not convenient for Jessica to seek medical treatment. Her older sister suggested, "Let's try practicing Falun Dafa. We will become healthy and there is no need to look for doctors." Jessica thought it was a good idea and both of them began to practice.
Jessica was weak since childhood and frequently suffered from flu. Eventually she developed ulcers in her mouth and even her nose would fester. Western medicine could not treat her symptoms and she took lots of vitamins. After practicing Falun Dafa, her ulcers were gone and never returned.
Jessica credits Falun Dafa for giving her good health. "I thank Master for teaching us such a great way and looking after us."
Local Residents Learn the Exercises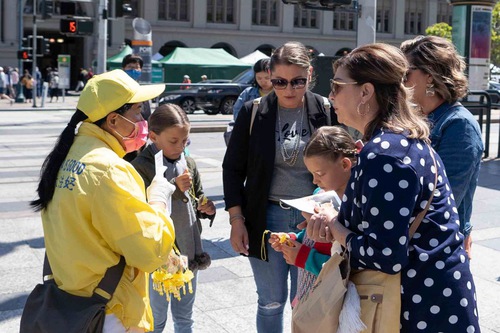 Passersby learn about Falun Dafa
Portia Harris who lives in San Francisco works at a bicycle rental shop. The practitioners' exercise demonstration caught her attention. When she learned that practicing Falun Dafa is beneficial to one's health, she said excitedly, "Great, this is what I have been looking for."
After learning the first four sets of exercises, she exclaimed, "Wow! I feel relaxed! All the aches and pains in my body are gone. I have been ill for some time. Words cannot describe how amazing I feel after doing the exercises. I feel as if I can run now."
A practitioner also taught her to say "Falun Dafa is great" and suggested she say the words when she is in a difficult situation. Harris repeated after practitioners and said, "I will remember to say this when I am not feeling well."
Before leaving, she said, "Thank you for patiently explaining what Falun Dafa is and teaching me the exercises. I will search online for more information. I hope to join you in doing the exercises in future!"