Shanxi Woman Sentenced to 8.5 Years for Using Banknotes Printed with Information about Falun Gong
March 26, 2022
|
By a Minghui correspondent in Shanxi Province, China
(Minghui.org) Ms. Zhang Yuping, of Taiyuan City, Shanxi Province, was arrested on June 12, 2021 for using banknotes printed with information about Falun Gong, a spiritual discipline that has been persecuted by the Chinese communist regime since 1999.
Due to strict information censorship in China, many Falun Gong practitioners are using creative ways to raise awareness about the persecution, including printing messages on banknotes.
Ms. Zhang, around 60, was sentenced to 8.5 years with a 30,000-yuan fine by the Yingze District Court on January 28, 2022. She has appealed the verdict. She is still being held at the Gujiao No.4 Detention Center at the time of writing.
Ms. Zhang began to practice Falun Gong in October 1998. After the persecution started, she went to Beijing to appeal for the right to practice Falun Gong and was held at the Fengtai Stadium for three days without being given any food. She was detained for another day after being taken back to Taiyuan.
Ms. Zhang returned to Beijing to appeal on October 26, 1999 and was arrested again. The police handcuffed her behind her back for over two hours. The handcuffs were so tight that she lost feeling in her hands for 40 days. She was detained for another month after being taken back.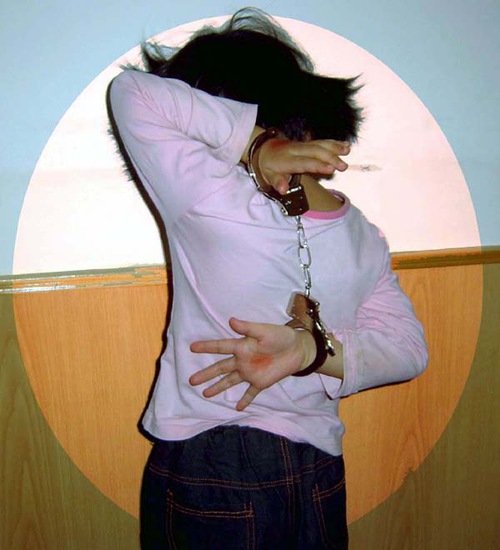 Torture reenactment: handcuffed behind one's back
Ms. Zhang was arrested again in late October 2001 and had her home ransacked. The police chained her to the heating pipes and interrogated her. She was forced to do unpaid labor and deprived of sleep. She was later given two years of forced labor by the police.
Ms. Zhang's next arrest was in 2004, which resulted in a three-year prison sentence.
Shortly after she was released, the police harassed her in 2008 and confiscated her Falun Gong books and other belongings.