(Minghui.org)
Name: Ji YunzhiChinese Name: 季云芝Gender: FemaleAge: 66City: Bairin Left Banner, Chifeng CityProvince: Inner MongoliaOccupation: Not knownDate of Death: March 21, 2022Date of Most Recent Arrest: February 1, 2022Most Recent Place of Detention: Bairin Left Banner Detention Center
Ms. Ji Yunzhi, a Falun Gong practitioner in Lindong Town, Bairin Left Banner, Chiefeng City, Inner Mongolia, died at Bairin Hospital on March 21, 2022, seven weeks after she was arrested on Chinese New Year's Day (February 1). She was 66.
While in detention, she was brutally beaten by guards and inmates until she was on the verge of death. "If I die, it will be the result of torture," Ms. Ji once said to her cellmates. 
Ms. Ji's body is currently being held at the Bairin Crematorium. Her home is surrounded by Special Weapons And Tactics (SWAT) teams, police officers, and plainclothes officers. It was said that the crematorium is now also guarded by police. 
The police have asked her husband to "negotiate" with them in an apparent attempt to smooth over the situation, but at the time of writing it is not known whether these negotiations involve a settlement for her death or threats to keep silent. Further details are being sought.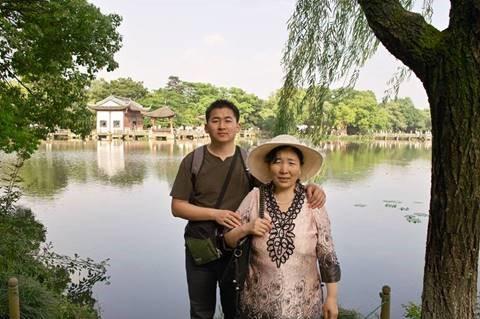 Ji Yunzhi with her son Simon Xiaofeng Zhang
Endured Years of Persecution
After the Chinese Communist Party began to suppress Falun Gong in July 1999, Ms. Ji was sent to labor camps twice. During detention, the guards shocked her with high-voltage electric batons for a long time, causing her to develop symptoms of heart disease. Whenever she was in a hurry, her heart would twitch. 
She was also harassed by the authorities numerous times when she was not in detention, including having the police ransack her home on September 9, 2021.
Recent Arrest and Torture
Nine officers from the Bairin Domestic Security Office (a unit within the police department) broke into Ms. Ji's home on February 1, 2022, Chinese New Year. Under the direction of captain Xu Jianfeng and lieutenant captain Han Dongdong, the police arrested her and took her to the Bairin Second Hospital for a physical examination. At that time, Ms. Ji was already experiencing convulsions. Unable to stand or talk, she also kept vomiting. Nonetheless, the police had her sit on the cold tile floor for a long time, taunting her by saying she was faking her symptoms. 
Ms. Ji was then taken to the Bairin Left Banner Detention Center, where she went on a hunger strike to protest the persecution. Director Gao Yonggang, doctor Tian Zhijun, as well as guards and inmates beat, swore at, and humiliated her. Under the instruction of Gao, Dr. Tian force-fed Ms. Ji through a nasal tube and also slapped her in the face many times.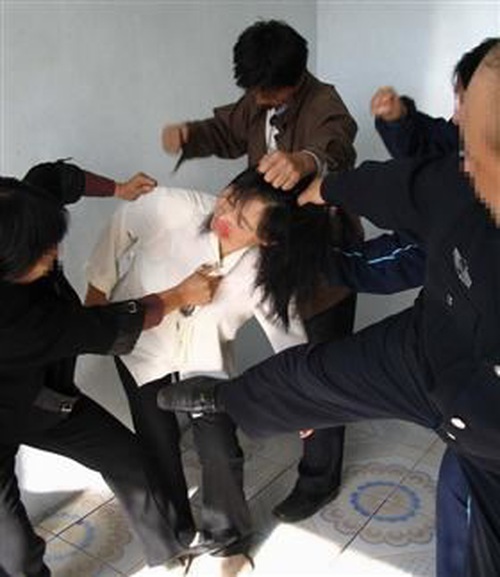 Torture reenactment: beating
The guards ordered inmates to torture Ms. Ji, including Sun Liying, Zhang Yuxin, Li Jiaxin, Zhang Xiaofang, Fu Siyu, Zhang Huiting, and Ren Shuang. They also dragged her out of her cell numerous times and beat her. After her health was severely compromised as a result of the abuse, she was transferred to another cell (No. 501), where cell head Song Changying ordered Fu Siyu, Zhang Huiting, Ren Shuang, and other inmates to continue abusing her. 
Finally, Gao, Tian, and several guards found Ms. Ji on the verge of death, barely able to breathe. They sent her to Bairin Hospital for emergency treatment. 
Body Guarded by Police
On the morning of March 20, 2022, Ms. Ji's husband received a call from the Bairin police notifying him to go to the hospital. Upon arriving there, he was told that doctors had started to resuscitate Ms. Ji, but the prognosis was not optimistic. A plan was made to transfer her from Bairin Hospital to Chifeng City Hospital. But an expert from the city hospital, who had come to Bairin Hospital to examine Ms. Ji, said it was too late and there was no need to transfer her. Her husband repeatedly requested her release, but Xu Jianfeng refused to do so saying he needed approval from his superiors. 
The family was notified of Ms. Ji's death the next day. They asked to see her one last time in the hospital room, but the police stopped them. Through the window, her family saw that her esophagus had been cut open. There was also blood on her face and shoulder. Many police officers were standing in the hallway. They drove Ms. Ji's family from that level of the building and closed the elevator to that level so that no one could access the area. 
After her family left that floor, the police called the Bairin Crematorium, which soon dispatched a vehicle to pick up Ms. Ji's body for storage. When Ms. Ji's family arrived at the crematorium, the forensic investigator did not allow them to come in. They begged the police and were eventually allowed to come in one at a time and take a quick look at her body. Over 40 police officers had been dispatched to guard the body. 
Background: Ms. Ji's Life Changed through Falun Gong
Ms. Ji used to have numerous illnesses including colitis, cholecystitis, pharyngitis, kidney disease, cystitis, lumbar disc herniation, and vertigo. She visited many doctors, but found little help. After she began practicing Falun Gong in 1996, all of her illnesses disappeared in less than three months. By following Falun Gong's principles of Truthfulness-Compassion-Forbearance, she became a much better person who was widely praised by coworkers and neighbors. 
Because of her faith, Ms. Ji had been  severely persecuted over the past 20-plus years. Officials at the local police and detention center should be held accountable for her death.
Perpetrators Responsible for Ms. Ji's Persecution
Han Ying, secretary of the Political and Legal Affairs Committee: +86-15804866611
Meng Fanchi, police chief, deputy head of Bairin Police Department, deputy secretary of the Political and Legal Affairs Committee: +86-13484768788, +86-13354760515
Yang Xiaoxu, deputy police chief: +86-13947666728
Du Minjun, deputy police chief: +86-13804766519
Xu Jianfeng, director, Domestic Security Bureau: +86-13674877717
Han Dongdong, deputy director, Domestic Security Bureau: +86-19804760505
Huang Jian, director, Lindong Police Station: +86-13848360002
Gao Yonggang, director, Bairin Left Banner Detention Center: +86-13948469784
Tian Zhijun, deputy director, Bairin Left Banner Detention Center: +86-13848569279, +86-4767881510
Wu Yahan, guard, Bairin Left Banner Detention Center
Sun He, Bairin Left Banner Discipline Committee secretary: +86-13734855757
Lu Zhanbao, Bairin Left Banner Discipline Committee vice secretary: +86-13604765634
Liu Zhandong, head, Bairin Left Banner Procuratorate: +86-13694754433
Wulan Gerile, vice head, Bairin Left Banner Procuratorate
Wang Liguo, Bairin Left Banner Court president and vice secretary, Bairin Left Banner Political and Legal Affairs Committee: +86-13947667055
Li Chengzhi, director, Bairin Left Banner Justice Bureau: +86-18604760128
Ren Xi, Bairin Left Banner Party secretary: +86-13947603306
Qin Huaidong, Bairin Left Banner vice Party secretary: +86-13847668800
Yu Shouzhong, vice secretary, Bairin Left Banner Political and Legal Affairs Committee and 610 Office agent: +86-13500669660
Chi Jianxue, Bairin Left Banner Political and Legal Affairs Committee agent and 610 Office agent: +86-13947667643, +86-13848067662
Zhao Rigeu, Bairin Left Banner 610 Office agent: +86-13947632530, +86-4767861673
Li Zhiguang, Bairin Left Banner People's Congress: +86-13947677879
Chang Guomin, Bairin Left Banner Supervising Committee: +86-13604765870
Wang Xiaofang, Bairin Left Banner Legal Department: +86-13394843369
Related Report:
Tortured to Disability, 65-year-old Woman Targeted Again for Her Faith