Once Hung Upside Down for Three Days, 84-Year-Old Woman Is Again Imprisoned for Her Faith
Feb. 22, 2022
|
By a Minghui correspondent in Jiangsu Province, China
(Minghui.org) Ms. Geng Yinfeng, an 84-year-old native of Jingjiang City, Jiangsu Province, was admitted to the Changzhou Women's Prison in September 2021 for refusing to give up her faith in Falun Gong. She is currently in Ward 22 and set to be released in June 2025.
This is not the first time that Ms. Geng has been targeted for her faith. She was once hung upside down for three days while serving a previous three-year term for her faith.
After Ms. Geng took up Falun Gong in 1996, she recovered from her numerous ailments, including a frozen shoulder, sciatica, migraines, rheumatoid arthritis, and gynecological issues. She also became a better person by following the principles of Truthfulness-Compassion-Forbearance.
After the Chinese Communist Party (CCP) started to suppress Falun Gong in July 1999, Ms. Geng felt compelled to tell people that Falun Gong was nothing like what the CCP propaganda claimed it was. She was arrested and detained several times as a result.
Once when officers tried to force her to give up her faith, Ms. Geng told them that Falun Gong was a peaceful meditation and that practitioners were innocent. Their response was to hang her up on a door frame for 24 hours. Officers coming in and out took turns slapping her in the face, kicking her, and pushing her against the door frame. They deprived her of sleep and gave her no food or water.
Ms. Geng was later sentenced to three years in prison. When she refused to renounce her belief, the guards hung her upside down for three days. The thick nylon rope cut into her flesh and exposed her bones. She was bleeding and lost consciousness due to the pain. During those three years, she was brutally tortured, both physically and mentally.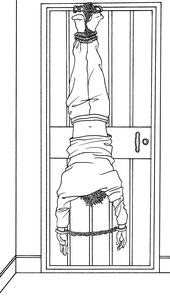 Torture illustration: Hung upside down
After Ms. Geng was released, her son bought a unit in the Tianzeyuan Apartment Complex in the Jiangning District of Nanjing City, Jiangsu Province. Both Ms. Geng and her husband then moved from Jingjiang to Nanjing.
Six agents from the Jingjiang City 610 Office and Domestic Security Office, along with their counterparts in the Jiangning District, arrested Ms. Geng at her Nanjing residence on November 6, 2012. Ms. Geng's 94-year-old mother, who lived with her, was so terrified that she died not long afterwards.
Ms. Geng filed a criminal complaint in June 2015 with the Supreme Procuratorate and Supreme Court against former CCP leader Jiang Zemin for persecuting Falun Gong. Even worse harassment and persecution followed. Her husband, then 86 and a Korean War veteran, also suffered tremendously due to the repeated harassment, arrests, detentions, and wrongful sentencing of his wife for her belief.
Several police officers from Jingjiang City and the Jiangning District arrested Ms. Geng at her home on August 15, 2017. They held her in the Jingjiang Detention Center for two weeks and released her on September 1.
On December 7, 2017, the Jingjiang police took her to the Jingjiang Court for a hearing. No verdict was announced and Ms. Geng was released 20 days later.
Another hearing took place in the Jingjiang Court at 9:30 a.m. on March 22, 2018. The presiding judge, Wang Pin, sentenced the then 81-year-old Ms. Geng to three years in prison. Taixing Prison refused to admit Ms. Geng due to her poor health and she was released on medical bail after she had served one year.
The Jiangning District police arrested Ms. Geng again on August 26, 2019, when she was studying the Falun Gong teachings at the home of Ms. Huang Mourong. They also arrested Ms. Huang and two other elderly practitioners, Ms. Duan Shulan and Ms. Gao Meiling. The police took the four practitioners, along with Ms. Geng's husband, to Gaoxinyuan Police Station. Ms. Duan's home and basement were ransacked. For a long time, no one knew where the five of them were.
It was recently learned that Ms. Geng was sentenced to a new two-year term by the Yuhuatai Court. With her original two-year term still to serve, she now has four years in total and should be released around August 2023. It is unclear why her release date is set for June 2025.
Her husband, who had been released, asked to visit her in prison at the end of 2021, but his request was denied.