(Minghui.org) Ms. Yan Ping, a former elementary school teacher in Boluo County, Guangdong Province, went missing on March 13, 2020. It wasn't until June 2020 that her family confirmed that she has been arrested and held at the Meihua Detention Center. The police had monitored her daily activities for a time before arresting her.
Ms. Yan was sentenced to two years and three months in late January 2021. She appealed with the Huizhou City Intermediate Court, which ruled to uphold her original verdict. She was taken to the Guangdong Province Women's Prison in November 2021.
This is the sixth time that Ms. Yan has been arrested for her faith in Falun Gong, a spiritual discipline that has been persecuted by the Chinese communist regime since 1999. Prior to her latest sentencing, Ms. Yan served one year of forced labor and one and a half years in prison, as well as nearly a year in a brainwashing center. She suffered brutal torture and her hair was grey when she was released from the prison in 2017.
Ms. Yan was very popular with her students, but the Education Bureau fired her in 2016 because she refused to renounce her faith. 
Two Decades of Arrests, Detentions, and Torture
Ms. Yan, a native of Macheng City, Hubei Province, was first arrested in December 2000 because she appealed for Falun Gong in Beijing. After she was taken back to Macheng, police officers kicked her and forced her to kneel down. One officer pulled out much of her hair. She was detained for four months and forced to pay 2,100 yuan in living expenses to the detention center. 
Ms. Yan was arrested again on September 29, 2002, for talking to people outside of a cinema when it showed movies defaming Falun Gong. She held a hunger strike in the Macheng Detention Center to protest the persecution and was force-fed. Several of her teeth were broken when the guards pried open her mouth. They also tied her up in a spread-eagle position on a death bed until she lost consciousness.
The police later sent Ms. Yan to Shayang Forced Labor Camp to serve a one-year term. The guards sometimes deprived her of sleep and forced her to stand or squat all day long. She was also forced to do intensive unpaid labor, including farm work, manufacturing earphones, and making Christmas lights. The guards wouldn't let her sleep if she didn't finish her daily quota.
Ms. Yan later moved to Boluo County, Guangdong Province, with her husband. She was then arrested on July 21, 2011, for distributing informational materials about Falun Gong. 
The police ransacked her home in front of her husband and their sixth-grade son. The boy was so frightened that he couldn't eat for an entire day. Her husband was also stressed after her arrest—his weight plummeted within a few days, and he looked old and weary. 
In August, Ms. Yan was sent to Sanshui Brainwashing Center in Guangdong City and held there for nearly a year. She was forced to watch videos slandering Falun Gong during the day and was monitored by two staff members around the clock. Her 10,000-yuan merit pay was also withheld by her school.
The authorities continued to harass her from time to time and demanded that she write "thought reports" to reflect on her "mistakes" in practicing Falun Gong.
Ms. Yan was arrested again on April 23, 2016, for studying Falun Gong teachings with local practitioners. Because she went on a hunger strike to protest the arbitrary arrest, the detention center guards shackled her hands and feet together so that she could not stand up. By the time they loosened the shackles a few weeks later, she could no longer stand or walk.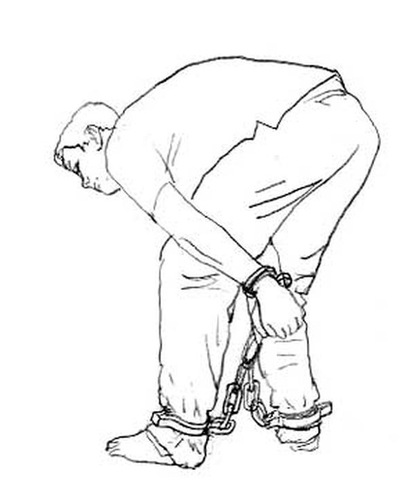 Torture illustration: Hands and feet shackled together
On September 19, 2016, the Huicheng District Court held a secret hearing without informing Ms. Yan's family. She appeared in court in a wheelchair. 
The judge later sentenced Ms. Yan to one and a half years in prison, with a 5,000-yuan fine. On January 16, 2017, two days before she was transferred to the Guangzhou Women's Prison, the Boluo County Education Bureau fired Ms. Yan. The court also froze her bank account to make her pay the 5,000-yuan fine.
In prison, Ms. Yan was constantly deprived of sleep, denied use of the restroom, and forced to do unpaid labor. Sometimes the guards forced her to sit on a small stool without moving for extended periods of time and they sometimes would force her to hand copy brainwashing materials. The fingers on her right hand almost became disabled as a result of this torture. 
When Ms. Yan was released from prison, her hair had turned gray and she often suffered from headaches, dizziness, and excessive sweating. Yet the authorities continued to harass her and installed several surveillance cameras outside of her apartment.
Related reports:
Former Teacher Missing, Friend Suspects Another Arrest for Her Faith
Guangdong Elementary School Teacher Illegally Imprisoned, Harassed