(Minghui.org) Falun Dafa has spread from person to person, in more than 100 countries on five continents, for over 30 years. The following are real examples of Falun Dafa practitioners and their families, who were saved from danger and tribulations after sincerely reciting the phrases, "Falun Dafa is good, Truthfulness-Compassion-Forbearance is good."
Xiumei is a Falun Dafa practitioner who gained many physical and mental benefits after starting cultivation practice. To raise awareness about the Chinese Communist Party's (CCP) severe persecution of Falun Dafa in China, she and her husband diligently participate in activities aimed at clarifying the truth behind the persecution. Xiumei and her family operate a glass business in Changhua city. Her husband's younger brother, Ah Hua, undertook many heavy responsibilities within the company, but his elder brother and sister-in-law's enthusiasm for Falun Dafa had always left him mystified.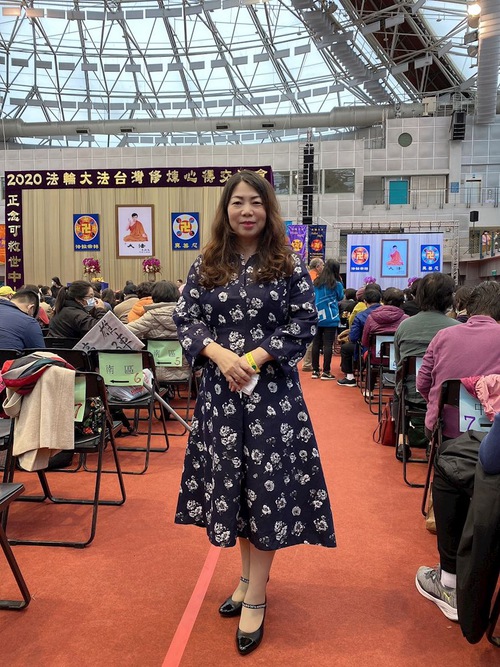 The photo depicts Xiumei participating in the 2020 Taiwan Falun Dafa Cultivation Experience Exchange Conference in Taipei.
Xiumei, whose brother-in-law and children came down with tuberculosis and recovered within one night after sincerely reciting "Falun Dafa is good, Truthfulness-Compassion-Forbearance is good."
Recovery of Three Tuberculosis Patients
Seven years ago, two of Ah Hua's sons came down with tuberculosis. They were hospitalized for treatment, but their condition deteriorated by the day. Forced to work while taking care of his two children, Ah Hua became physically and mentally exhausted. Soon after, he too came down with tuberculosis and was admitted to a hospital because of fever. Severely ill and exhausted, Ah Hua began to experience a sense of despair and helplessness.
At this time, he began to appreciate the efforts his parents had spent in raising him, and how he had failed to take care of them in their old age. He sent a message to Xiumei, telling her about his situation and outlining his wishes to return to his hometown.
Ah Hua was important in the glass company's operations, and his resignation would leave the company with many challenges, including rescheduling and adjusting projects. However, Xiumei and her husband decided to support Ah Hua's wishes. The couple decided to take on the difficulties to the best of their abilities.
Worried for her brother-in-law and his children, Xiumei also advised him, "Only Falun Dafa can heal your illnesses. Recite the phrases, "Falun Dafa is good, Truthfulness-Compassion-Forbearance is good" continuously from deep within your heart."
Her advice offered Ah Hua a glimmer of hope. Throughout the night, he and his children diligently recited, "Falun Dafa is good. Truthfulness-Compassion-Forbearance is good."
The following morning, Xiumei called to seek updates on their situation. Ah Hua told her, "All three of us have recovered. We are now going through the hospital discharge process." From this incident, Xiumei witnessed firsthand the lifesaving power of Falun Dafa. Afterwards, Xiumei even found Ah Hua a new job that paid a good salary.
Having benefited from the healing powers of Falun Dafa, and experienced the practitioners' kindness. Ah Hua's attitude towards Falun Dafa changed for the better. No longer distrustful, he was finally convinced of the goodness of Falun Dafa and its power to save people.
Power of Falun Dafa Saves a Group of Lost Hikers
Xiaoxi is a Falun Dafa practitioner. Although her husband is not a practitioner, he nevertheless believes in the goodness of Dafa.
"During the holidays," Xiaoxi said, "my nephew invited us to go on a mountain hiking trip in the Wangyou Forest near the Shanlinxi Mountains. Since the six of us arrived at our destination early, we took the opportunity to climb another mountain. As we were walking back from the peak of this last mountain, a thick fog suddenly obscured our path. These small hiking paths are usually unmarked, and we were soon lost."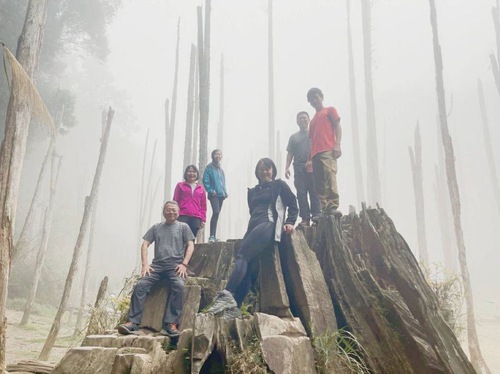 Xiaoxi in Wangyou Forest with her husband and nephew's family.
At that time, Xiaoxi's husband suggested, "We should follow the marks left by previous hikers. Thus, we should be able to get out." However, the small and steep (45 degrees) mountain path instead lead them in the opposite direction, into another mountain. By then the sky was turning dark. As they circled around in the mountains, her nephew began to panic.
Xiaoxi remained unafraid. She advised her husband, nephew, and nephew's family to recite the phrases, "Falun Dafa is good, Truthfulness-Compassion-Forbearance is good." Not long after the family began reciting the phrases, they noticed that the scenery around them had changed. There was only a single mountain path before their eyes. They followed this path and found their way out of the mountain area. Everyone excitedly shouted, "Falun Dafa is good! Truthfulness-Compassion-Forbearance is good!" Their joyful shouts reverberated throughout the valley.
The group finally reached the mountain entrance at seven p.m. An original hiking trip of four hours had turned into nine hours. The family later discovered that they had climbed three mountains, while being lost.
Xiaoxi said, "When faced with crisis, remember the phrases "Falun Dafa is good, Truthfulness-Compassion-Forbearance is good!" We were miraculously saved because our family believes in the goodness of Falun Dafa. Even if only one person practices Falun Dafa, the practice can still benefit the whole family. After this experience, my nephew has expressed interest in learning more about Falun Dafa, and is thinking of cultivating in Falun Dafa."