Vietnam: Participants Experience Positive Changes after Attending Free Falun Dafa Lessons Online
Jan. 30, 2022
|
By Falun Dafa practitioners in Vietnam
(Minghui.org) Falun Dafa is a meditation system based on the characteristics of the universe, Truthfulness-Compassion-Forbearance. Consisting of five sets of exercises, the movements are easy to learn, helping people achieve inner peace and health. People of all ages can learn Falun Dafa and it is taught free of charge. It is estimated that there are currently hundreds of millions of practitioners in over 100 countries and regions.
Falun Dafa practitioners in Vietnam have been organizing 9 day classes in recent years, providing opportunities for more Vietnamese to take up the mind-body practice.
Since July 2021, due to the increasing number of people infected with and dying from the COVID virus in Vietnam, it has become increasingly important for people to strengthen their immunity and reduce their mental stress while they have to stay home. Due to social distancing requirements and travel restrictions, people can no longer learn the exercises in person.
According to a report published on the Minghui.org website, Falun Dafa practitioners in Canada began to host online classes in October 2020. These classes have become increasingly popular among those living in North America. Around 2000 people attended the classes from October 2020 to May 2021. Since then, more countries have joined in organizing similar classes online including Taiwan, Japan, Germany, France and India.
Practitioners in Vietnam started to hold online classes in late July 2021 offering free teachings in Vietnamese. Anyone in the world can go online to learn the Falun Dafa exercises. There are many time slots available: Wednesday and Friday evenings, Saturday and Sunday mornings. Registration is simple, secure and the lessons are completely free. One can go to the website https://hocphapluancong.com and choose the Vietnamese language.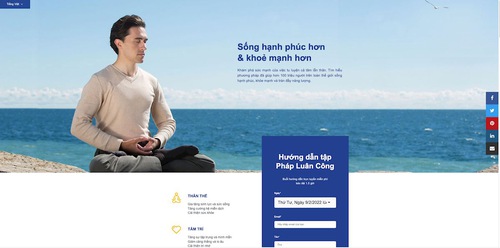 Free Falun Dafa online classes are offered in the Vietnamese language.
Below is some feedback from class participants.
I Regained My Health
Hanh, who is 37, said she had many health problems before learning Falun Dafa. "After attending the online teachings, my condition improved. I used to have constipation regularly but this went away after doing the exercises for a short period of time."
She also felt better when she had her period. In the past, she tried many methods to alleviate the pain she had during menstruation but nothing worked.
Many people exercise to keep fit, and Mr. Pham Duong, 40, is one of them. After attending the Falun Dafa classes online, he said, "This is amazing. I've only practiced for over a week and I feel different. This is something I could not achieve previously through any exercise I've done."
My Mind is More Tranquil
Ms. Tran Nhanh, 30, shared her thoughts after attending the online classes, "I was happy to find Falun Dafa. I felt exhausted from the pressures of everyday life. I wanted to find inner peace. I was overjoyed after attending the first day of class. The detailed introduction helped me to quickly remember the movements and I was able to learn it in a relaxed way. I gradually learned all the exercises through attending the Sunday evening class. I began to read the teachings too. So far I have read two books - Zhuan Falun and The Great Way of Spiritual Perfection. It has been very inspiring: People's spirits need to be mended; the most important thing is to cultivate one's mind."
I Feel Lighter
Mr. Le Man, 22, has been disabled since birth. Before he attended the online classes, he had difficulty walking even with the support of a walking stick. After he began doing the exercises he said he feels lighter and it's easier to walk.
Background: What is Falun Dafa?
Falun Dafa (also known as Falun Gong) was first introduced to the public by Mr. Li Hongzhi in Changchun, China in 1992. The spiritual discipline is now practiced in over 100 countries and regions worldwide. Millions of people have embraced the teachings, which are based on the principles of Truthfulness, Compassion, and Forbearance, and learned the five gentle exercises. Almost all will tell you that they have found the experience quite uplifting, both spiritually and physically.