"You Opened My Eyes to the Painful Truth in the Most Beautiful Way Possible"
Aug. 5, 2021
|
By a Falun Dafa practitioner in Canada
(Minghui.org) The Art of Zhen, Shan, Ren (Truthfulness-Compassion-Forbearance) International Exhibition was held at Portals Gallery in Cowichan Valley, Vancouver Island, Canada, from July 8 to 24, 2021. Locals were moved by the artworks and left many thankful comments.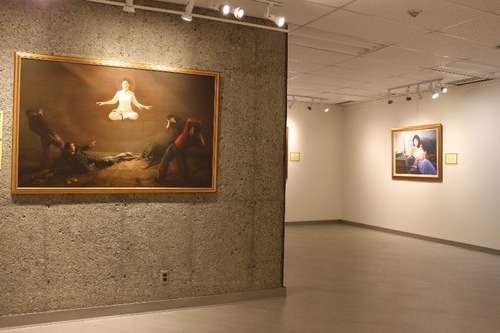 The Art of Zhen, Shan, Ren International Exhibition was held at Portals Gallery in Cowichan Valley, Vancouver Island, Canada, from July 8 to 24.
Cowichan Valley is a beautiful place that attracts many visitors from the province of British Columbia in the summer. Portals Gallery is one of the best professional galleries in the Vancouver area.
Falun Gong practitioners who organized the exhibition ran an advertisement in the local media and mailed invitations to local residents. Things have started to open up since the pandemic began, and people were looking for things to do. In the small town with a population of 5,000, 50 to 80 people visited every weekday, as many as 150 came a day on the weekend. In all, over 1,000 people visited the exhibition during the 16 days it was open. The gallery director said it was the most successful exhibition she had held and was honored to provide the venue for it.
The exhibition had 23 carefully selected artworks, including award-winning works from oil painting competitions in years past and works by Canadian artists. The gallery designed the exhibition meticulously, with professional lighting presenting the artworks in all their glory.
Many visitors were moved to tears, and some visiting from China even chose to quit the Chinese Communist Party (CCP) and its affiliated organizations. Some came back with their families and friends and some wanted to donate money but were told that Falun Gong doesn't take donations. Many people attended a free Falun Gong teaching class held one weekend.
A Japanese woman said she saw hope for China because of the perseverance of Falun Gong practitioners who've awakened millions of Chinese people to quit the CCP. "I absolutely support you. Only when the Communist Party disintegrates will the world have peace," she said.
A mother brought her eight-year-old son to the exhibition. The boy insisted that his mother buy a copy of the painting Shock, because "it is completely golden," he said.
Zhang, an exhibition volunteer, said she saw a teenage boy come into the gallery with a lost expression on his face. He studied every work quietly and read the descriptions. When he completed the tour, he asked her if he could learn Falun Gong. She told him when the free class would be held on the weekend. "I saw excitement and joy in his face as he left the exhibition. His eyes were clear and bright," Zhang recalled.
Two women attended the exhibition on the last day. One of them said, "Such a strong energy field. It touched my heart. I can feel it even now. I want to learn Falun Gong. I left my contact information with them so they can notify me when they hold the next class in Duncan."
People also left many comments of praise and thanks:
"You opened my eyes to the painful truth in the most beautiful way possible. Absolutely loved this exhibit."
"Very moving. Lovely, calm expressions based on deeply rooted beliefs. A wonderful way to educate us."
"It is heartbreaking what Falun Gong practitioners have to go through. Their resilience and compassion shows despite being persecuted."
"Sublime, mystical, moving, transformative"
"The eyes were truly remarkable. The paintings broke language barriers, offering a point of view that made me relate as a person. Absolutely touching."
"Exquisite, sensational, and so meaningful. Thank you so much for bringing this art to the Island."
"Amazing insight into the persecution. I honor your...perseverance."