(Minghui.org) A Chinese man and his wife and son, who reside in Toronto, Canada, all tested positive with the British variant of the Coronavirus (B.1.1.7) on March 15, 2021. Mr. Zhu Ruigang, 41, began to have difficulty breathing on March 19. However, without any medical treatment or medication, his family recovered completely within a week. What magically cured the family in such a short period of time? Mr. Zhu tells us the story.
The Whole Family Tested Positive for British Variant Virus
Mr. Zhu and his family immigrated to Toronto from China in September 2017. On March 11 of this year, he started to have a fever.
He said, "My son and I both had a fever on the 11th. We made appointments with the hospital and were tested on the 13th. The positive results came out on the 15th for both my son and myself. My symptoms got worse day by day since the 15th. The hospital also called to tell us that we were infected with a variant of the virus."
"By March 19, I had been really struggling to breathe and my chest felt like being pressed by a piece of rock. I went back to the hospital and was found to have an oxygen saturation level of 90% (the normal level is 95% or higher). A doctor said people usually would have to go into intensive care if the oxygen level dropped to 90%. Because I didn't meet the condition for hospitalization, the hospital sent me and my son home in an ambulance."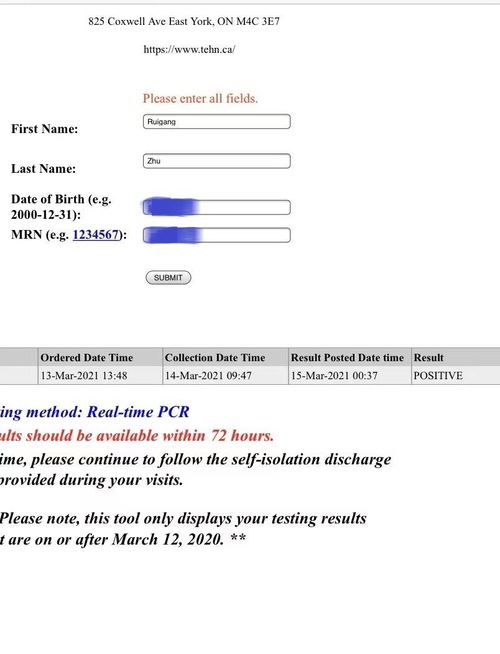 Mr. Zhu's test report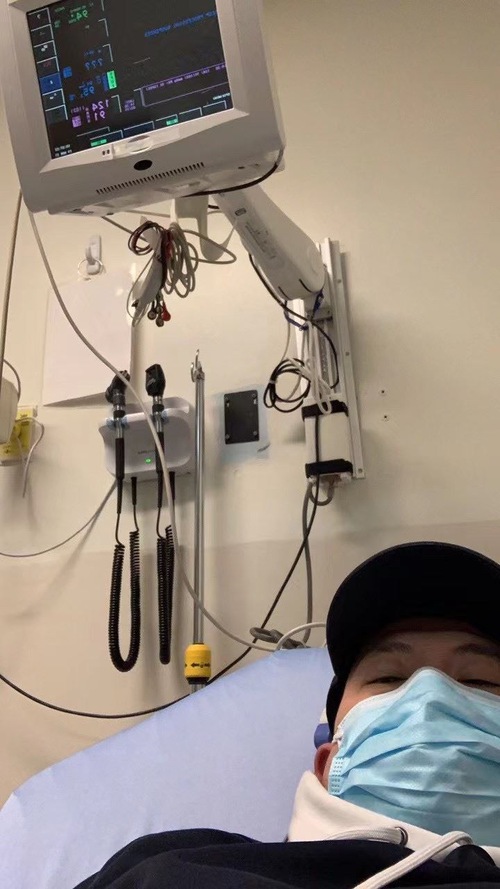 Mr. Zhu receiving check-up at the hospital
The Whole Family Cured Through Falun Dafa Exercises
Mr. Zhu continued, "After I returned home, I felt that this was it and there was no hope. But I suddenly remembered Falun Dafa, which I once practiced in China but later gave up due to fear of being persecuted. On the night of March 19, I began to do the five sets of Falun Dafa exercises and taught my son to recite with me the auspicious phrases: 'Falun Dafa is good; Truthfulness-Compassion-Forbearance is good.'"
"Miracles happened. My temperature went down the next morning. About four or five days later, I had completely recovered. I had no problem breathing and my body completely returned to normal. The hospital issued me a certificate of returning to work on March 27, which verified that I had completely recovered."
During that time period, Mr. Zhu's wife, Ms. Zhang, also began to have a fever around March 20. He told his wife, "You don't need to go to the hospital, and let's practice Falun Dafa together." Again, within a week, Ms. Zhang's symptoms disappeared completely.
Mr. Zhu said, "My whole family was cured without any medication or treatment at all. Falun Dafa saved my whole family."
Fortunate to Have Learned About Falun Dafa in China
Mr. Zhu said that he was fortunate to have learned about Falun Dafa while he was in China. "I got to know about Falun Dafa because of my father. He was diagnosed with late-stage liver cancer in July 2014, and I needed to go to the hospital every day to take care of him."
"Because I was the only child in my family and my wife needed to take care of our son, I was under a lot of stress physically and mentally when I was caring for my father. I was in a poor physical condition and could not sleep well at night."
"A gentleman was staying in the same ward as my father at that time. His son was a Falun Dafa practitioner and was also caring for him in the hospital. His son was in good spirits so I asked him how he was able to do it. He then introduced Falun Dafa to me. This was my first encounter with Falun Dafa."
"This Falun Dafa practitioner taught me Falun Dafa exercises and the auspicious phrases. After about half a month of practice, my health and mind improved greatly. I slept better, and I was energetic every day."
Mr. Zhu's wife, Ms. Zhang, also realized how extraordinary Falun Dafa is. "We were told by the hospital that people with late-stage liver cancer could only live two or three months, but my father-in-law lived one whole year after his diagnosis. My husband said it had something to do with Falun Dafa, so he especially believed in Falun Dafa."
Persecuted for Practicing Falun Dafa and Forced to Immigrate
Mr. Zhu lived in a small city in Liaoning Province and worked at a state-owned enterprise. Even though he was never arrested or tortured physically, he did suffer psychologically due to the pressure for him to give up his belief and the discrimination against Falun Dafa practitioners, which eventually forced his family to leave the country.
Mr. Zhu recalled, "I did the Falun Dafa exercises together with that practitioner for a while. But I stopped after my father passed away."
"Because the persecution was prevailing at that time, even in a small city like ours, I was summoned to my superior's office many times after the top management heard the news of my practicing Falun Dafa. They 'educated' me with lies but I still firmly believed that Falun Dafa is good. Then they suspended my job. Afterward, I was also 'invited' to the police station for 'education' and 'tea' several times."
He continued, "At that time, my son was nine years old and in the fourth grade. The teachers at his school told the students in his class that I was a Falun Dafa practitioner, and asked them not to play with my son. He was isolated. I realized how big the impact could be on his growing up, so my family left the country in September 2017."
Both Mr. Zhu and his wife said that although they did not know about Falun Dafa in depth at the time, they did know that the Chinese Communist Party (CCP)'s allegations against Falun Dafa were baseless since they had come to see the CCP's evilness even before the persecution began. 
Mr. Zhu said, "I actually knew that Falun Dafa was wrongly accused when the persecution first began. When my wife and I watched the so-called 'Tiananmen Square self-immolation' on the news, we saw the loopholes which would be observed by anyone with sharp eyes. For instance, that little girl was able to sing with her trachea cut open? That badly burnt man was able to keep his posture unchanged? And the Sprite bottle in between his legs filled with gasoline did not catch fire? I think people with common sense could see clearly what's going on."
"Through my whole family's experience of recovery from COVID this time, I came to a whole new understanding of Falun Dafa. I truly experienced the health benefits of Falun Dafa, which made me strongly believe in it. I have been doing the exercises and reading the book Zhuan Falun every day since."
On July 17, 2021, Mr. Zhu and his wife participated in a march in Toronto, calling on the CCP to end its 22-year long persecution against Falun Dafa. He said, "As a new practitioner, I will definitely persist in the practice and raise awareness about the persecution. I sincerely thank Master for saving my family."