(Minghui.org) Ms. Fu Guihua, of Changchun City, Jilin Province, was admitted to the Jilin Province Women's Prison on May 27 this year to serve 7.5 years for upholding her faith in Falun Gong, a mind-body practice that has been persecuted by the Chinese Communist Party since July 1999.
Less than two months later, her family was notified on July 25 that Ms. Fu had fallen into life-threatening condition and rushed to a hospital. Despite repeated requests from her family, however, prison officials prohibited them from visiting her. Ms. Fu died later that day, at the age of 55. Her body was moved to a funeral home, where her family was still not allowed to visit.
The official cause of Ms. Fu's death was cirrhosis of the liver, but her family suspects foul play as she had been healthy all long thanks to her practice of Falun Gong. The prison also told her family that she was healthy when they called her the day before her death.
Ms. Fu's prison sentence stemmed from her arrest on August 15, 2019, when six members of her extended family, including one daughter and two sons-in-law, were also seized for their shared faith in Falun Gong.
All seven family members were later sentenced to prison. Ms. Fu and her younger daughter Ms. Yu Jianping's husband Mr. Meng Xiangqi, 37, were both given 7.5 years. The other five family members were each given 7 years, including Ms. Fu's older daughter Ms. Yu Jianli, 30; Ms. Yu Jianli's husband Mr. Wang Dongji, 40; Mr. Wang's parents (Mr. Wang Kemin, 69, and Ms. Wang Fengzhi, 69); and Mr. Meng's father, Mr. Meng Fanjun, 59.
Ms. Yu Jianli is serving time in the same Jilin Province Women's Prison, where she had been denied visitation until July 27, two days after her mother's death. She told her family that when she was first transferred to the prison on May 27, she was not allowed to sleep until after 1 a.m. and was forced to get up just past 2 a.m. every day. She was not allowed to wash, brush her teeth, or shower. She could only use the toilet three times a day. She was forced to sit still on a small bench at all times. She said she was now made to go to bed at 10 p.m. and get up at 4 a.m. every day.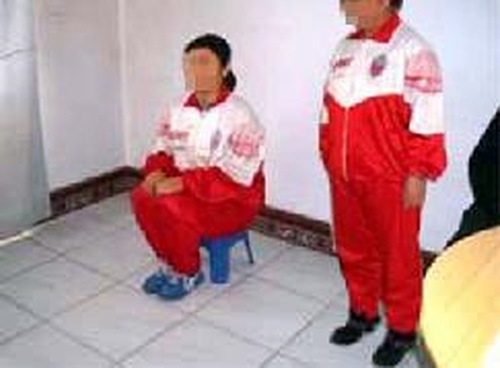 Torture illustration: sitting still on a small bench all day long. Inmates are assigned to watch the victim at all times, even slight movements would trigger beatings and humiliation.
Ms. Yu's younger sister, Ms. Yu Jianping, has been seeking justice for her loved ones, including her mother, her husband, her sister, and her brother-in-law, to no avail. With her mother's sudden death, she found herself facing even more uphill battles just to view her mother's body and find out the real cause of death. Officials from the prison, hospital, prison administration bureau, and procuratorate have all blocked her efforts to seek justice for her mother.
Hospital Visit Denied
At about 8 p.m. on July 25, Ms. Fu's family received a phone call from the prison saying she was in critical situation and was being resuscitated at the Jilin University Hospital. According to Gao Yang, deputy director of Ward 8 in the prison, and another female officer surnamed Zhou, Ms. Fu had liver cirrhosis and airway obstruction. They told Ms. Fu's younger daughter Ms. Yu Jianping to visit her on the 7th floor of the Impatient Department, where prison detainees are usually hospitalized.
When Ms. Yu arrived at the hospital, however, Gao and Zhou blocked her from entering, claiming the visit had not been approved by prison officials. Upon her repeated requests, Gao and Zhou made several phone calls to a prison official, who insisted no visit would be allowed. They also refused to tell which official had been contacted when asked by Ms. Yu.
About an hour later, Ms. Yu received a phone call from the hospital saying Ms. Fu had died at 9:48 p.m. But Ms. Yu noted the time on her phone was only 9:18 p.m. When Ms. Yu questioned him, the caller immediately changed the time of death to 8:18 p.m.
Not Allowed to View Body
Ms. Yu made strong requests demanding to see her mother's body before it hardened. Gao and Zhou again checked with the prison official, who again said no.
Seeing no progress, Ms. Yu asked to meet the attending physician in charge of the case. But this request was turned down too. When she insisted, Gao and Zhou led her to the 6th floor, saying the doctor was surnamed Huang.
When Huang came down to the 6th floor, he told Ms. Yu that her mother arrived at the hospital a little after 4 p.m. and someone was helping her since she was weak. Huang said Ms. Fu was still clearheaded and told him that she had live cirrhosis in the past and was vomiting blood upon admission. Ms. Yu again requested to see the body, and Huang said she had to wait until the body was cleaned and all the blood was wiped away.
Ms. Yu said she did not mind and insisted on seeing the body right away. Huang backed off and went upstairs again. She wanted to follow him upstairs but was held by Gao.
Gao then called the prison, saying the attending physician had allowed Ms. Yu to see the body. An official called the doctor before calling Gao back to say that no doctor could authorize anyone to see the body.
By that time, some patients' family members surrounded the scene to find out what had happened. Gao thus led Ms. Yu to an office on the 6th floor affiliated with police. Liao Shengdong, an officer in his 50s, again blocked her, saying the body could not be seen. He first said the body needed to undergo a nucleic acid test for COVID-19 and then presented two additional "policies." When Ms. Yu pointed out one by one these policies did not apply to the situation, Liao still did not allow her to see the body.
After a long time, Zhao, an officer from the Prison Administration Department of the prison, came to talk with Liao. Zhao said the body was being transported to Chaoyanggou Funeral Home and promised to allow Ms. Yu to see it the next morning.
It was almost midnight at the time, and Ms. Yu hurried to the funeral home. She was told that her mother's body arrived there a bit after 11 p.m. Because the body was delivered there by police, she was not allowed to see the body unless she was accompanied by a police officer who produced his or her police ID. Zhao had said Ms. Yu needed a letter from a certain agency, which was a different requirement than what the funeral home told her. She contacted Zhao again and he said he needed authorization from a higher official (without telling her which official) to go to the funeral home himself.
After a while, Zhao called back Ms. Yu and said at least two officers must be present. He said that he wasn't able to get hold of Gao and Zhou and that he had left his police card in the prison. He promised to go to the funeral home before 8:30 in the morning to handle the matter.
Episode at Funeral Home
Because officials tried all means of blocking Ms. Yu from seeing her mother's body, she had no choice but go to the prison entrance after 6 a.m. on July 26 to seek justice publicly. She burned paper and put up wreathes outside the prison just like in a funeral ceremony. At first, an officer threatened to crush the wreathes with a car. Later on, someone from the prison threatened to call the police.
At 8:30 a.m., Ms. Yu rushed back to the funeral home to wait for Zhao. She called Zhao, who said he could come in a few minutes together with Prison Administration Director and hospital president.
Zhao and the hospital president never showed up. Instead, Prison Administration Director Cao and two guards arrived at the funeral home after 11 a.m. Cao was very hostile toward Ms. Yu. He said only immediate family members were allowed to see the body and demanded to check their ID cards. Ms. Yu and her relatives insisted all of them be allowed to see the body and take pictures.
Cao said up to five people could see the body, but no photos or video would be allowed. Frustrated by the situation, Ms. Yu and her relatives left without seeing the body. Cao called Ms. Yu and said he'd leave if she and her family refused to comply with the five-person restriction. Ms. Yu said she'd seek justice since he refused to allow all of her family to see the body.
Procuratorial Officer: This Is Shirking Responsibility
In the afternoon of July 26, Ms. Yu went to the prison asking for the procuratorial officer on duty in the prison. But the security officer could not reach the procuratorial officer and refused to put her in touch with the appeals office in the prison either.
Ms. Yu was dressed in white (it is customary to wear white during the mourning period) outside the prison entrance. To avoid more passersby from seeing this, several officers from the Legal Department and Prison Administration asked her to go inside the appeals office. Knowing this was a tactic to shirk responsibility, she refused and stayed outside to reason with the officers.
Ms. Yu asked if her mother's death had been reported to higher officials or investigated. No one answered her. She asked to see the procuratorial officer and was told he was not in. She questioned why he was not in the office when he was supposed to be on duty, especially when her mother had died in custody.
She said in the past nearly two months when her mother was imprisoned, she had been to nearly all departments of the prison, including its supervising agency, the Prison Administration Bureau, asking to visit her mother, but to no avail.
"My mother was detained here simply for her belief. And now she died like this in less than two months," she said. "Wouldn't you be sympathetic of this? Had I been allowed to see my mother and learn of the abuses she'd been subjected to, I'd have sought justice for her and she probably would not have died."
Ms. Yu also questioned the role of Qian Wei, director of Ward 8 where her mother was detained, in this case. She said Qian refused to allow her to visit her mother even after the Prison Administration Bureau permitted it. The prison's legal department also confirmed that it was Qian who had been barring her from visiting her mother.
Ms. Yu then asked to see her sister, who is being held in the same prison as their late mother. The prison officers said she needed to get an approval from some official first. They then told her that the procuratorial officer was at the suburban procuratorate.
Ms. Yu called Zhao and reiterated her request to see her imprisoned sister. Zhao said she could see her sister the next afternoon.
On the morning of July 27, Ms. Yu went to the procuratorate. Two officers responsible for the prison accepted her, and she explained in detail what had happened in the past two months.
She said she had called the prison numerous times, including on July 24, one day before her mother's death. Gao told her that her mother had been healthy. In addition, liver cirrhosis is a chronic disease that usually doesn't result in sudden death.
Ms. Yu suspected that her mother had been abused and threatened during detention. For example, she got a call from her mother in mid-June urging her to stop contacting agencies about her case, since ward director Qian had "talked" with her about it. When Ms. Yu asked if anyone had mistreated her and when she got up every day (many detained practitioners are deprived of sleep), Ms. Fu replied, "I cannot talk about it."
In addition, Ms. Yu had deposited 900 yuan in her sister's commissary account, but officer Zhao Xin did not allow her to use the money.
Ms. Yu reiterated that her mother was innocent because she wanted to be a better person by following Falun Gong's principles of Truthfulness-Compassion-Forbearance. She suspects that some inmates who were assigned to watch her mother abused her. Plus, the ward director Qian had mentioned the prison had death quotas.
The two procuratorial officers asked if Ms. Yu also practiced Falun Gong, and one of them began to use his phone to record video of her (he had been using his official camcorder earlier in the conversation). He said he doubted if there would be any death quotas but agreed to launch an investigation into whether inmates had abused her mother.
Ms. Yu asked to have the prison keep two months' surveillance videos, and the two procuratorial officers said they could only order the prison to keep 15 days' records. They suggested Ms. Yu request an autopsy from the Prison Administration Bureau. She said she had already talked to them about it but was told to contact the procuratorate.
"This is shirking responsibility," an officer replied. "You can contact the Prison Administration Office or the appeals office. It is their duty to help with this."
When Ms. Yu went to the prison with a lawyer on July 29, officials did not provide any information, such as Ms. Fu's health condition before her death, her emergency treatment process, or security video. When asked about their names, the officers did not reply.
Related Report:
Jilin Woman Dies Two Months Following Imprisonment, Family Suspects Foul Play
Related Article in Chinese: