South Korea: Falun Dafa Practitioners in Changwon Hold Events to Commemorate 22-Year-Long Journey to End CCP'sPersecution
July 30, 2021
|
By a Minghui correspondent in Changwon, South Korea
(Minghui.org) Falun Dafa practitioners in Changwon, South Korea, held activities in Jinhae-ru Beach Park on July 17, commemorating their 22-year-long journey to end the Chinese Communist Party's (CCP) persecution.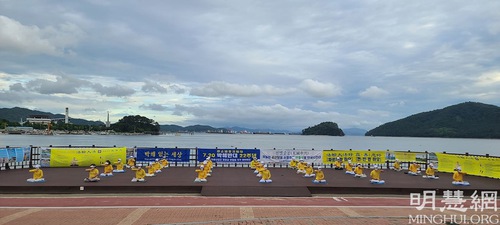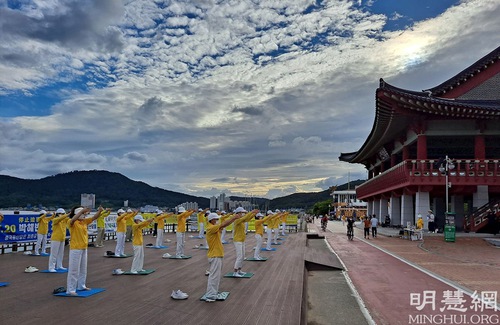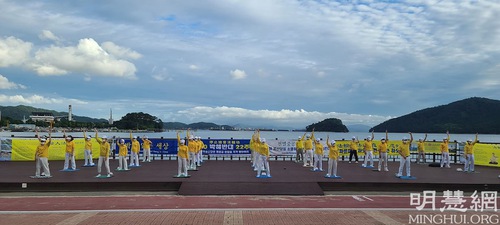 Practitioners demonstrate the Falun Dafa exercises in Jinhae-ru Beach Park.
As part of the day's events practitioners re-enacted the CCP's arrest and torture of Falun Dafa practitioners, held a candlelight vigil, and collected signatures on a petition calling for an end to the CCP's persecution.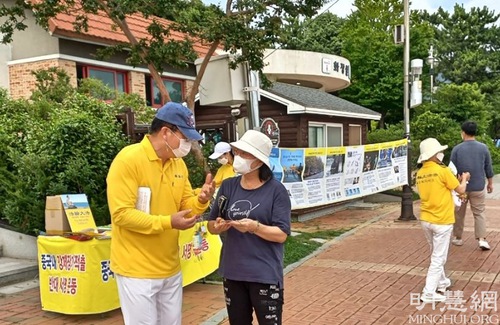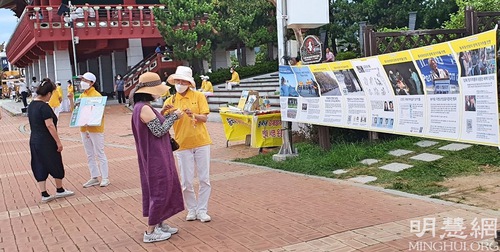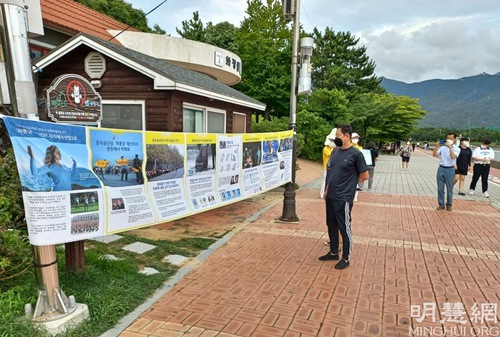 Local residents learn about Falun Dafa.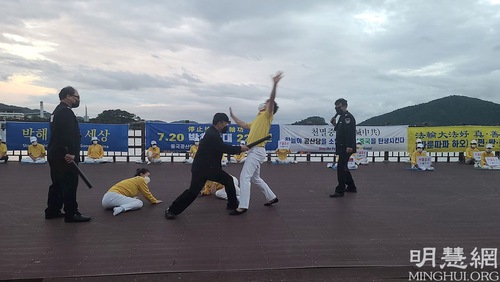 Re-enactment of the CCP's arrest of Falun Gong practitioners in China.
The 15-minute-long re-enactment showed various means the CCP uses to persecute Falun Dafa practitioners, as well as how practitioners firmly uphold Falun Dafa's principles of Truthfulness-Compassion-Forbearance. In the face of the CCP's violence, practitioners living under the persecution remain peaceful, compassionate, and tolerant. Many spectators expressed their wish to end the CCP.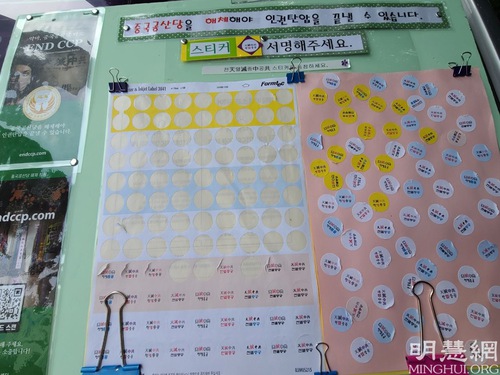 Members of the public placed "End CCP" post-it notes on a board.
Many people in the park stopped and listened as practitioners introduced Falun Dafa and told them about the 22-year-long persecution. They were happy to accept handmade lotus flowers and information about the persecution. 
Ms. Lee a local resident, said, "The CCP is wicked! I hope the persecution will end soon!"
As the sun began to set, practitioners held a candlelight vigil to mourn their fellow practitioners who died as a result of the CCP's persecution. Some local residents joined the vigil. Together, they wished for the day when the atrocities in China would end.