(Minghui.org) For upholding her faith in Falun Gong, a former Chinese medicine pharmacist was repeatedly arrested and harassed. Ms. Xu Xiaoying served one year in a labor camp and two prison terms totaling four years. Her health was irrevocably damaged from the torture in custody. She passed away on June 20, 2021, at the age of 54.
Taking Up Falun Gong
Ms. Xu, a native of Sichuan Province, moved to Baiyin City, Gansu Province after she got married. Not used to the weather and local diet, as well as the conflicts she had at work, she often felt dizzy and suffered back pain.
In 1998, Ms. Xu was introduced to Falun Gong, an ancient spiritual discipline with five sets of slow-moving exercises. Shortly after taking up the practice, her health improved. Falun Gong's teachings also helped her change her bad temper and helped her become more considerate of others.
Onset of Persecution
When the Chinese communist regime ordered the persecution of Falun Gong in July 1999, Jing Ruiyuan, the Party secretary at the hospital where Ms. Xu worked, harassed her and demanded that she give up practicing Falun Gong. She didn't comply.
Ms. Xu was arrested in August 2000 after being reported for distributing Falun Gong materials. Police officer Sun Jie interrogated her and beat her on the head. After she was released 15 days later, Jing forbade her from going back to work, with the excuse that she didn't write a statement to renounce Falun Gong.
The police attempted to arrest Ms. Xu again in October 2000, upon finding out that she went to Beijing to appeal for the right to practice Falun Gong. Ms. Xu had to give up the opportunity to take the professional pharmacist qualification examination on the next day and lived away from home to avoid the persecution.
In March 2001, after the new secretary Wei Kongming took office, Ms. Xu was allowed to go back to work after paying a 200-yuan fine.
One Year of Forced Labor
Ms. Xu was taking a shower at home on the evening of February 22, 2002, when police officer Zhang Tao smashed the window and went into the bathroom to arrest her.
Terrified by the police, Ms. Xu quickly put on a jacket and was immediately dragged to the police car. Her husband Mr. Zhao Zhong tried to stop the police, only to be held by them.
Mr. Zhao was later forced to live away from home when he found the police also attempted to arrest him. His 12-year-old son was deeply distressed when he was left at home by himself.
Ms. Xu was given one year at the Lanzhou City No. 1 Forced Labor Camp after one month of detention at the Pingchuan District Detention Center.
She withdrew a previous statement to renounce Falun Gong that she was forced to write against her will. She also refused to write any thought reports as required by the labor camp guards. As a result, the guards ordered two inmates to hang her up from the door frame, with her arms pulled up from her back. She was also forced to do intensive, unpaid labor.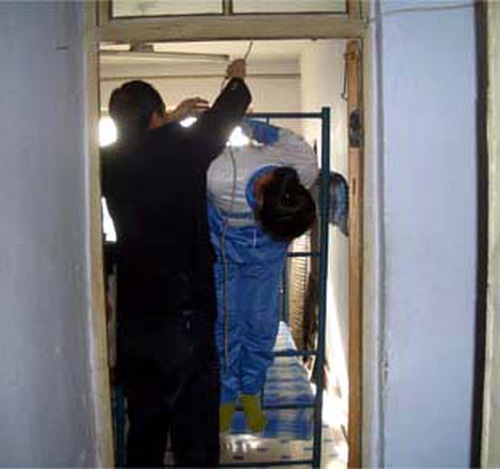 Torture re-enactment: being hung up
The physical abuse induced a stroke. She became numb and had difficulty moving the left side of her body. The guards only allowed her to receive IV drips for three days, before forcing her to work again.
When she was released in February 2003, she was devastated to see that the window at her home was still broken. She said she couldn't imagine what her husband and son had gone through during that period of time.
Taken to Brainwashing Center
Only one month after she was released, her workplace worked with the police in an attempt to take her to the brainwashing center again. With one officer guarding her door, Ms. Xu tried to escape from the window on the second floor. She fell and hit her head on a brick. Her face was covered with blood. Her eyes were swollen. Her legs were also injured.
Although her family took her to the hospital, the police soon came and forcibly took her to the Wuchuan Brainwashing Center. By then, her face had become so swollen that she couldn't open her eyes. The brainwashing center director rejected her request for medical treatment, causing her eyesight to be permanently reduced from the injury.
Ms. Xu was held at the brainwashing center for two months and her workplace paid several thousand yuan for her "tuition."
Sentenced to Three Years
On April 22, 2008, only one month before Ms. Xu's son was to take the college entrance exam, officer Zhang Tao followed her home after work and broke in. Zeng Guanghui, the head of Xinpinglu Police Station, led another seven officers to arrest Ms. Xu in front of her son.
The police searched around and confiscated Ms. Xu's two computers, a printer, a cellphone, a satellite dish, her Falun Gong books, a suitcase and a pearl necklace. Her son was terrified by the police violence, and he performed poorly on the college entrance exam two months later.
Ms. Xu was first held at the Baiyin Detention Center and then transferred to the Jingyuan Detention Center. As she refused to wear the inmate uniform or answer roll call, the guards slapped her in the face and forced her to wear shackles, which were also to prevent her from doing Falun Gong exercises.
The Pingchuan District Court later sentenced Ms. Xu to three years. She appealed with the Baiyin City Intermediate Court, but it ruled to uphold her original verdict. On June 15, 2009, Ms. Xu was transferred to the Gansu Province Women's Prison.
The prison guards forced Ms. Xu to watch propaganda videos slandering Falun Gong and ordered her to write thought reports and statements to renounce Falun Gong. She was barred from using the restroom or washing herself when she refused to comply. The inmates assigned to monitor her beat and verbally abused her at will.
The enormous pressure caused Ms. Xu's health to quickly deteriorate. She lost much of her hair and the remaining hair turned gray.
During her imprisonment, her mother in her 70s missed her very much. When her older brother traveled hundreds of miles to visit her, the prison guards denied his request to have a meal with her and only allowed her to talk to him in the visitation room. They looked at each other and burst into tears.
After Ms. Xu was released on December 27, 2010, the authorities continued to harass her and ordered her to write statements to renounce Falun Gong. Her workplace also demoted her and reduced her salary.
Second One-year Prison Term
Ms. Xu was summoned by the police on October 13, 2015 for filing a criminal complaint against Jiang Zemin, the former head of the communist regime who ordered the persecution. The police had planned to detain her, but relented at her husband's strong protest.
To avoid further persecution, Ms. Xu lived away from home in January 2016. She returned to work in August 2016 and was taken to the Pingchuan District Procuratorate from work to answer some questions weeks later, on September 12.
When the Pingchuan District Court informed her on February 27, 2017 that she was scheduled to appear in court between March 1 and 3, she decided to live away from home again. The police put her on the wanted list in April 2017.
On April 19, 2018, Ms. Xu was arrested in her hometown in Xichang City, Sichuan Province and taken back to Baiyin City. She stood trial on July 17, 2018 and was sentenced to one year.
Ms. Xu was released on April 18, 2019. The court forced her to pay a 2,000-yuan fine on May 7, 2019. Two months later, on July 10, 2019, her workplace was forced to fire her.
Ms. Xu eventually succumbed to the long term persecution and died on June 20, 2021.