Las Vegas, USA: Rally and Candlelight Vigil Protest Chinese Communist Regime's 22-Year-Long Persecution
July 26, 2021
|
By a Falun Dafa practitioner in Las Vegas
(Minghui.org) Falun Dafa practitioners held a rally and candlelight vigil in Las Vegas on July 17 to condemn the Chinese Communist Party's (CCP) 22-year-long persecution and to commemorate their fellow practitioners who died as a result of being persecuted.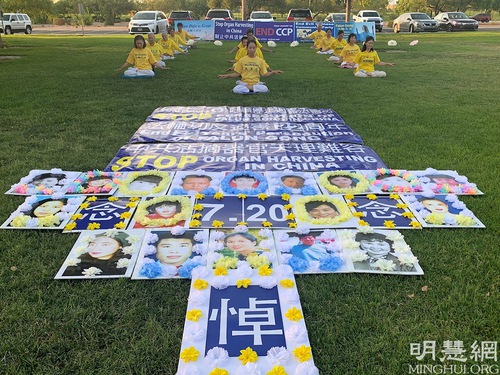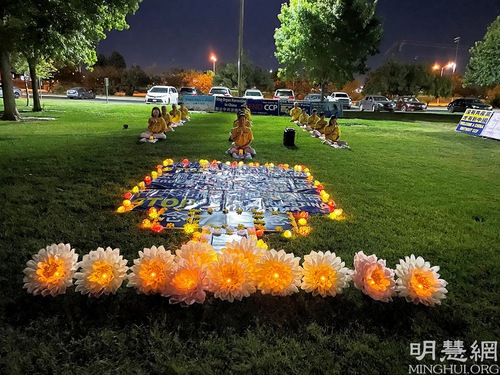 Rally and candlelight vigil held to protest the 22-year-long persecution of Falun Dafa in China
The former head of the CCP, Jiang Zemin, initiated the persecution on July 20, 1999. Hundreds of thousands of Falun Dafa practitioners were arrested, imprisoned, tortured to death or even subjected to state-sanctioned live organ harvesting. The CCP's persecution is still ongoing.
Practitioners set up banners calling for the disintegration of the CCP and to end the organ harvesting. They displayed portraits of those practitioners who were tortured to death. 
They held a group practice, rally and candlelight vigil. Attracted by the soothing exercise music, many passers-by paused to learn about the persecution and signed the petition to condemn it. 
The candlelight vigil started with a poem read by young practitioners to commemorate those practitioners who lost their lives and to safeguard the truth and save sentient beings. 
Some practitioners addressed the rally and condemned the CCP's persecution and its extension to nations outside of China. Since the inception of the persecution the CCP has always attempted to intimidate Falun Dafa practitioners in other countries. 
Falun Dafa is practiced in over 100 countries. More than 900 elected officials and dignitaries from 35 countries signed a joint statement urging the CCP "to immediately stop the persecution of Falun Gong in China and unconditionally release all Falun Gong practitioners and prisoners of conscience."