(Minghui.org) The Chinese Communist Party (CCP) has been persecuting Falun Gong (also known as Falun Dafa) practitioners since July 20, 1999. On the occasion of the 22nd anniversary of practitioners' peaceful resistance to the persecution, government officials from around the world, as well as NGOs, have issued statements urging the CCP to stop the persecution and release detained practitioners. They also called for holding the perpetrators accountable and praised practitioners for their peaceful efforts and perseverance.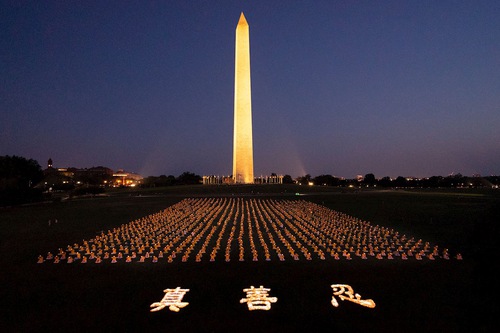 Candlelight vigil by Falun Gong practitioners by Washington Monument on July 16, 2021
IPAC: Standing up And Speaking out
The Inter-Parliamentary Alliance on China (IPAC), a group of hundreds of parliamentarians from 20 democratic countries, issued a statement on July 19 condemning the CCP's suppression of Falun Gong. 
"Twenty-two years ago the Chinese Communist Party began a campaign of persecution against Falun Gong practitioners," wrote the statement. "Hundreds of thousands of Falun Gong practitioners have been imprisoned over the past two decades, where many are subjected to the most severe forms of torture. Particularly concerning are reports of forced organ harvesting of Falun Gong practitioners and prisoners of conscience in China. Analysis conducted by the independent China Tribunal concluded that such practices have been enacted on a widespread, state-sponsored, and systematic level."
"We once again call on our governments to stand up and speak out for an end to such repression. Democratic states must take actions to stop the trade and use of forcibly harvested organs globally. The Chinese government must be held accountable for upholding the human rights of all peoples in China," the statement continued.
IPAC is a non-governmental political alliance of democratic countries formed to curb the CCP's totalitarian influence in the world. The coalition was founded in June 2020 and more than one hundred senior politicians from 20 countries have joined so far.
U.S. Elected Officials Call for Immediate End of Persecution
From the Department of State to legislators, many U.S. elected officials have reiterated their support for Falun Gong. "Thousands of Falun Gong practitioners face detention, harassment, and reported torture and abuse each year for simply seeking to peacefully practice their beliefs," remarked Ned Price, State Department spokesperson, during a press briefing on July 19, "We call on the PRC to immediately cease its campaign against Falun Gong practitioners and release those imprisoned due to their beliefs." 
Seventeen U.S. Congress members have also recently issued statements or sent letters to Falun Dafa Associations across the country. Elise Stefanik, chair of the House Republican Conference, issued a proclamation "in commemoration of the Falun Dafa Association's march in Washington, D.C. to mark 22 years of perseverance in the face of persecution by the Chinese Communist Party."
Robert Menendez, the chair of the Senate Committee on Foreign Relations, issued a statement on July 20. "No one should have to face prison, torture, or worse, simply for how they choose to practice their religion," he wrote. "China should immediately release all Falun Gong practitioners it has detained, and allow them to practice their faith with dignity and respect."
"Falun Gong's teachings of compassion, tolerance, and truth make it a prime target by the oppressive Chinese Communist Party. We must continue to call out the regime's ongoing abuses against its followers," wrote Senator Marco Rubio from Florida. "I will continue to advance policies in Congress that will hold the Chinese Communist Party accountable and work to bring about a better future for the Chinese people," he added.
Representative Zoe Lofgren from California stated, "More pressure must be put on the Chinese government to protect the rights of its religious and ethnic minority populations." 
In a video greeting, Representative Gus Bilirakis from Florida said that if we remain silent on the persecution and ignore the moral values, the general public can be in danger. 
Mike Pompeo, former Secretary of State, said on July 20 that the U.S. should lead the world urging the CCP to stop the persecution of Falun Gong. "We should help bring an end to the Chinese regime's horrific persecution of Falun Gong, so that they can exercise freedom of religion," he wrote on Twitter the following day.
Joint Letter from 35 Canadian MPs
Thirty-five Canadian members of parliament have recently signed a joint letter addressed to Prime Minister Justin Trudeau, urging sanctions of Chinese officials for the persecution of Falun Gong adherents in China. "On account of the gravity and scale of the human rights violations of Falun Gong, we believe that sanctions against the perpetrators will be effective in furthering the interests of international justice and human rights," wrote the letter. 
Garnett Genuis, co-chair of Parliamentary Friends of Falun Gong, Vice Chair of Special Committee on Canada-China Relations and Shadow Cabinet Minister on International Development & Human Rights, sent a supporting video to the practitioners. "Falun Gong practitioners, simply seek to emphasize truthfulness, compassion, and forbearance, but the Chinese Communist Party, fears their message of goodwill and has sought to eradicate Falun Gong, completely," he said. "I have joined Falun Gong practitioners, other parliamentarians and many sympathetic people from various backgrounds in advocating for an end to this persecution and a stronger response from the Canadian government. … I am pleased to stand in solidarity with you in these important efforts."
During an event in Edmonton on July 17, federal congressman Michael Cooper emphasized that it is time to stand up to the Chinese Communist regime and say, "Enough! It can't go on!" He said that the U.S. recently imposed Magnitsky sanctions on two 610 Office officials. A similar act in Canada would allow the government to sanction China's human rights abusers, freeze their assets in Canada, and restrict their travel.
Ketty Nivyabandi, Secretary General of Amnesty International Canada, also issued a statement to condemn the persecution. "Our call to the government of China remains as urgent today as it was 22 years ago. The Chinese government must be held accountable for upholding the human rights of all peoples in China," she wrote. 
UK Parliament Member: Industrial Scale Genocide
Lord Mackenzie of Framwellgate, OBE, wrote, "It is truly shocking that in 2021 there is overwhelming evidence of treatment amounting to genocide taking place on an industrial scale in a developed country which sits on the UN Security Council. Atrocities on such a scale have not taken place since the middle of the last century and the world vowed then, that it would not be allowed to happen again... I am glad to speak out with many others in calling for the taking of positive action by the world to bring these atrocities to an end!"
Rt Hon Sir Desmond Swayne TD MP sent a "message of support to Falun Gong and all Chinese people in their struggle for freedom of association, thought and belief."
Professor David Patrick Paul Alton, Baron Alton of Liverpool, KCSG, KCMO, wrote, "The international community should stop kowtowing, raise its voice, and demand that the persecution ends. The CCP regime must be held to account for its pernicious and brutal campaign against Falun Gong practitioners and others."
French Parliament Members: These Atrocities Do Not Belong in the 21st Century
Quite a few members of the French Parliament (MPs) have written to Falun Gong practitioners to condemn the persecution. They include Senate Vice President Ms. Nathalie Delattre, Senator Monique de Marco, MP Jean-Luc Lagleize, MP Alain David, and MP Philippe Naillet. 
In particular, Naillet expected more events calling to end such atrocities. These tragedies do not belong in the 21st century, he wrote. 
German MP: It Should Be on the Agenda of Germany's Foreign Policy
Eight members of European Parliament (MEPs) and German parliament members (MPs) wrote letters to support Falun Gong. "The persecution of Falun Gong practitioners by the Chinese Communist Party is intolerable," wrote Bettina M. Wiesmann, member of the German parliament (Bundestag), "It should be on the agenda of Germany's foreign policy to end the persecution. We must not stop condemning human rights abuses [by the Chinese Communist Party] and advocating for an end to the situation."
Markus Grübel, German Commissioner for Religious Freedom and Member of Parliament, also called on the Chinese Communist Party to immediately stop the persecution of Falun Gong and its discrimination against and persecution of other ethnic, religious and cultural minority groups.
"Everyone has the right to freely practice their beliefs. Human rights are universal individual rights and must not be violated or abused on behalf of the collective," he wrote. 
Swiss Parliament Member: Communism Is Like a Toxin
Niels Rosselet-Christ, chairperson of the People's Party in Neuchâtel canton, said history in the past 100-plus years has shown that communism is a deadly ideology. Tens of millions of people, or even more, have lost their lives because of it. The Chinese Communist Party (CCP), in particular, has suppressed numerous minority groups including Uyghurs, Tibetans, and Falun Gong practitioners. These atrocities indicate the ideology that communism represents is harmful like a toxin.
Nicolas Walder, a member of the Swiss Federal Parliament and a member of the Foreign Policy Committee, said seeking freedom requires courage. He wished practitioners well and vowed to provide full support because it is a battle for universal values. 
Irish Minister: "Strongly Support the Call for an End to This Persecution"
Twelve parliament members in Ireland made speeches and sent letters to support Falun Gong practitioners. In his letter, Mr. Joe O'Brien, Minister of State at the Department of Rural and Community Development, wrote, "I am very aware of the Chinese Communist Party's continued persecution of Falun Gong practitioners. I strongly support the call for an end to this persecution. The Chinese government should release anyone arrested for religious activities and allow everyone to enjoy freedom of belief."
"International human rights organizations, including Amnesty International and Human Rights Watch, have confirmed the CCP's persecution of Falun Gong practitioners," he added. 
Belgium Parliament Member: Battle Between Good and Evil
Annick Ponthier, Member of the Belgian Federal Parliament and member of the Foreign Affairs Committee, sent a letter reaffirming her support for practitioners. "On July 20th, we commemorate all those Falun Gong practitioners who were persecuted, tortured, maimed, imprisoned, or subjected to even more brutal abuse," she wrote. She expressed her admiration for all the victims and all other Falun Gong practitioners.
Former Flemish Member of Parliament Jan Loones also wrote a letter to Falun Gong practitioners on July 19, saying he was happy to support practitioners in the battle between good and evil.
Slovakian MEP: We Must Not Remain Silent in the Face of Persecution Because It Relates to Us
During an event of Falun Gong practitioners, Miriam Lexmann, a member of the European Parliament, thanked practitioners for their peaceful efforts to resist and testimonies against the suppression. In such a unified geopolitical world, she said people in Slovakia cannot remain silent in the face of the CCP's brutality because it concerns Slovakian citizens. 
Peter Osuský, a member of the Slovak National Council, said in a speech that democratic countries should not yield to the vicious because of trade or economical interest; otherwise, it would be a disgrace. 
Australian Senator: "Fighting for Freedom Side by Side with Brave People Like Falun Gong Practitioners"
Australian Senator Eric Abetz stated in a video, "Falun Dafa practitioners' determination and perseverance in pursuing freedom are touching and inspiring during the systematic and brutal oppression that has lasted for more than 20 years."
"For those of us who are fortunate enough to enjoy freedom, let us be grateful to them," he added. "Let us fight for freedom side by side with brave people like Falun Gong practitioners."
Senator Hon Concetta Fierravanti-Wells said, "Falun Dafa has improved the lives of millions of people worldwide through its gentle exercise movements, sitting meditation and advocating adherence to the principles 'Truthfulness, Compassion, Forbearance.'" 
She also said that in the past two decades, practitioners have been persecuted, detained, tortured and even killed for upholding their freedom of belief, which posed a challenge to the CCP's dictatorship and atheism. Although the brutalities continue today, Falun Gong practitioners are one of the first groups to warn the world about the regime's widespread violation of human rights. "The courage, bravery and mental resilience of Falun Gong practitioners is commendable," she wrote.
New Zealand MP: Falun Gong practitioners are prisoners of conscience in China
Louisa Wall, Member of Parliament for the Labor Party, said on July 6 that New Zealand is a democratic society, where Falun Gong practitioners could freely practice their beliefs. In addition, they are able to exercise their right to a peaceful life. But in mainland China, Falun Gong has been severely persecuted. In fact, Falun Gong practitioners are prisoners of conscience in China and the CCP sells their organs internationally for huge profits, she said. 
In a Radio New Zealand program called Red Line, Wall criticized the CCP's atrocities against Falun Gong. "Based on a report from Sir Geoffrey Nice from the UK, we now know that forced organ harvesting is occurring to service a global market where people are wanting hearts, lungs, eyes, skin," she said. She stated that the government also needs to pass new laws to stop New Zealand citizens from obtaining organ transplants sourced from China or from any other country that cannot verify the integrity of its organ donor program. 
Japanese Parliament Member: The CCP Has Committed Genocide
Member of the Japanese House of Representatives Yoshitaka Sakurada said, "The Chinese Communist Party's (CCP) persecution of human rights has been regarded as 'genocide' in the U.S. China is ruled by one party. If it doesn't resolve its human rights abuses and is not recognized by the international community, it cannot become a first class nation." 
He said that the CCP continues to persecute Falun Dafa practitioners, Uyghurs, Tibetans, Hong Kong citizens and other groups. Japan should raise its voice to stop human rights abuses, he said. He called on the international community to condemn the CCP's persecution of human rights. 
Taiwan Legislator: The Power of Kindness
Su Chih-fen, member of Taiwan Legislative Council, said through the years people have witnessed the peaceful protests of Falun Gong practitioners, including rallies and marches. From this, one could see the energy and power of kindness. 
She said that is hard to imagine a country could utilize its state apparatus to attack its own people, let alone killing people and selling their organs for profit. 
"We must stop such inhumane actions by the CCP immediately," she said.