Thai Edition of the Minghui Website Launched
July 15, 2021
|
By a Falun Dafa practitioner in Thailand
(Minghui.org) The Thai edition of the Minghui website, th.minghui.org, was recently launched. It will greatly benefit local practitioners and the Thai people.
Located in Southeast Asia, Thailand has a population of almost 70 million, of which 10 million are estimated to have Chinese ancestry. The official language is Thai.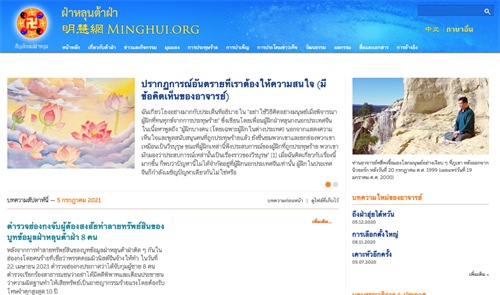 Screenshot of the Thai Minghui website
Falun Dafa (also known as Falun Gong) was first introduced to Thailand by Master Li Hongzhi in 1996. Master Li has visited the country a few more times since then.
The main practice site was established at Lumpini Park in Bangkok, the capital of Thailand, in 1997. For more than 20 years, practitioners have been going to the park for daily exercises, and it is one of the oldest continuous practice sites outside of China. Today, there are Falun Dafa practitioners in several provinces across Thailand, such as Bangkok, Nakorn Pathom, Suphan Buri, Chiangmai, Songkhla, and others.
The first Thai language edition of Zhuan Falun was published in 1998. The current version available online is the fourth, and the fifth edition will soon be released.
Thai practitioners have held several experience sharing conferences in the country. They also hold many events to introduce Falun Dafa and raise awareness about the Chinese Communist Party's persecution against the practice. The Art of Zhen Shan Ren (Truthfulness, Compassion, Forbearance) exhibition has been held in schools, universities, shopping centers, companies, and NGOs.
Since Thailand is one of the most popular destinations for mainland Chinese, seizing the opportunity to clarify the truth to Chinese tourists has always been an important activity.
In 2018, Thai practitioners launched the Falun Thai Radio Podcast Blog featuring translated cultivation experiences, which has benefited many local practitioners.
The newly launched Thai Minghui Website will play an important role in fostering local practitioners in their cultivation practice and helping the Thai people to learn the facts about Falun Dafa.