(Minghui.org) A Nong'an County, Jilin Province, woman is still awaiting a verdict two months after her hearing for practicing Falun Gong, a spiritual discipline that has been persecuted by the Chinese communist regime since 1999. Ms. Gao Xiaoqi's mother, in her 80s, is very worried about her.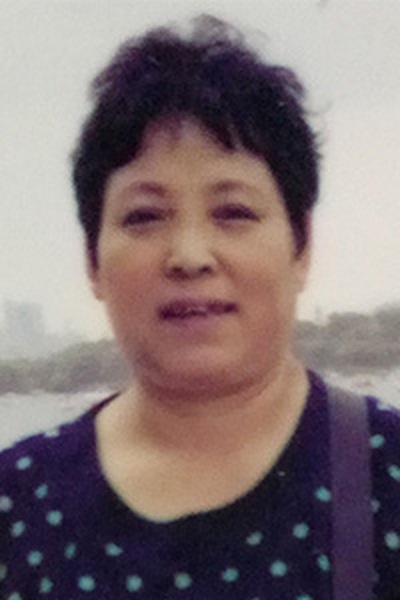 Ms. Gao Xiaoqi
Ms. Gao, 54, was targeted in a police sweep on July 15, 2020, days before the 21st anniversary of the persecution of Falun Gong on July 20 and Party leader Xi Jinping's scheduled visit to the region on July 23.
Ma Yanfeng, secretary of the Political and Legal Affairs Committee (PLAC) in Changchun (the municipality region overseeing Nong'an County); Zhang Kainan, the Nong'an County PLAC secretary; and Li Xingtao, the head of Nong'an County Police Department, ordered the arrests.
In the persecution of Falun Gong, the PLAC, an extrajudicial agency overseeing state security and judiciary branches, has played a central role in making and executing persecution policies.
Ms. Gao was arrested at around 6 a.m. when she went to visit Ms. Zhao Xiulian. The police had broken into Ms. Zhao's home at 3 a.m. and were still ransacking it when Ms. Gao arrived. 
The police then went to Ms. Gao's home and ransacked it. A large number of posters with information about Falun Gong, Falun Gong books, a photo of Falun Gong's founder, and over 100,000 yuan in cash were confiscated. Ms. Gao's mother was terrified by the raid.
The police appeared to be delighted to take Ms. Gao's valuables. One of them said with a smile, "These are all good things!" 
Ms. Gao was then taken to the local police station for interrogation. She was slapped in the face for not answering any questions. 
Ms. Gao stood trial on April 9, 2021, with seven other practitioners arrested on the same day, including Ms. Zhao, Mr. Zhang Jingyuan, Ms. Sun Fengxian, Ms. Cai Yuying, Ms. Cai's daughter Ms. Yu Jiaoru, Ms. Sun Xiuying, and Mr. Shan Weihe.
The Dehui City Court barred the practitioners' lawyers from defending them in court. Judge Wang Rongfu claimed that the practitioners didn't have the right to be represented by their own lawyers. 
Only one family member from each practitioner's family was allowed to attend the hearing and that was on the condition that they provided letters showing that they didn't practice Falun Gong themselves. Only Mr. Zhang's father attended the hearing after he got the letter at his local police station. 
 Because most of the practitioners' family members and lawyers were blocked outside of the courtroom, they had to lean on the door in order to hear what was going on inside. The presiding judge, Wang, still claimed that he was having an open hearing. 
After the eight practitioners refused to accept court-appointed lawyers, who were instructed to plead guilty for their clients, they acted as their own lawyers and all pleaded not guilty.
The practitioners are now in the Nong'an County Detention Center awaiting their verdicts.
A Filial Daughter 
Ms. Gao's husband divorced her when she was still young. She was given custody of both her son and daughter and raised them by selling school backpacks. Though not well-to-do herself, she never hesitates to help those in need.
As her parents got older, Ms. Gao moved in to take care of them, especially after her father became bedridden and incontinent. Only three days after her father passed away, her brother, who rarely took care of their parents, came to claim the property left by their father, even though he had already given it to his son in his will. Ms. Gao didn't fight with her brother about the family property and only asked to continue living with her mother to take care of her. 
Before Ms. Gao was arrested, she often took her mother to the parks in a wheelchair and cooked her favorite meals.
Related reports:
Arrested in a Police Sweep, Eight Jilin Residents Tried for Their Faith
Nong'an County, Jilin Province: 11 Arrested and 1 Harassed in 24 Hours
Fourteen Falun Gong Practitioners Targeted in Group Arrests in Jilin Province Remain in Custody